J&T Express Singapore Sets its Sights for International Growth with Extended Cross-Border Delivery Services
Alongside J&T International, the company improves their cross-border logistics capability and strengthens its local products and services offerings to better meet the needs of businesses and consumers.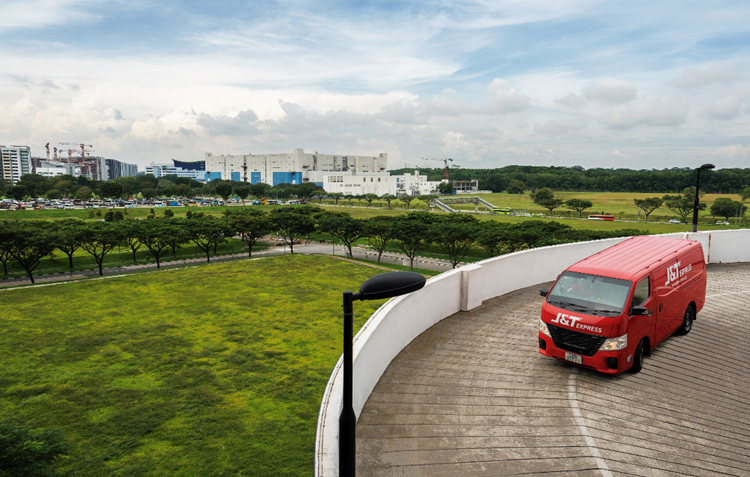 J&T Express, a global logistics service provider with leading express delivery businesses in Southeast Asia and China, reinstates its ambitions to be a worldwide delivery service provider as the company embraces the post-pandemic economy to tap on new opportunities in the evergreen e-commerce scene.
Strong global footprint for cross-border shipping
Prominently seen in the study by McKinsey, the compound growth rate for e-commerce in SEA is projected to triple to 22 percent by 2026 with its gross merchandise volume reaching around US$230 billion. This means that consumers' preference to shop online as well as merchants' requirement to ship their products cross border will continue to be strong drivers in the logistics industry, making international cross-border shipping an important service for logistics players such as J&T Express to tap on this opportunity.
To meet shifting consumer and business preferences, J&T International, the international logistics arm of J&T, was established locally in Singapore last year as part of the group's expansion plans. Businesses and consumers can now tap on the solutions offered by both J&T Express and J&T International to meet their logistical needs for cross-border e-commerce.
Covering over 100 countries and regions globally, including Asia, Europe, Africa, and the Americas, offering customers multiple transportation methods for their deliveries, including air, sea, and ground shipping, J&T International stands committed to being a top-quality international logistics provider for its customer.
Zooming in to markets such as Singapore, e-commerce, especially cross-border e-commerce, is benchmarking business growth among retailers, helping them evolve beyond traditional brick and mortar stores to an ecosystem that engages consumers through multi-channel strategies. Thus, with opportunities over the horizon, retailers are increasingly adopting cross-border e-commerce as an alternate stream of revenue for their business.
"J&T Express Singapore recognises our customers' needs domestically and internationally. At the same time, we envision the future of a connected world for the e-commerce industry. Together with J&T International, we believe we are one step closer to our goal of becoming a global integrated logistics service provider and aim to always provide quality diversified services to meet all their logistical needs," said Peter Cai, CEO of J&T Express Singapore.
With J&T International, J&T Express Singapore is able to further provide support to sellers around the world with their cross-border logistical needs to export from or import to Singapore through their end-to-end solutions including pick-up, custom clearance, trunk line strength, and last-mile delivery.
Playing a crucial role at the start of the chain for imports, J&T International aids in the fulfilment of first-mile delivery by picking the goods up from the seller overseas and managing custom clearance before activating forwarding strength by partnering with established airlines and shipping companies to guarantee smooth delivery of the goods during the middle-mile stage. Subsequently, J&T International oversees the custom clearance of the goods at the Singapore Airfreight Centre before they are sent to J&T Express Singapore's warehouse.
Upon completion of custom clearance, the goods are taken over by J&T Express Singapore to provide fulfilment and warehousing services – one of the core services of the company – to manage the inventory, pick and pack parcels through e-commerce warehouse management system (eWMS) and order management system (OMS). After the order is placed on e-commerce platforms, J&T Express Singapore provides seamless last-mile delivery to the end consumer in Singapore and ensures the efficiency and convenience enabled by its automation capabilities such as the JMS, a transport management system developed by J&T Express.
This simplified process between J&T International and J&T Express improves the lead time for parcels to be delivered, enhances security and transparency, as well as allows cost efficiency and scalability to keep shipping costs affordable for customers.
Being tech-driven and bringing convenience to the doorsteps of the masses
As part of their growth, digitalisation is also a top priority for J&T Express as they are constantly looking at ways to leverage technology to advance their offerings.
Since March 2023, J&T Express Singapore accepts PayNow as a payment method for its Cash on Delivery (COD) parcel service. As part of its digitalisation strategy, the company launched the cashless service for COD parcels to enable consignees to do digital payment by simply scanning the PayNow QR code. This is in line with J&T Express' commitment to constantly innovate its services for the convenience of its customers.
J&T Express Singapore's flagship mobile app – J&T Singapore App, now allows users to drop off their parcels for both domestic and international delivery at any of the J&T Points island-wide without printing shipping labels. In addition to being environmentally friendly by reducing carbon footprint as parcels are consolidated and there are fewer locations for pick-ups, this new feature helps J&T Express increase their efficiency for both customers and the operations team.
- END -
– End –