There's no denying it: everyone's shopping online. Data from Shopify shows that sales on global eCommerce platforms will go up to US$3.5 trillion this year. Meanwhile, 57.9% of shoppers in the Asia-Pacific region (which includes Southeast Asia) buy products from abroad, and our contribution to worldwide eCommerce will jump to US$1.4 trillion by 2023.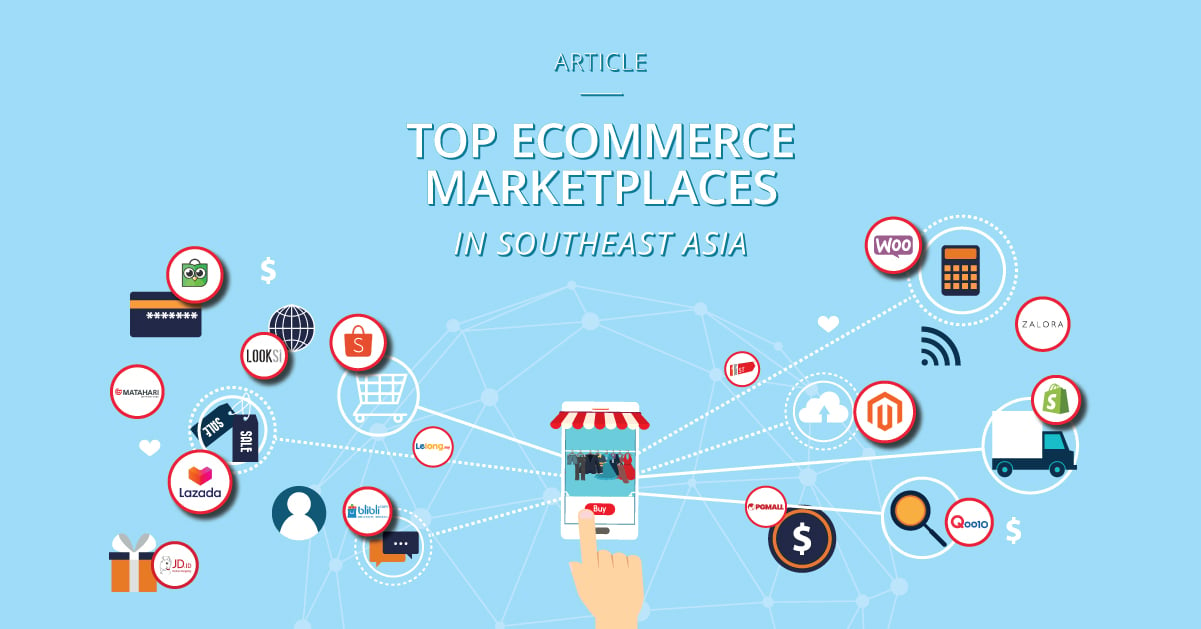 Getting our retail fix via the desktop or mobile apps of the most popular online marketplaces has never been this easy. And this convenience—coupled with increasing purchasing power and improving internet access—assures that we will spend more, and beyond our home countries' boundaries, year after year.
The rule in any industry is that supply must meet demand. Consumers are demanding more specialized and wide-ranging stores and product ranges, so retailers must answer accordingly.
But not all retailers have the time, money, or know-how to build their own online stores from scratch. Most of the time, their best and fastest option is to sign up with established eCommerce platforms, then grow their businesses using the existing infrastructure and analytics.
In this article, we will talk about the top Southeast Asia eCommerce platforms, and what they have to offer. Unless noted otherwise, assume that these websites deliver only within national borders.
The major players

Let's start with Lazada. Owned by the Alibaba Group (along with Taobao and AliExpress), it is the king of Southeast Asia eCommerce platforms when it comes to both monthly average visits and app downloads. It topped Q1 2019 data from Malaysia, the Philippines, and Thailand for the former, and all three nations plus Singapore for the latter.
Lazada sells anything and everything you can think of—and even those you usually wouldn't, like the new BMW 1 Series. Catering to buyers and sellers of the individual, small- and medium-scale to corporate variety, it's the marketplace to beat.
On the other side of the ring, Shopee is giving Lazada plenty of competition—and nipping at its heels in customer retention and gross merchandise volume (GMV).
In fact, it has overtaken its main rival back in the first quarter in one crucial aspect. It received 184.4 million visits through both its desktop and mobile websites, versus Lazada's 179.7 million visits.
Zalora is also a top Southeast Asia eCommerce platform, with a presence in four countries. It shares its roots with Lazada via Rocket Internet, but Zalora has taken a more specific approach: it focused early on women's, men's, and kids' fashion
Moreover, unlike other online marketplaces that eventually moved to brick-and-mortar setups, Zalora is quite content with staying online.
The Q1 2019 report by App Annie Intelligence and iPrice Group also had a few noteworthy contenders in the fight among eCommerce platforms for specific countries.
Take eBay, which is locked in an ongoing retail battle with that company whose name starts with A. This survivor of the 1990s online-shopping era is still a massive player for used or discounted products in Malaysia, the Philippines, Thailand, and Vietnam. Additionally, Zilingo is big among mobile shoppers of fashion, lifestyle, and beauty products in Indonesia and Thailand.
If you're looking for retailers built and based right in Asia, you're in luck! Malaysia has Hermo, a beauty and cosmetics retailer that has since branched out to Singapore. Qoo10, in turn, calls the city-state home, and has outposts in Indonesia and Malaysia. The Chinese retailer JD.com is going strong in Indonesia and Vietnam, and expanded to Thailand in 2018.
Top marketplaces by country
The big eCommerce platforms mentioned above may have gotten a head start, but a quick look at the other succeeding marketplaces across SEA countries leads to some interesting observations.
"One size fits all" appears to be the most successful eCommerce approach in Southeast Asia. The majority of sites ranking high on desktop and mobile cater to a general audience, with a wide variety of consumer goods on offer.
However, websites narrowing their assortments down to specific target markets (similar to Zalora) or copying the notable elements of pioneering digital marketplaces are also doing well. Lastly, some are creating localized online stores as they expand regionally or try to capture foreign markets.
Indonesia
Based on iPrice and App Annie's report, Indonesian shoppers prefer having a mix of generalized and specific eCommerce platforms.
Right at the top of the list, Tokopedia is a unicorn startup with investments worth US$1.1 billion. It makes itself distinct by being the "middleman" in C2C transactions and consumer services.
Bukalapak and Blibli.com are more generalized in their retail approach. They give Indonesians the biggest coverage for product assortment, and serve as a hub for every consumer need like Lazada and Shopee.
In contrast, Sociolla zeroes in on the beauty and cosmetics industry. Shoppers go here for women's and men's personal care—everything from makeup to bath, body, skin and hair products, and vanity gift sets.
Orami focuses more on the mother-and-baby consumer segment. However, the site maintains a broad range of goods for that segment: diapers, strollers, clothing, apparel, and furniture. It also accommodates free shipping within Indonesia, and shipping to international addresses
It's well worth mentioning that Bukalapak took a different direction for international shoppers. Just last May 2019, it opened BukaGlobal, its eCommerce site for overseas customers who want to buy Indonesian products. This service is currently available in Singapore, Malaysia, and Brunei
Thailand
eBay made mainstream the idea of bidding to purchase secondhand consumer goods. Thai marketplace Chilindo operates with the same principle, with shoppers perusing the site's women's and men's departments as well as at the kids, travel, home, automotive, and electronics sections. They then make bids for the products they want.
Two marketplaces strictly work within the consumer gadgets and computer parts and accessories segments. Advice and JiB's websites clearly list every product's specifications and (often discounted) retail prices, and JiB goes further with timed flash deals.
Over on the general storefronts' side, Central and ShopAt24 round up the high-ranking eCommerce platforms in Thailand. The former's name will be very familiar to those who consider this country a shopping mecca. Its website is the digital version of the renowned department store in Chit Lom in Bangkok and 20 other locations.
Also, Central's website has no information regarding international shipping. But the store's helpful tourist guide states its Chit Lom and Zen (Central World) locations will ship in-store purchases to overseas addresses.
The Philippines
Unlike the other sections of our list, our picks for this country are all market-specific.
Argomall is one Filipino equivalent of the electronics-only websites we talked about earlier. This four-year-old site is ranked fourth on App Annie and iPrice's results for most customer visits. It carries well-known brands and models for smartphones, smartwatches, accessories, mobile phones, and even big-ticket products like TV sets and laptops.
BeautyMNL has been online for just a few years, but has rapidly risen in the rankings for both most visited store and store with most monthly active users (MAUs). Its performance exceeds that of its older sibling, the lifestyle and experience-oriented website Deal Grocer
This retailer's assortment is comprised of products spanning the cosmetics, health and wellness, consumer food and beverage sectors. More recently, it branched out into selling fast fashion, swimwear, and athleisure apparel.
K-Beauty has truly gone global, and eCommerce platforms like Althea ensure Filipina consumers' access to the latest Korean brands, products, and trends. Logistics-wise, it has a broader scope. It covers SEA countries like the Philippines, Malaysia, Indonesia, Singapore, and Thailand, but also ships to the US and other international locations. And like Zalora, Althea is a digital-native retailer, and is one of the first with a specific audience.
There seems to be a contradiction in Philippine eCommerce. More stores are operating now, but some products still can't (or won't) be made available locally. Galleon is a marketplace that addresses this problem. It provides listings for both common consumer categories and the offbeat ones: movies and TV programs, collectible art, industrial and scientific products, and crafting supplies.
And there's one particular marketplace that comes from the old age of retail. O Shopping is the online portal of the 24-hour home TV shopping channel part-owned by media and publishing giant ABS-CBN. It lists every product pitched on air by various hosts throughout its programs, and all for discounted prices.
Vietnam
Like our other consumer markets, Vietnam has its own general online retailers. In this case, it's TiKi and Sendo, ranked within the top five of App Annie's Q1 lists.
TiKi is notable for including travel planning tasks on its website (e.g., hotel reservations and flights) alongside its standard consumer-product lineup. Sendo has that advantage, plus quick links to book movie tickets, pay bills, and even "Buy car reduced by 3 million." (Remember: VND, not USD!)
Vietnamese techies also have their go-to eCommerce platforms. This year, it's The gioi di dong for smartphones, tablets, laptops, and accessories. This is closely followed by Adayroi, which adds food, spa, service, and health and insurance listings with the usual merch. The more unique finds we saw here: tickets for the 2020 F1 Vietnam Grand Prix, and Vinschool uniforms for kids.
Malaysia
This country has its own home TV shopping website, by way of GoShop Malaysia. We see the expected product categories here—along with the welcome additions of quick links to books and Islamic Lifestyle products.
FashionValet is the country's answer to style-specific needs, with comprehensive listings for the women's, men's, and kids' ranges. Crucially, it provides free international shipping for all Southeast Asian countries mentioned here except the Philippines.
Online retailers Lelong and Prestomall work more like the heavyweight eCommerce platforms we brought up a while ago. They supply the most purchased consumer goods, enable brands to set up their official online stores on their platform, conduct flash sales, and mark off specific dates for significant, platform-wide sale events.
Pro tip: A quick scroll down the main Prestomall page will lead you to special, country- or region-specific pages. The Southeast Asia promo page shows products available from our region that can be bought and shipped only within Malaysia. And Lelong's full directory includes job listings!
Singapore
We've already mentioned Lazada and Shopee's status as top Southeast Asia eCommerce platforms, so you might think it's odd that we are adding them to Singapore's part of the list.
But the Lion City threw these two platforms a curveball this year: they better make way for Player 3! They're currently competing with the "underdog" Qoo10 for both user visits and MAUs, with the top spot looking like the last in an exciting online-shopping version of musical chairs.
So while their numbers would vary every quarter for those categories as well as funding raised, the battle has shifted to beefing up their operations. Aside from selling BMWs, Lazada Singapore brought Redmart into its platform last March. Shopee also just upgraded its HQ. Business really is good these days.
As for the other contenders, it was a pleasant surprise for us to see UK retailer ASOS among the eCommerce platforms in Singapore with the most MAUs. Not only does it provide affordable women's and men's apparel through a localized shopping strategy, but it also ships purchases to over 200 countries for free!
Additionally, the retailer is known for its progressive stance on several topics and customer concerns, including plus sizing and support for the Paralympic Games.
If you're on the hunt for marked-down beauty and cosmetic products, visit StrawberryNET. This fruit-monikered site has the added bonus of shipping to over 190 countries, with certain restrictions.
Finally, if your idea of a good time is shopping online for high-quality furniture and home decor—hey, we're not judging, we're into it too—FortyTwo and HipVan should be bookmarked on your desktop and mobile browser right away.
Ready to ship?
Bought everything you wanted, and need to have them all delivered down to the last mile? We're up for the job! We fulfill shipments within Singapore, Thailand, Malaysia, the Philippines, Vietnam, and Indonesia—and we have extensive experience in working with the top Southeast Asia eCommerce platforms.
Looking to sell regionally or globally?
Fill up the following form to get started.
---