2018 was a watershed year for online shopping in Southeast Asia. According to Google and Temasek Southeast Asia's internet economy hit an inflection point last year, with the eCommerce sector generating US$23 billion in revenue—more than double the revenue in 2017.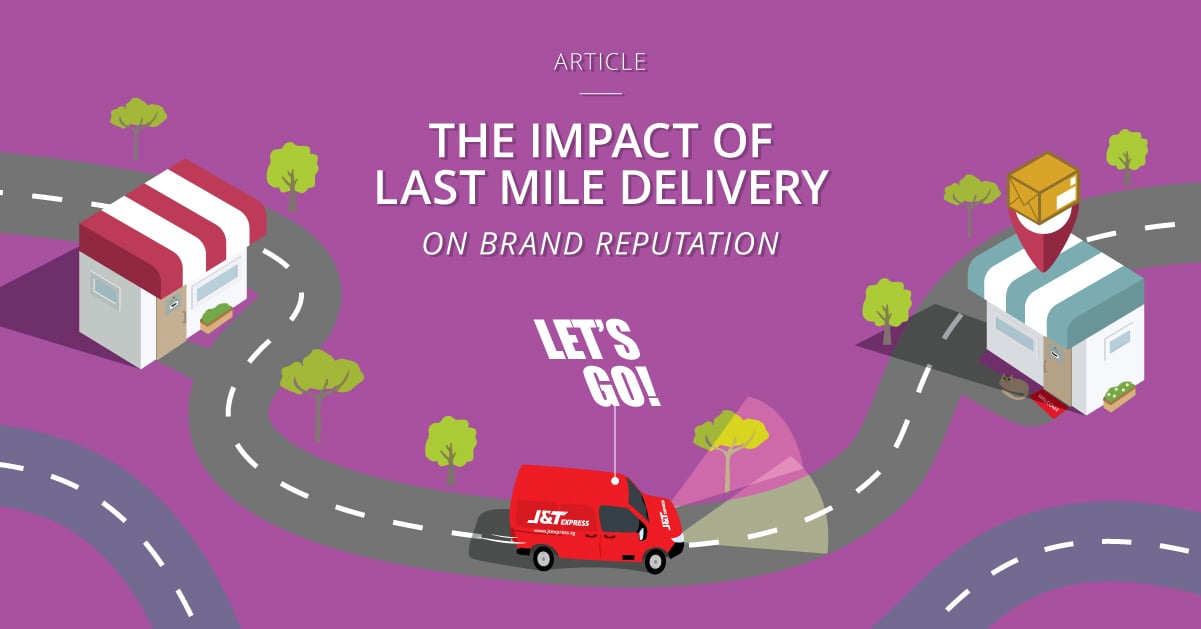 Unsurprisingly, the region's three largest eCommerce companies (Lazada, Shopee, and Tokopedia) were instrumental in this growth. Last year was also the first time Alibaba acquired Lazada in March, officially introduced Singles' Day—the world's biggest shopping event—to Singapore, the Philippines, Malaysia, Vietnam, and Indonesia, helping the Chinese eCommerce giant generate $30.8 billion in sales.
As more Southeast Asian consumers turn to eCommerce for the bulk of their shopping needs, they're also having increasing expectations around eCommerce delivery. For online merchants, you're no longer just expected to ship orders quickly; you may need to get shoppers their purchases with speed.
This is the reason why last mile delivery solutions have grown to become one of the sought after logistics services today.
What is last mile delivery?
As the name suggests, last mile delivery refers to the final leg or mile of a parcel's delivery journey. At this stage, this usually happens when a parcel moves from the distribution warehouse to the customer's address. For customers, the last mile is the most important stage of the delivery process because it's when they actually receive the goods.
And remember, when it comes to last mile delivery, Singapore is easy. The rest of Southeast Asia, with its diverse topography and varying levels of infrastructure, not to mention different regulations on cross-border shipping, is much more challenging.
While getting last mile delivery right in this part of the world may not be easy, its benefits to your brand's reputation are well worth the effort. We take a closer look at how last mile delivery benefits your brand below.
How last mile facilities shape brand perception

Loyalty
A survey by US-based logistics platform Dropoff found that roughly 75% of online shoppers are more likely to be loyal to an online retailer if it offered same-day delivery. This fulfilment option is especially important to millennials, with 89% saying they'd return to a seller offering same-day delivery.
Things aren't very different in Southeast Asia. Research by PwC shows that 60% of consumers in the region are willing to pay more for same-day deliveries. In comparison, only 54% of Chinese consumers are willing to do the same, but that's only because same-day delivery is normal instead of a novelty in China.
Meanwhile, a significant percentage (40%) of consumers in Southeast Asia also want the option to have their orders shipped to a convenient location, such as a convenience store, bank, or local retail store.
These findings show that last mile delivery solutions, which play a huge role in making same-day delivery happen, have a clear and observable effect on fostering customer loyalty. In fact, speed might even be more important than brand loyalty altogether. The same Dropoff survey found that 65% of Amazon shoppers would switch to another merchant if it meant getting same-day delivery options.
Reliability
When it comes to deliveries, consumers in Southeast Asia want to feel empowered and desire the best possible shopping experience. This begins the moment they make their purchase, and extends to the point of delivery, when their order arrives at their doorstep.
The experience is so important that research by Bain & Company shows that 60% of digital shoppers in Southeast Asia value "experience" more than "price," which influenced only 45% of shoppers.
Last mile delivery solutions come in by enabling real-time tracking through SMS notifications or online portals where users can input their order's tracking number.
These features are especially important in Asia-Pacific, where 46% of consumers expressed misgivings about buying directly from SME online retailers (much higher than the global average of 21% who had similar concerns), according to FedEx Express. The logistics company found that these concerns stemmed from the difficulty of verifying a seller's reputation or trustworthiness.
In a region where many consumers are still beginning to learn and trust online shopping, real-time tracking can play a vital role in dissuading concerns about reliability and safety when purchasing from online merchants.
Practicality
Despite the growing number of digital/cashless payment options in Southeast Asia, driven by a rise of investments in fintech companies in the regioncash on delivery (COD) orders continue to be the most popular option in Southeast Asia, particularly in emerging markets like the Philippines, Indonesia, Vietnam, and Thailand.
In the Philippines, 80% of eCommerce transactions are still processed through (COD), according to a report by the Asian Development Bank (ADB) and United Nations Economic and Social Commission for Asia and the Pacific (UNESCAP)This percentage is even higher in Vietnam—90% according to Appota.
This is hardly surprising. Despite being one of the most exciting markets for eCommerce, only 73% of people in Southeast Asia have a bank account. If you're looking to sell in this part of the world, offering COD, ideally with the help of a reliable last-mile delivery partner, allows your brand to be the practical choice for online shoppers.
Competitiveness
Finally, working with a reliable last-mile delivery partner allows your brand to compete directly with larger players in Southeast Asia like Lazada, Shopee, and Tokopedia.
While these companies have the margins to offer free shipping and/or same-day delivery all year round, you can still compete through other strategies, including:
Offering free shipping for a minimum purchase to offset freight and cross-border shipping costs
Bundling products to increase your average cart value and make it possible to ship multiple products at the same time, thereby lowering your shipping costs
Promote your locally sourced products as being available for same-day delivery
Over to you
As consumers' expectations for faster delivery in Southeast Asia rise, your brand must be able to delight your customers with a great shipping experience.
A last-mile delivery partner not only makes it possible to provide quick deliveries, but it also helps provide all your customers with a more transparent and safer shopping experience. If you want to exceed expectations in Southeast Asia, there is a real opportunity to capture your customers' attention with the help of a last-mile delivery provider.
Interested to have J&T Express as your last-mile delivery partner?
Fill up the following form to get started.
---