Are you ready for 11.11?
Ship with J&T Express on Shopee. Stand to win Flash Deal slots, advertising credits and Shopee vouchers!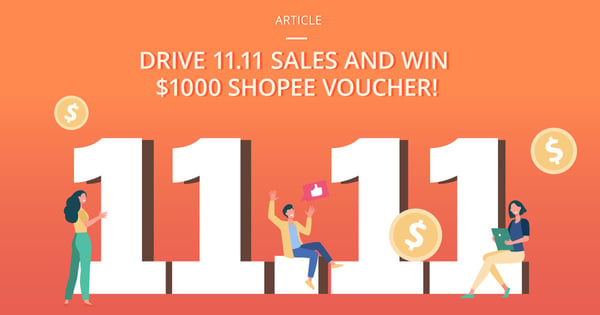 Shopping events on the top eCommerce marketplaces in Southeast Asia have been bringing massive opportunities for online merchants to drive their revenue as well as providing massive promotions for consumers.
11.11, originated by Alibaba, is the biggest online sales event every year. Last year's double 11 sale has generated USD 38.4 billion gross merchandise volume (GMV) and achieved a whopping 26% increase from the previous year. 535 million parcels were processed by logistic companies just on 11th November alone.
At J&T Express, in the previous years, we've always experienced a double-digit growth of deliveries during the shopping festivals. This year, we've prepared the 11.11 Warm-Up series for both our valued customers and consumers - to provide brands an additional push for digital sales, simplify logistic processes, and aim to provide the best experience possible.
1. For Your Customers: Enjoy $6 Voucher
In the past 10.10 sale, we ran a Shopee campaign to support our customers by offering $5 vouchers to consumers. With an exceptional redemption rate, we are very happy to see the overwhelming demand and positive feedback from our valued customers.
So, we've brought this back to offer more exciting benefits for our 11.11 party!
What we're offering:
On 11th November, your customers can enjoy $6 off when they spend over $40, with limited redemptions available. Terms and conditions apply.
How to redeem:
Your customers can click here to claim the $6 voucher on 11th November, which will be saved in [My Vouchers] under [My Account].
Before placing the order, at the check-out page, the $6 voucher can be selected and applied from [Shopee Voucher].
T&Cs apply.
Ship with J&T Express— Boost your sales, and offer the best shopping festival to your customers!
2. For Your Customers: $500 Voucher Giveaway
In addition to the $6 vouchers, we are sponsoring the giveaway for your customers who will be enjoying our delivery services.
What we're offering:
From 11th November to 12th December 2020, your customers will have the opportunity to win up to $500 Shopee voucher. T&Cs apply.
There will be 12 winners in total based on the total spendings on orders shipped with J&T Express, during the shopping festival period (11.11- 12.12). 12 winners will be announced on 31th December and will be contacted by Shopee.
| | |
| --- | --- |
| Prizes | Shopee Voucher Value |
| 1st Prize | $500 |
| 2nd Prize | $400 |
| 3rd Prize | $300 |
| 4th Prize | $200 |
| 5th Prize | $150 |
| 6th to 12th Prize | $50 |
T&Cs apply.
Ship with J&T Express— Create more opportunities and provide more options to your customers!
3. For You: $1000 Voucher Giveaway!
For our valued customers, we've also prepared a giveaway for you!
From 11.11 to 12.12, as long as you have 30 completed orders shipped by J&T Express, you will be qualified for the giveaway - be one of 17 sellers to win!
If you are ranked as one the top 5 sellers who completed the highest number of orders shipped with J&T Express, you will then have the opportunity to win up to $1,000 Shopee voucher, Shopee Advertising Credits, and Flash Deal Slots. T&Cs apply.
Winners

Shopee Voucher Value

Shopee Ad Credits

Flash Deal Slots

Rules

Top 5 Winners
1
$1,000
$200
6
Top 5 higher number of orders shipped with J&T Express
2
$800
$100
3
3
$700
$100
3
4
$600
$100
3
5
$500
$100
3
17 Sellers
Each winner (17 in total)
$200
$80
1
At least 30 orders shipped with J&T Express
T&Cs apply.
Ship with J&T Express— Express your online business, and earn the most benefits!
Participate NOW!
Click

here

to login to the Shopee Seller Centre

Under [Shipping Setting], enable

J&T Express

shipping channel and set it as preferred shipping option.
Tell your customers?
On your way to the 11.11 shopping festival? On top of your pricing and promotions and scheduled social media posts, share this link and spread the word - tell your customers about the vouchers and exciting giveaways!
Sign up with our newsletter now. Don't miss out our offers!