Starting from 21 September to 10 October, if you select J&T Express as your shipping partner, your customers can enjoy $5 off $50 minimum spend.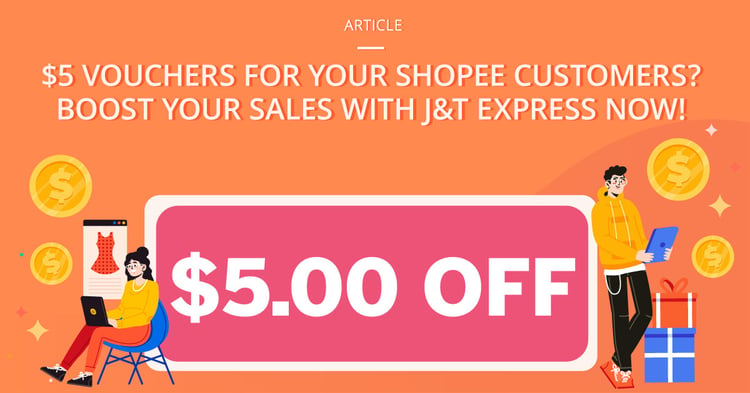 Earlier this year, during the "618 Shopping Festival" in China, both Tmall and JD.com, as two main e-commerce marketplaces, encouraged local and international brands by fuelling the festival and offering a huge amount of investment. Tmall launched vouchers and subsidies valued RMB 10 billion (SGD 2.02 billion). In just one hour and 29 minutes, Tmall hit the record and reached RMB 2 billion (SGD 0.4 billion) turnover.
As we are stepping into October, the final quarter of the year welcomes the coming of several massive sales events across the whole of Asia. 2020 is a year full of challenges and changes, but eCommerce players can seize the end-of-year shopping festival opportunities on multiple top marketplaces to boost sales, which at the same time will stimulate and contribute to the economy affected in the post-pandemic restoration interval.
Shopee 10.10: $5 off for your customers
As the leading logistics courier company in Southeast Asia, J&T Express is always here, to help boost your sales, and to ultimately express your online business. To celebrate Shopee 10.10 Brands Festival, we are delighted to launch the partnership promotion, as the leading Shopee supported logistic company.
When you select J&T Express as your logistic partner on Shopee, your customers may enjoy $5 off $50 on any items on top of existing offers, terms and conditions apply. Limited redemptions are available from 21 September to 10 October.
Now, offer Shopee vouchers for your customers! Set it up in just a few seconds.
How to participate?
Click

here

to login to the Shopee Seller Centre

Under [Shipping Setting], enable

J&T Express

shipping channel and set it as preferred shipping option.
How to redeem the voucher?
Your customers can click

here

to claim $5 voucher, which will be saved in [

My Vouche

rs

] under [My Account].

Before

placing the order, at the check-out page, $5 voucher can be selected and applied from [Shopee Voucher].

Your customers can now stand to use 2 vouchers in a single purchase as they are stackable

. For example, Brand X is offering

a

$5 off $60

voucher, the customer will

also

be able to use the

J&T Express Voucher ($5 off $50) to enjoy a total discount of $10!
Tell your customers?
If you also prepare your promotions and you are promoting them, or if you have your social media platforms and other channels, just SHARE this link. Let your customers enjoy $5 off from us.
How can you benefit?
According to a study, in 2017, the redemptions of digital vouchers were worth USD 47 billion (SGD 64.63 billion). But by 2022, this redemption value is expected to surge to USD 91 billion (SGD 125.14 billion).
Following on from a variety of initiatives, consumption can be stimulated by distributing vouchers. Meanwhile, for online sellers, it is indicated that vouchers can be used to drive sales. Now, to stand out in Shopee's 10.10 Brands Festival, $5 matters.
Ship with J&T Express— Offer your customers best rates. Boost your sales.
Logistics Q&A During Shopping Events
Shopify data indicated that the contribution of sales in the Asia-Pacific region including Southeast Asia would go up to USD 1.4 trillion by 2023. To cater to the growing online shopping demands, apart from the product itself, you are also expected to provide better services, among which last-mile delivery is a key service that can affect your brand's reputation.
At the same time, while you can benefit from a right shipping partner, the shopping events can help you test and prove their reliability and capability. Just on 11 November 2019, during the Double 11 shopping festival— the biggest shopping event worldwide launched by Alibaba— there were 535 million parcels processed by logistics companies.
Therefore, you have to take some of the main factors into consideration when you make up your mind on your integrated logistics company for last-mile delivery, especially during the peak of shopping festivals when you have a multi-channel approach.
No matter when, J&T Express is ready with solutions for you. Here are some FAQs.
Question: Will my customers receive the parcels on time, even during weekends?
Efficiency sometimes is seen as one most straightforward element to examine the eCommerce delivery service, and it cannot be ensured and improved without the support of technology and operations.
J&T Answers:
Sorting Automation

:

T

o improve our operating efficiency

and cut down on human errors

, J&T Express introduced a new automated sorting system last year, which

can

sort incoming parcels automatically and allow additional data

(

such as locations

)

to be captured. The automation machine plays an essential role in our operation and represents

our focus on technology as one of our top strategic priorities.

365 Days

:

By understanding your needs, we launched Sunday deliveries

to better serve your customers

, making us the first logistics provider to do so in Singapore.

We provide delivery services 7 days a week

and 365 days a year,

with

next day delivery!
Question: Are you able to cope with the increase of orders and deliver good customer service for both me and my customers?
With an experienced customer service and seller support team, be rest assured that you will be in very good hands when you encounter any issues when selling on Shopee. We value the importance of communications and ease of access to the team who can assist and solve the problems, especially during the shopping events when there will be a huge amount of orders.
J&T Answers:
24/7

:

At J&T Express, t

o handle the sudden increase,

such as the increase of orders during shopping festivals,

the team expanded to multiple warehouses and ran operations 24/7

.

Contact us

: Our professional customer service team

will assist and support you every step of the way.

If you have any questions, 

please feel free to

contact us

via our website,

 

Facebook

or email.
Question: How do you pick up parcels from me, and how do my customers collect them?
The process of packages always starts from pick-up and ends up with the parcel delivered to the customer's doorstep. For sellers, parcel pick-up is an important factor to influence the convenience and delivery efficiency. For buyers, the best way to receive the parcel is the doorstep delivery.
J&T Answers:
Pick-up from your doorstep:

We offer door-to-door Express

next day delivery

y Service

on Shopee

.

Orders submitted before 4 p.m. can be picked up on the same day

, and the pick-up can be scheduled at Shopee Seller Centre

. O

ur

well trained and skilled

in-house delivery drivers

are dedicated to delivering parcels as well as good experiences.

Delivery to your customers:

We deliver parcels from Monday to Sunday 9am to 10pm. Your customers can just relax at home

,

answer the doorbell

and receive their online purchase on the very next day.
On Singles' Day in 2019, J&T Express group helped deliver millions of packages and completed 10 times our daily average in Singapore alone, achieving a company milestone. For the upcoming shopping events on different marketplaces, we are prepared with great confidence in providing more efficient services just for you.
Interested to embark on your eCommerce business with J&T Express? Provide $5 voucher for your customers to boost your sales- Get started and set it up here on Shopee Seller Centre. Ship with J&T Express now!
Sign up with our newsletter now. Don't miss out our offers.