The J&T Singapore App now enables users to enjoy efficient cross-border delivery to Malaysia right at their fingertips
The newly launched transport management system will further optimise day-to-day processes with end-to-end visibility into the entire logistics chain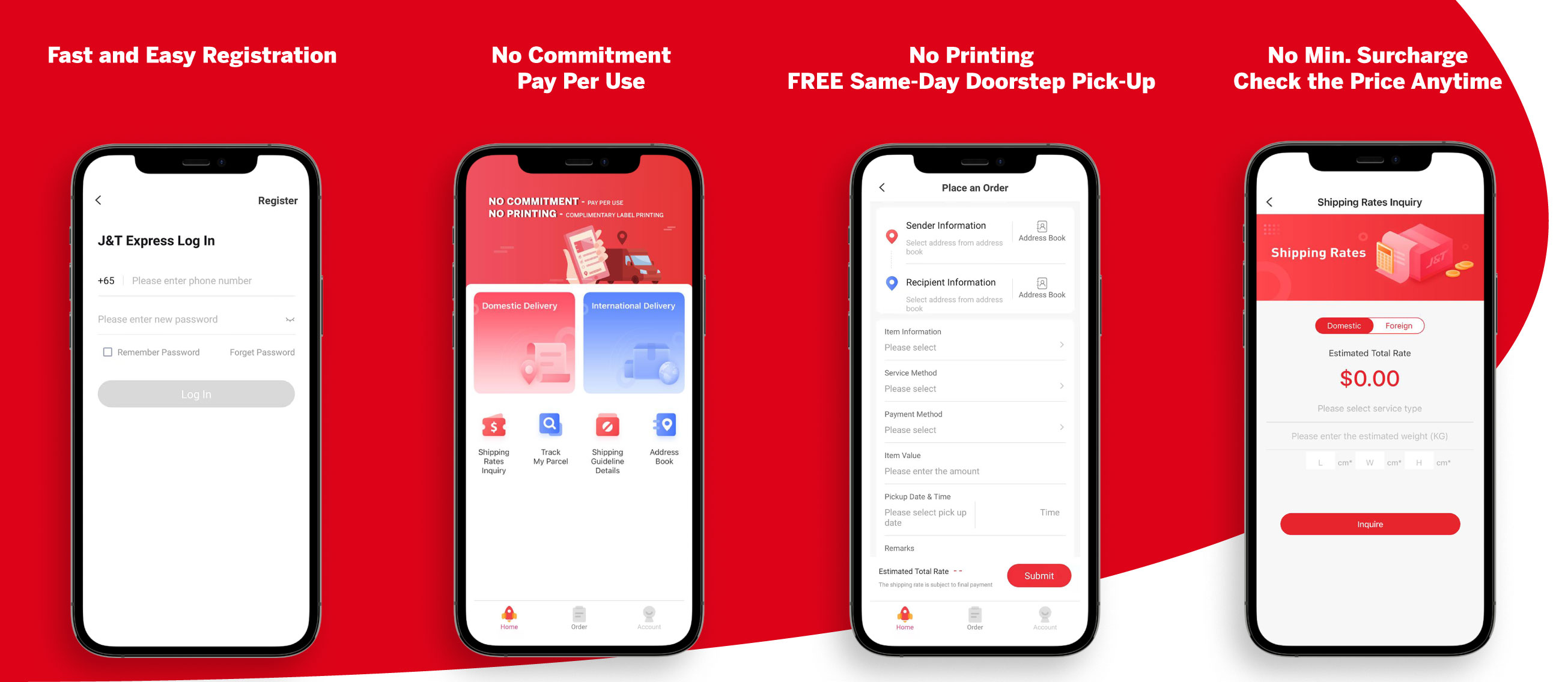 SINGAPORE, 16 August 2022 – As part of its commitment to drive innovation in logistics, J&T Express Singapore today announces its latest update to its flagship mobile app – J&T Singapore App – to offer international delivery to Malaysia. This comes alongside the launch of J&T Express' new web-based intelligent transport management system, known as JMS, to drive greater operational efficiency.
Cross-border e-commerce in Southeast Asia, which already accounts for 40% of the region's total e-commerce market, is set to reach USD12 billion by 2023. Amid rapid digitalisation and the shift to online shopping, entrepreneurs and small businesses are increasingly tapping into e-commerce platforms to reach a wider customer base and scale quickly, while consumers are leveraging logistics companies to send packages overseas for personal shipment.
To meet this growing demand for cross-border logistics, the updated J&T Singapore App will now allow users to access seamless and cost-effective international delivery – starting with door-to-door deliveries from Singapore to Malaysia, with more destinations to be added gradually. This new feature comes on top of the app's existing domestic delivery service.
Alice Yeung, Sales and Marketing Director of J&T Express Singapore said, "The enhancement of the J&T Singapore App and launch of JMS are a testament to our commitment to investing in new technologies and advancing our offerings to reach wider audiences. As a tech-driven e-commerce logistics company, we are always seeking innovative ways to improve the customer journey and optimise every key touchpoint, from upgrading our back-end operational system to strengthening the user experience with more delivery options."
J&T Singapore App expands beyond local borders to cover international delivery
The updated J&T Singapore App offers international delivery services to Malaysia within four to nine days[1], and local delivery within one to three days.
With digital savvy consumers purchasing a greater variety of items online, including bulky items like home appliances or furniture, J&T Express has also raised the maximum parcel weight for domestic deliveries to 30kg – a six-fold increase from the previous limit of 5kg. Similarly, businesses will have the flexibility to send parcels of up to 30kg across borders.
Offering a user-friendly interface and transparency in costings, the J&T Singapore App aims to provide a simple and convenient way for everyone – from individuals to small business owners and e-commerce sellers – to access competitively priced delivery services. This is part of J&T Express' strategic expansion into the consumer market to diversify its offerings and meet growing consumer demand for both domestic and international delivery.
To place an order, users can easily get an estimated price through the J&T Singapore App before proceeding to pre-authorise payment, which would only be deducted after the package has been picked up. At the same time, users can avoid the hassle of printing shipping labels with J&T Express Singapore's complimentary label printing service and enjoy real-time tracking of their parcels on the app or via J&T Express' website, offering them a greater peace of mind.
To kickstart the launch of J&T Singapore App's international delivery feature, J&T Express Singapore is offering a discounted price for shipments to West Malaysia starting from $4.30 (exclusive to prevailing charges) from now till 31 August 2022. The J&T Singapore App is available on both Apple Play Store for IOS and Google Play Store for Android users.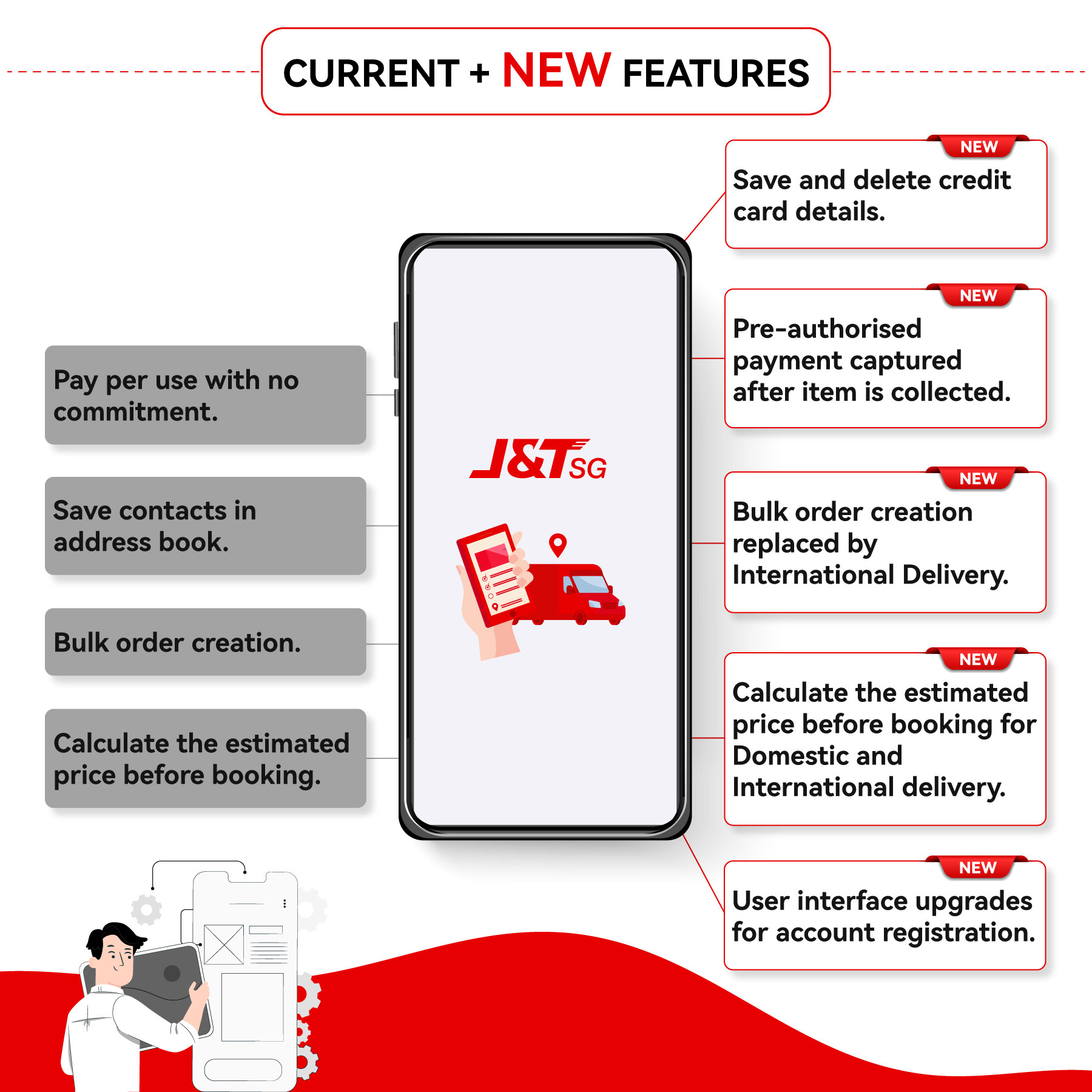 Driving efficiency through technological innovation
As part of its ongoing commitment to delivering best-in-class service quality through technological innovation, J&T Express Singapore launched its newly unveiled JMS, a smart transport management system, with the aim of delivering quality and efficient express services to customers.
The new JMS will offer end-to-end visibility into J&T Express Singapore's entire logistics chain, ranging from order placement to shipment execution and fleet management. JMS will provide data analytics to further optimise day-to-day processes, ensuring reliable delivery services. To further drive a seamless logistics experience, JMS will also optimise how customer queries are processed, while streamlining workflows and communication between cross-functional teams.
The launch of JMS is a key pillar to J&T Express' global growth strategy as a one-stop logistics solution provider. As it diversifies its offerings to provide high-quality and secure express international deliveries, J&T Express has expanded its global network to 13 countries, with its latest market entries being Egypt and Brazil, and opened new warehouses such as the Changi Airfreight Centre in Singapore.
– End –
[1] Subject to changes due to weather conditions or other unforeseen circumstances