Today's online shoppers expect convenience from start to finish. The product they want must be on the first page of search engine and eCommerce marketplace results. Customers need to see every product detail on one page—and be able to Add to Cart with the next click. And product comparisons should be simply worded and bite-sized.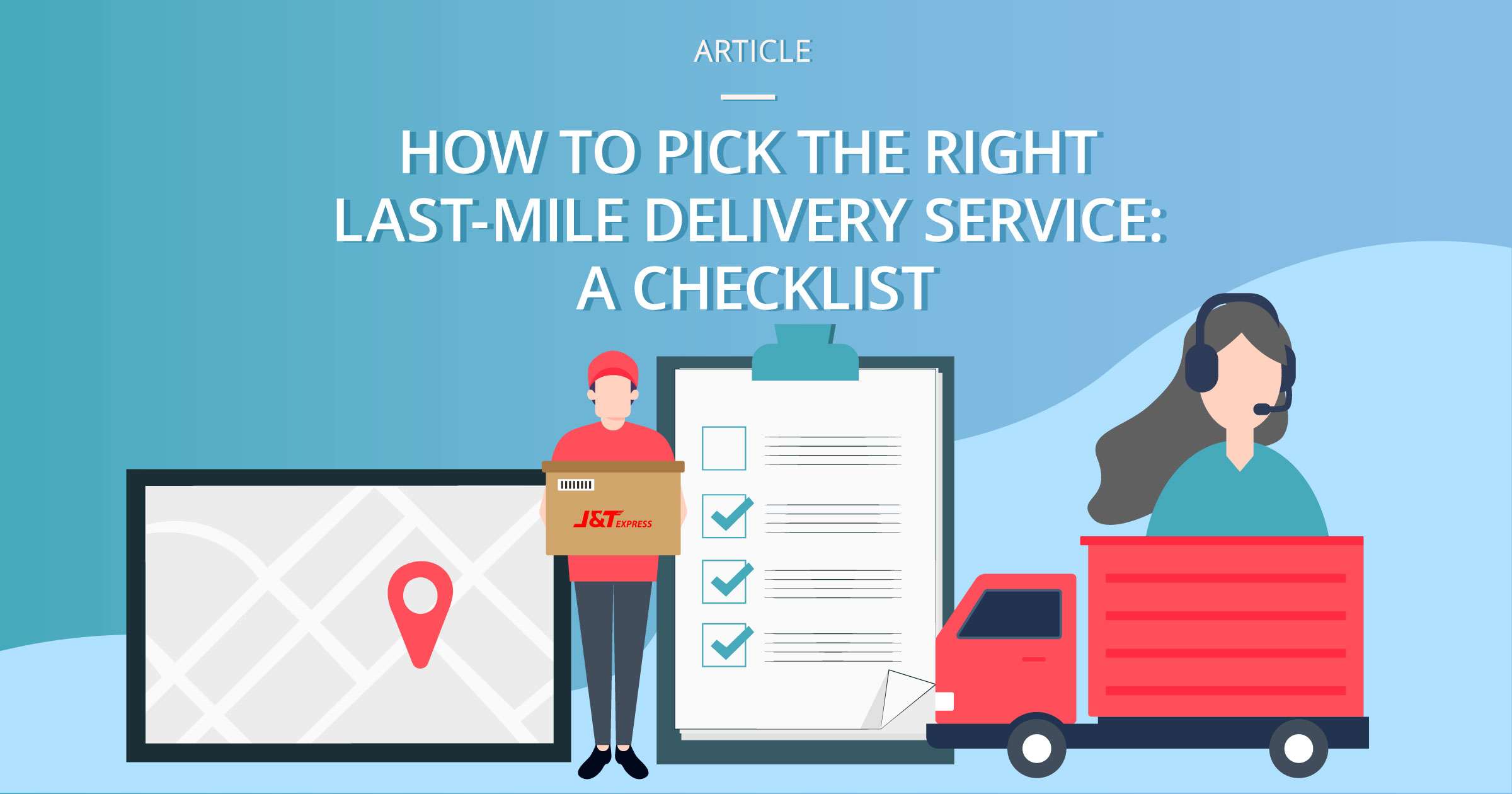 What if there are snags in this process? Well, shoppers can (and will) abandon their carts. End of story.
Securing and filling orders are usually the biggest challenges for online entrepreneurs. But sellers may encounter an even bigger challenge when last mile delivery solutions join the party.
Last… what?
The metaphorical 'last mile' refers to the distance travelled by a courier from a seller's warehouse or office to a buyer's address. The actual distance can span several miles, can take anywhere from hours to days, and may or may not involve some classic Southeast Asian island-hopping.
INSEAD's 2019 report on Southeast Asia's tech logistics underscores how critical the last mile delivery service is. The compound annual growth rate (CAGR) of parcel and express-item deliveries for 2015-2020 comes close to 30% for the Philippines and Vietnam. Thailand's and Indonesia's CAGR goes past 20%, while Malaysia and Singapore are between the 10% to 20% mark.
Of course, the prior stages of store operations and fulfilment are important, too. But eCommerce delivery is the very last thing customers will see from you. This means it's also your last chance to make a solid impression—and the first to focus on when building a stellar reputation.
Because eCommerce sellers like you cannot cover the last mile on your own, the best tactic is to find a long-term partner for last mile delivery (Singapore, as well as within Southeast Asia). However, the rising numbers for both online orders and regional last mile players can make it tough for sellers to choose the best partners.
We put together a list of last mile essentials and a short checklist for you to use. These are helpful whether you're an eCommerce rookie, or searching for a new last mile delivery service to work with.
The last-mile essentials
Speed
For everyone working in eCommerce delivery, the timer starts the instant a shopper checks out and gets their receipt. Beyond making sure all orders are in good condition, packed properly, and sent off to the right customers, sellers and logistics providers are now in a tight race from digital order to doorstep.
One thing to note is that this tight race is becoming even tighter. INSEAD states that Asia-Pacific now accounts for 36% of revenues from the global same-day delivery market. 49% of shoppers also say they are more encouraged to buy when same-day delivery is available, and 80% want same-day deliveries. 61% even want their parcels to reach them within one to three hours!
Tracking and tracing
Aside from getting parcels ASAP, customers also want to know where they are while in transit. This provides them peace of mind, and assurance that both the eCommerce seller and the logistics company have seen and processed their orders.
Through a shipping API, sellers can give out tracking numbers for packages, which customers can then plug into their eCommerce marketplace or logistics service's app. That way, they know exactly where their purchases are at any given time.
In turn, the best logistics companies now offer track and trace delivery as a vital service. Here, it is important that the logistics provider frequently updates the delivery status, and communicates with customers in case of delays and unforeseen circumstances.
Rules
Every last mile delivery service follows its own sets of rules and conditions.
Some deliver parcels only on business days, some take just Sundays off, and some work from Monday to Sunday. They also have their own guidelines for parcel sizes and weights, and the items they will never accept (or accept under limited circumstances). They differ as well for returns and exchanges, and number of delivery attempts made before returning a parcel to the seller.
So when looking at last mile delivery services, always be aware of the differences in rules. And if you have questions that aren't addressed, you can always ask the company directly.
Parcel handling
Packaging is crucial for eCommerce sellers. The way a seller sends off their product to the customer (and the premium feel of the materials and presentation) signals to the customer that the item—and their business—is highly valued.
Brand awareness and customer loyalty are built partly on eCommerce packaging, so a seller's last mile delivery service must take great care to preserve that. Parcels must be in pristine condition when they get to the customer's doorstep. Otherwise, both the seller and customer may feel disappointed.
Customer service
A worthwhile last mile delivery service will have the proper channels to address any customer issues. For example, if their parcels were damaged, dented, opened, or tampered with in any way during delivery. Or those parcels were delayed—or worse, not delivered at all.
The speed and thoroughness of customer-service responses come into play here, too. Both sellers and shoppers must feel that logistics companies care about the parcels they send out. This level of care will impact both their working relationship with the seller and the customers' perception of their business.
Pricing
Here comes the all-important question: how much should the aforementioned last mile delivery solutions cost them—and by how much would these affect their earnings?
Sellers should ask about pricing only if all their conditions have been met. And for eCommerce, thinking long-term would be more beneficial. It doesn't make sense to use different delivery services to ship out parcels within the same areas or countries.
Go the extra mile!
Ask these questions when checking out last mile delivery companies:
Speed: How quickly can the delivery hub get your parcels from your warehouse or office to your customer? And on what days of the week do they deliver?
Tracking and tracing: Does the company have an app or webpage for parcel monitoring? Moreover, does this company provide API integration so you can connect your eCommerce store to its system?
Rules: What are their operating hours, or holiday policies? What's their return/exchange policy? How about minimum and maximum sizes and weights for parcels? What are their prohibited and restricted items? How many times would they try to deliver a parcel before returning it to you?
Handling: What's the condition of the parcel(s) when they get to the customer? Any feedback on product damage, bad parcel presentation/wrapping, employee conduct, and other handling matters?
Customer service: What communication channels are available? How quickly do they reply to queries? How easy are they to talk to, and do they make the effort to keep your business?
Pricing: What do they charge for last mile delivery? Can they do bulk or contract pricing? How do their prices compare to competitors' prices?
And for those wondering how J&T Express fares as a last mile delivery service (or as a full eCommerce solutions provider), here's what you need to know:
☑ We deliver your eCommerce parcels seven days a week, with parcels going from sellers to buyers within one to three days.
☑ Customers can track their J&T Express parcels through this link.
☑ We give you software integrations for Singapore's top eCommerce marketplaces: Lazada, Shopee, Zalora, and Qoo10. We also have plugins for Shopify, Magento, and WooCommerce—and you can count on seamless order uploads for every platform we support!
☑ We also offer Express and Economy Delivery Service, depending on how urgent your parcel delivery is. Orders submitted before 4 p.m. can be picked up on the same day.
☑ Our delivery fleet handles more than 20,000 parcels per day, so you know we know how to take care of your items.
For other questions on our shipping rules, prohibited and restricted items, allowed parcel weights, and prices, contact us by email or social media (Facebook, Instagram, and LinkedIn).
Alternatively, you can fill out the form below to get started.