J&T Express Singapore strengthens logistics solutions to meet shifting retail needs of businesses and consumers
Businesses in the retail sector can now enjoy B2B transportation service with a range of delivery options catering to different business needs
New features and more user-friendly interface on J&T Express Singapore's flagship app are launched to increase convenience of delivery services for both businesses and consumers
The global logistics service provider continues to build on its strengths in the e-commerce sector through partnerships with TikTok Shop and Carousell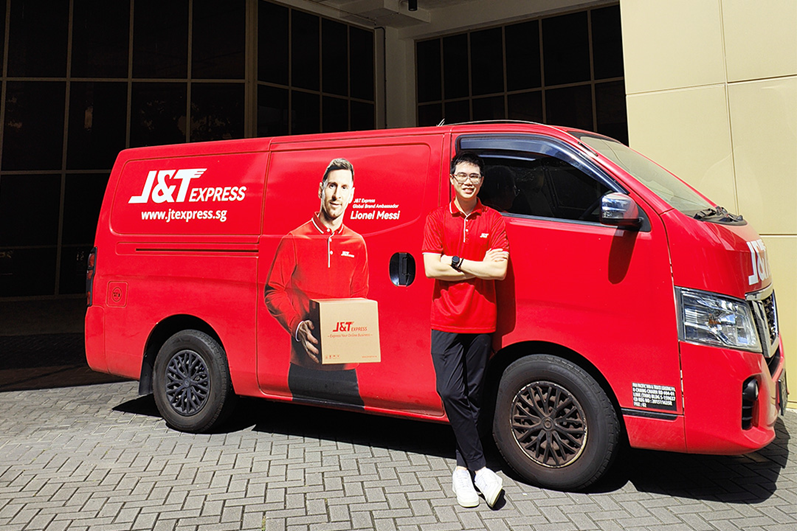 J&T Express Singapore rolls out new logistics solutions to better meet needs of
the rapidly-evolving retail sector
SINGAPORE, 14 September 2023 – Global logistics service provider J&T Express Singapore is pleased to announce new enhancements to its existing services and collaborations. This is in line with a broader move to tap on the latest trends in the B2B retail landscape and better meet the needs of both businesses and consumers.
With the resurgence of in-person shopping, more people are engaging with multiple channels when making a purchase. In fact, omni-shoppers, or shoppers who shop both online and in physical stores, made up 79% of all shoppers in APAC. To add on to the appeal, campaigns that tap on three or more channels to engage customers achieve purchase rates that are 287% higher than single-channel campaigns.
Building tailored logistics solutions for fast paced B2B retail landscape
With the rising trend in omnichannel retail, which sees the integration of e-commerce and offline shopping in one unified shopping experience, having a reliable yet agile logistics system becomes crucial to business success.
In response to the increasing demand for flexible logistics services in retail industry, J&T Express Singapore is launching an all-in-one delivery solution to provide B2B transportation for businesses in addition to its current e-commerce logistics services. One key solution is centred around offering businesses different vehicle options to support varying transportation needs at competitive rates.
Businesses will be able to choose from various shipping options, such as single- and multi-way transfer options, warehouse transfers, and ad-hoc transfers for parcel deliveries, less than truck loads (LTL) or full truck loads (FTL). The expanded range of logistics options comes as a response to retailers' challenge of ensuring efficient and cost-effective order fulfilment across the online and offline spaces.
Elevating customer experience with new features for J&T Singapore App
In today's competitive retail landscape, it is vital for businesses to invest not only in providing high-quality products, but also memorable, customer-centric experiences.
In a bid to create more visibility and enhance user experience, J&T Express Singapore is rolling out a series of new features to its flagship mobile app, J&T Singapore App, with a brand new and user-friendly interface. The App can now detect the nearest J&T Point to the user based on their location for hassle-free parcel drop-off. For customers with flexible schedules or more urgent delivery needs, this feature comes as a convenient new addition to the range of collection options offered by J&T Express.
Strengthening e-commerce presence with TikTok Shop and Carousell Singapore partnerships
With nearly a quarter of all retail purchases expected to take place online by 2027, the e-commerce trend shows no signs of slowing down – particularly social commerce, which involves the buying and selling of goods through social media. The interactive nature of social commerce allows brands to engage with their customers in real time and offer seamless transactions within one platform.
As e-commerce volumes continue its upward trajectory, there has been increased demand for logistics providers who are able to provide seamless end-to-end support to retailers. J&T Express Singapore leads the charge with its ongoing partnerships with TikTok Shop and local multi-category second-hand marketplace Carousell Singapore.
As the official logistics partner of TikTok Shop, J&T Express Singapore provide sellers with all-important logistics support. For small businesses that engage in live selling via livestreams on the platform and bigger brands with high-volume orders, it is crucial to have a reliable logistics partner that is able to adapt to their unique needs.
Other than providing top-of-the-line logistics services, J&T Express Singapore also works closely with TikTok Shop to provide sales and marketing support to help drive sales for sellers in the form of competitions and co-funded platform vouchers, showcasing its mission to be "customer-oriented and efficiency-based".
Doven Yap, Head of Seller Acquisition and Incubation at TikTok Shop Singapore, said, "We are pleased to continue our collaboration with J&T Express Singapore. With the support of such a reliable logistics partner, our sellers are empowered to deliver a more seamless shopping experience for customers."
J&T Express Singapore is also at the forefront of providing expanded collection and delivery options for the second-hand e-commerce market. As the first logistics service provider to be exclusively integrated into Carousell Singapore's platform, J&T Express Singapore will bring users more convenient delivery options with fully integrated pick-up service options. This includes the upcoming next-day delivery, self drop-off at J&T Points located islandwide, and return shipping with complimentary label printing service.
- END -