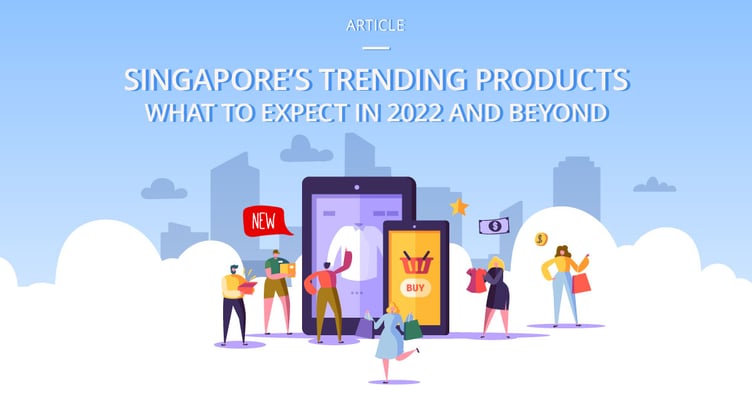 As one of Asia's leading tech hubs, Singapore, unsurprisingly, saw local consumer behaviour shift to online channels during the pandemic. It's a trend that's consistent with other Southeast Asian nations, where 70 million more people now shop online since the start of the pandemic, according to research by Facebook and Bain & Company.
Meanwhile, data from Statista shows that Singapore's revenue from eCommerce is on track to reach S$3,762 million (USD $2,793 million) in 2021, with user penetration reaching 55.9% in 2021 and a further 67.2% by 2025.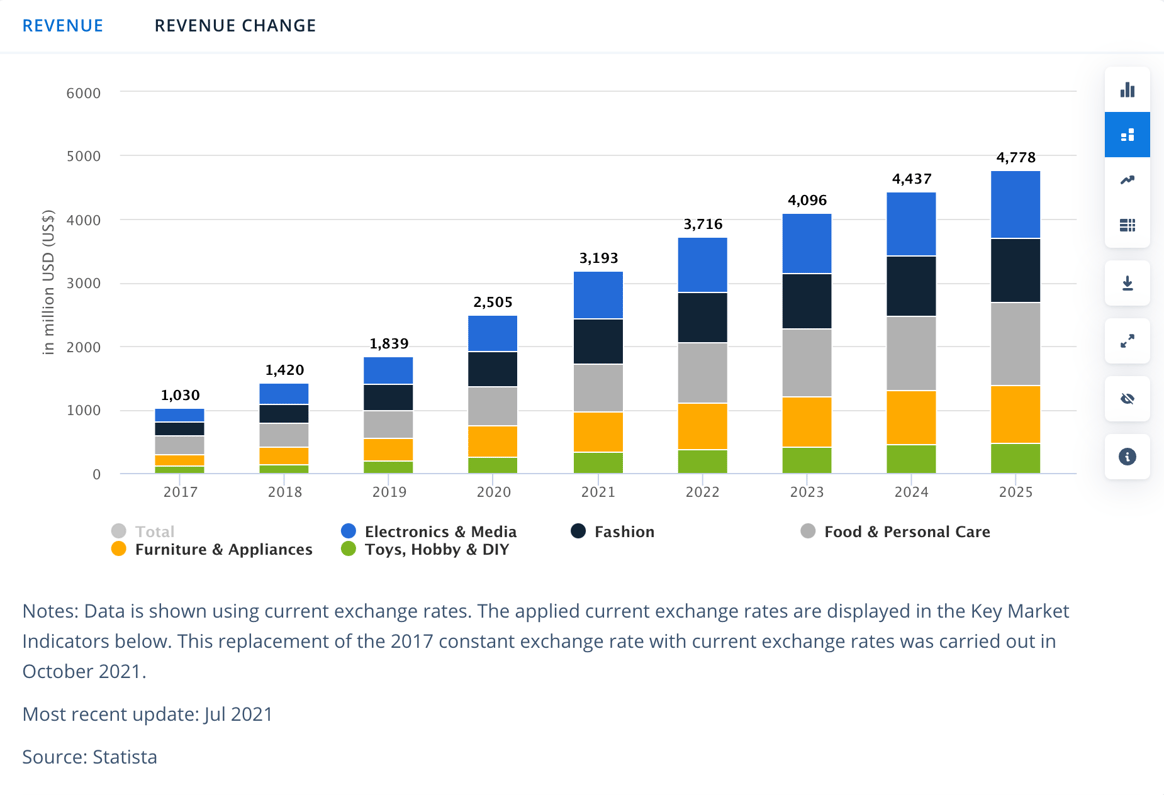 Image source: Statista
What's more, these new digital habits are expected to be "sticky"—90% of consumers in Singapore and the rest of SEA plan to continue their newfound digital habits post-pandemic.
What Does This All Means for Online Sellers?
All this is exciting news for both online sellers in the country and cross-border retailers. But it's not just the pandemic that's driving people to shop online.
According to a study by performance marketing firm Reprise Digital, Singaporean shoppers are very price-conscious, with 63% of consumers choosing to shop online for promotions and discounts. In fact, 52% of Singaporean shoppers do their due diligence by visiting brand websites before making a purchase decision.
This makes it all the more important to pay close attention to what Singaporean consumers are buying online. As the coronavirus crisis's retail impact continues to unfold, sellers should track changes in consumer preferences to find out what new products and product categories are at the top of people's shopping lists.
To help you do just that, we've looked into this year's trending products and product categories in Singapore based on Google trends data.
Top Products in Singapore Based on Google Trends Data
1. Fitness Equipment
Temporary closures and restrictions on gyms as well as limited outdoor activities have caused Singaporeans to flock to at-home exercise equipment. In April 2020, Decathlon reported a 43% increase in sales of home fitness products, particularly for those related to yoga and bodybuilding. Unsurprisingly, Google also found a consistently high volume of searches for terms like "yoga mat" and "dumbbells."
Google Trends data for yoga mats shows that search volumes peaked around the same time the government enacted the "COVID-19 Control Order" in April 2020. Interest in yoga mats waned in the months that followed but saw spikes in May and July 2021.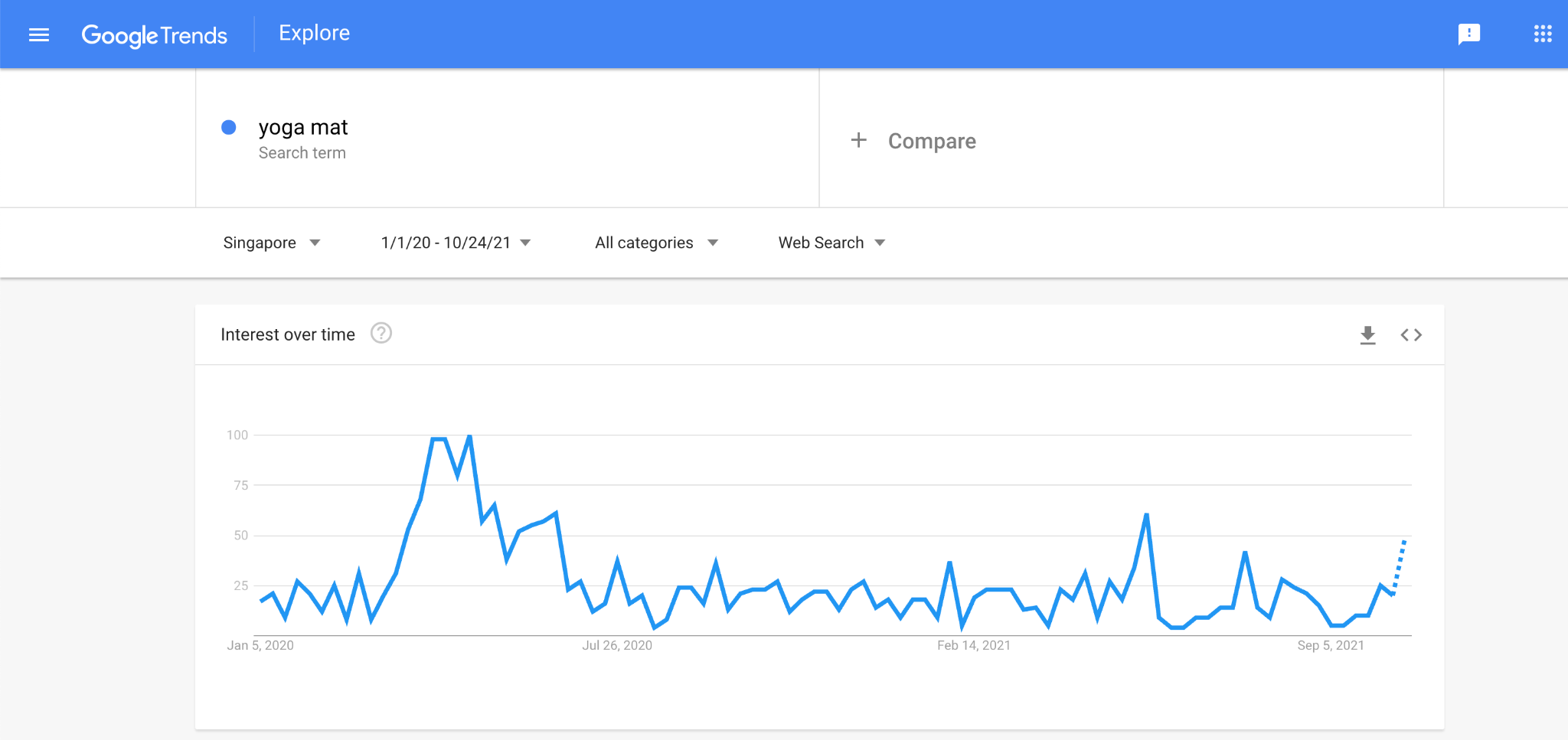 The trend is much the same with searches for dumbbells.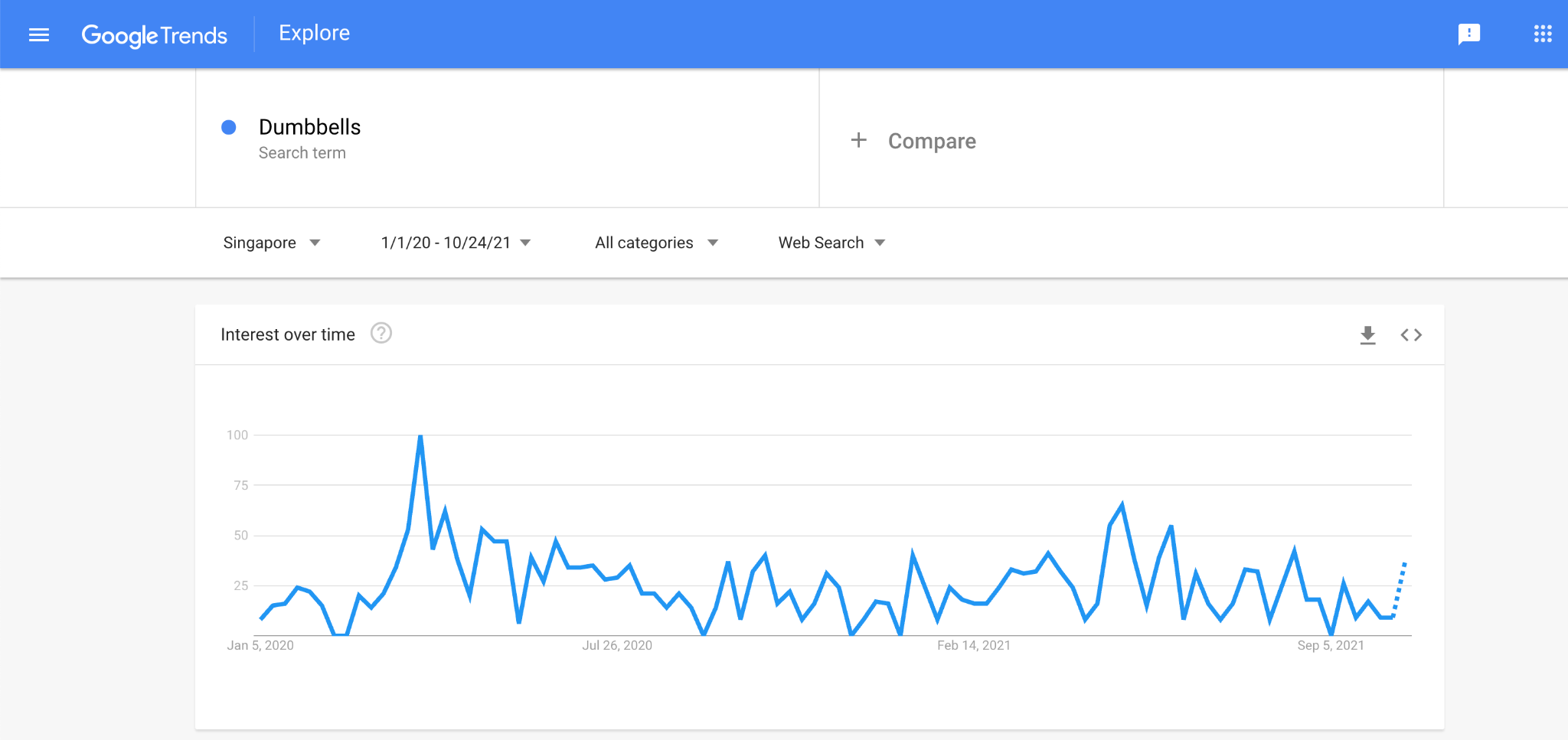 While gyms in Singapore have opened their doors to vaccinated individuals, we expect that safety concerns will prevail so long as coronavirus cases in the country and abroad remain high. As a result, home fitness equipment should still be in demand in 2022.
2. Loungewear
Once relegated to an afterthought in people's wardrobes, loungewear such as pyjamas, tracksuits, and relaxed tops and trousers became more popular as Singaporeans' sought out stylish but comfortable remote work (or remote school) clothing. Local brands have been quick to adapt, with the likes Pomelo and Love, Bonito launching loungewear lines.
Google Trends data shows a steady volume of searches for loungewear in Singapore over the last 12 months, which we expect will continue as remote work remains the norm.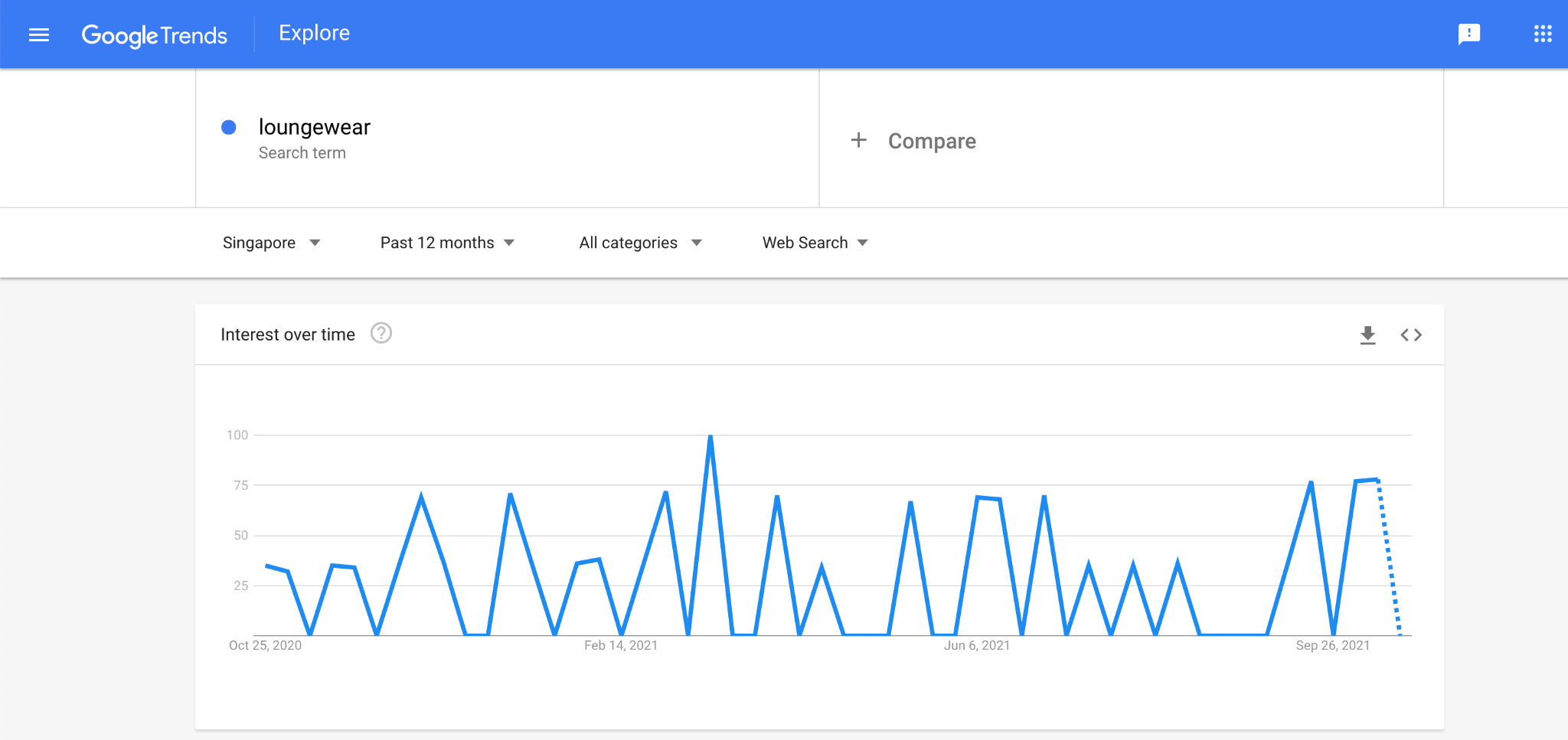 3. Air Purifiers
As the World Health Organisation (WHO) and the US Centres for Disease Control and Prevention accepted earlier this year that COVID-19 can be transmitted through the air, The Straits Times reported that local retailers like Gain City and online marketplaces like Lazada saw a spike in sales of air purifiers.
Google Trends data also confirms high interest in air purifiers this year, with searches peaking in May—around the same time the WHO published its findings on airborne transmission.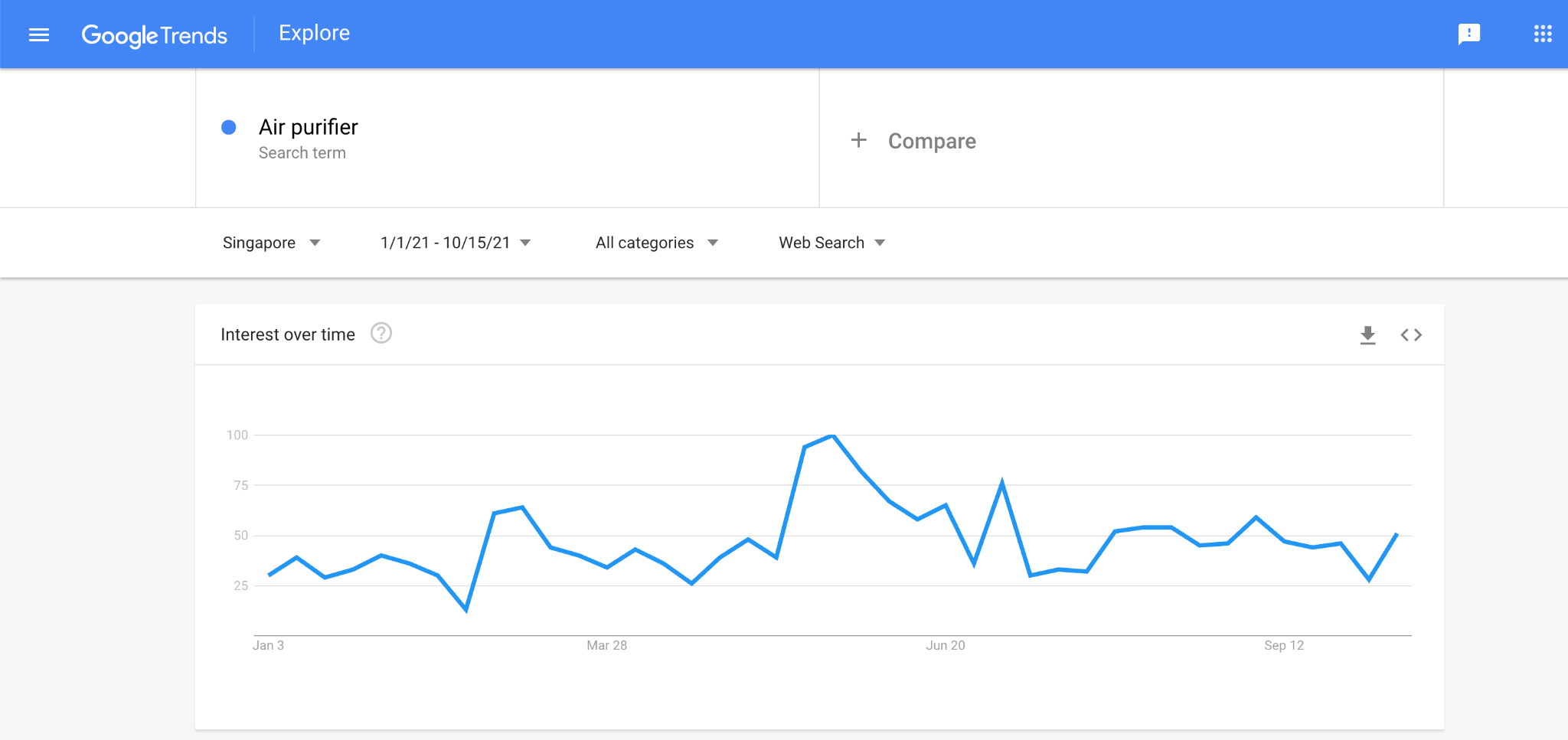 The annual haze is another factor driving interest in air purifiers—something that's likely to continue even in a post-pandemic world.
4. Essential Oils
While the jury is still out on the health and wellness benefits of essential oils, also known as aromatic oils, there's no denying that they've always been popular in Singapore, as evidenced by the presence of local brands like Ollie, Flowwe, nenä and more.
As Singaporeans continue to spend most of their time at home, they've naturally turned to all kinds of ways to be comfortable. Purported health benefits aside, diffusers and essential oils offer a great way for homes to smell good.
Google Trends data shows consistently high search volumes for essential oils, reaching the 90s (a value of 100 is the peak popularity for the term) several times through 2021.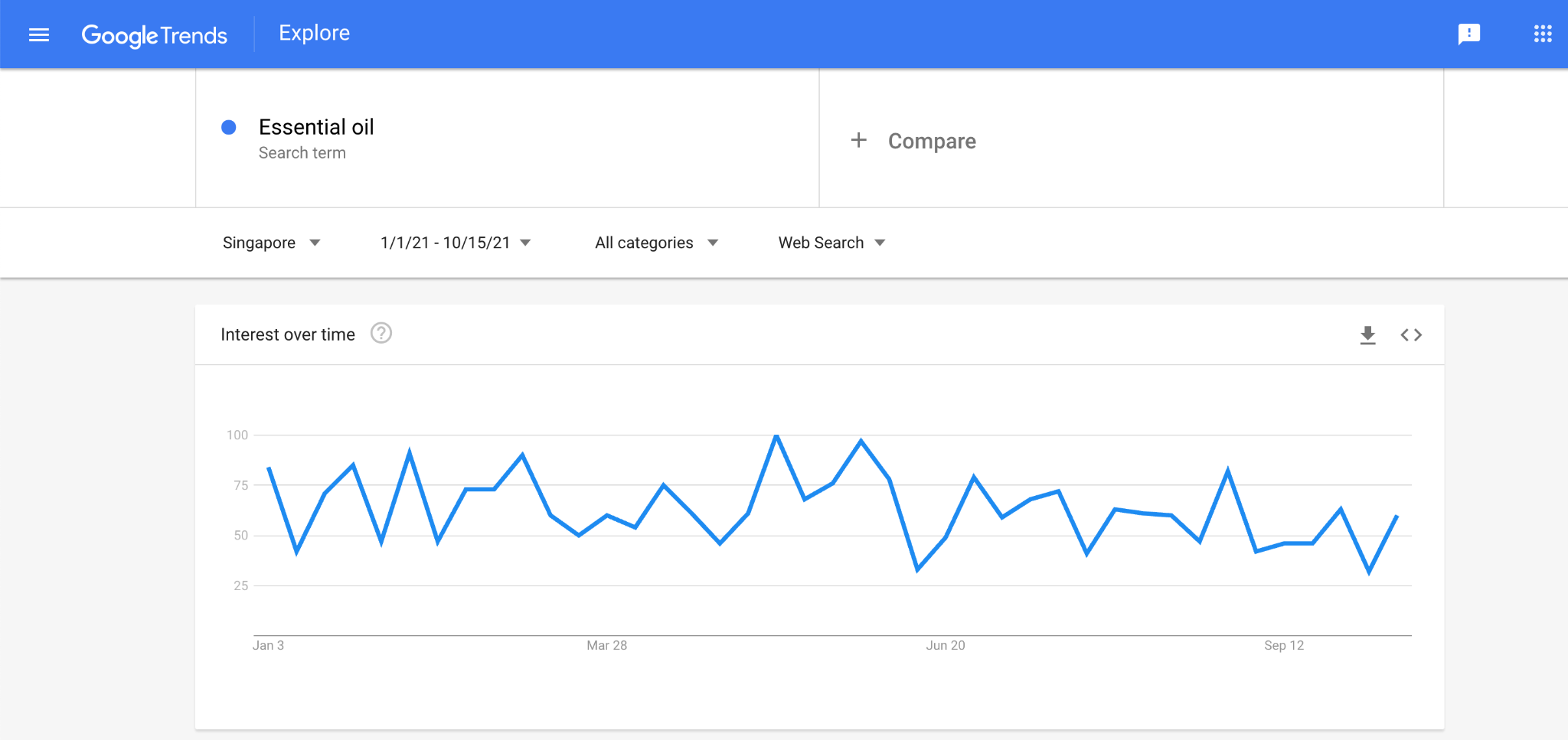 5. Air Fryers
The first year of the pandemic brought home cooking to the forefront of self-care. It's no surprise then that 2020 was also the year of the air fryer, which saw it overtaking the Instant Pot as a search term.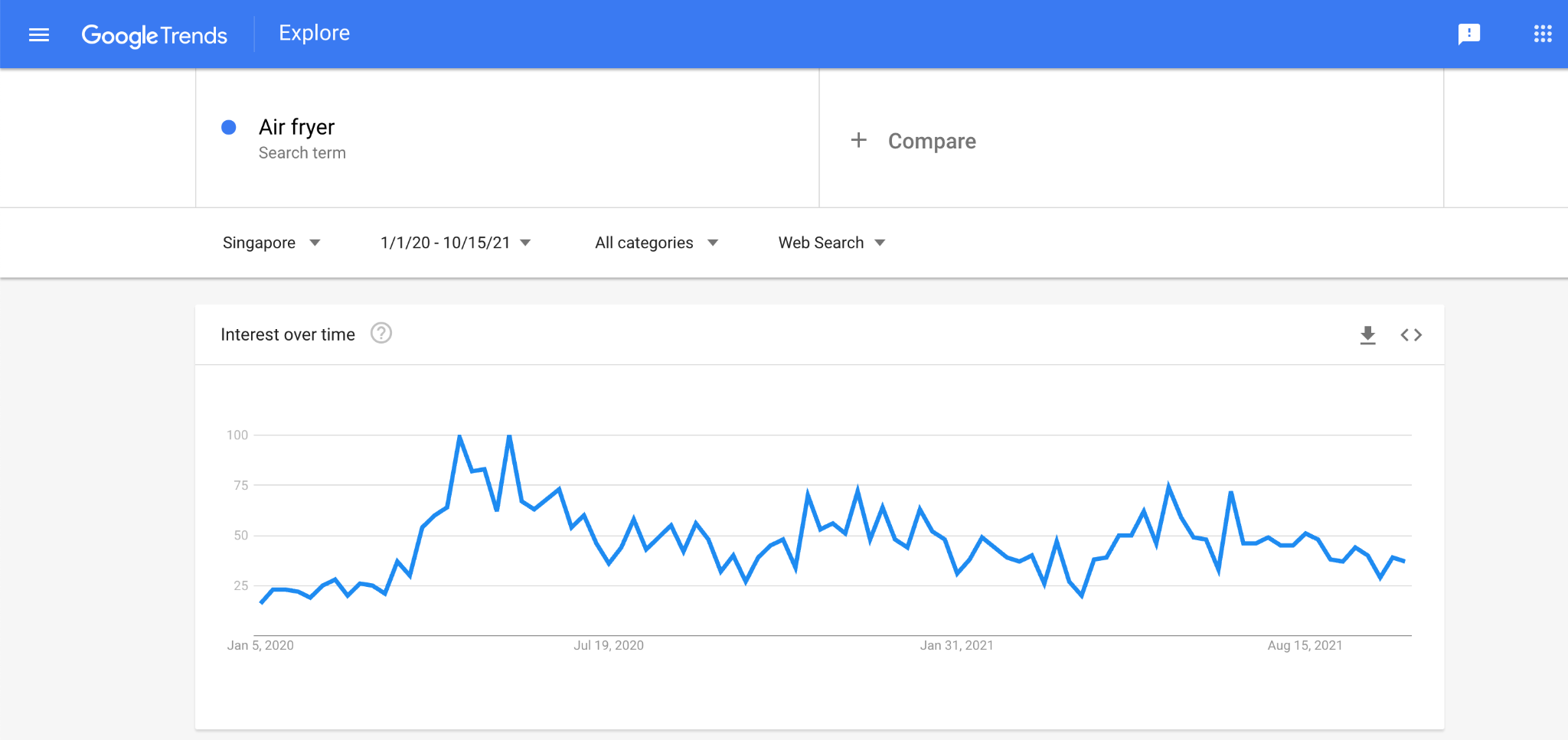 After hitting a peak in search volume in 2020, the search air fryer continued to be popular throughout this year. In fact, CNA Insider even did an entire story on the science and health benefits (i.e., use of less oil) of air fryers.
As COVID-19 reinforces the importance of good health, we expect that air fryers will be on people's wish lists this holiday season.
6. Cosmetics
The pandemic has been brutal on the global cosmetics industry. While beauty products are usually resilient to times of economic turmoil (makeup is seen as an affordable indulgence), stay-at-home orders have diverted interest from makeup to skincare.
But Google Trends data for the search term cosmetics may show that interest in the segment is rebounding. Compared to 2020 data, this year's interest in cosmetics has seen higher peaks (i.e., in the 80s and 90s).
As of this writing, cosmetics brands that made it to the list of breakout searches (i.e., search terms that grew by more than 5000%) and rising searches include:
ColourPop Cosmetics

L'Oréal

Kylie

Laneige

Shu Uemura

Catrice
Shopping behaviours in China, which has relaxed many of its pandemic restrictions, may provide a preview of the global cosmetics industry's return to form. L'Oreal's Q1 2021 earnings report shows that sales in China were up 37.9%.
7. Skincare Products
According to Statista, Singapore's skincare segment is expected to generate S$382.4 million (US$283.9 million) in revenue in 2021 and grow annually by 3.03% until 2025. Perhaps most interesting is the projection that 87% of skincare sales will be driven by non-luxury goods.
Google Trends data shows that searches for skincare had higher peaks in popularity this year than in 2020. With access to skin clinics and spas still limited, we expect skincare to be a hot segment for online sellers in the months to come.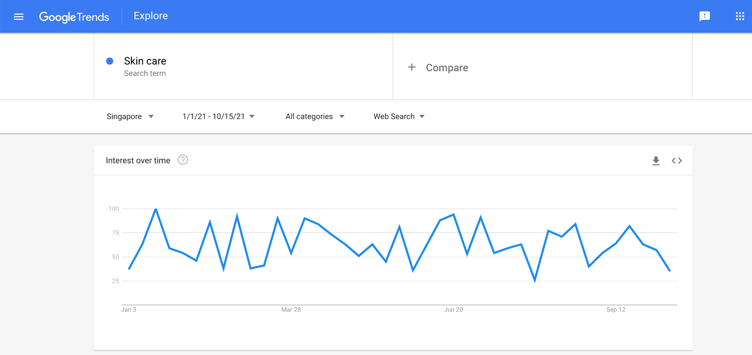 Searches for "skin care" (2021)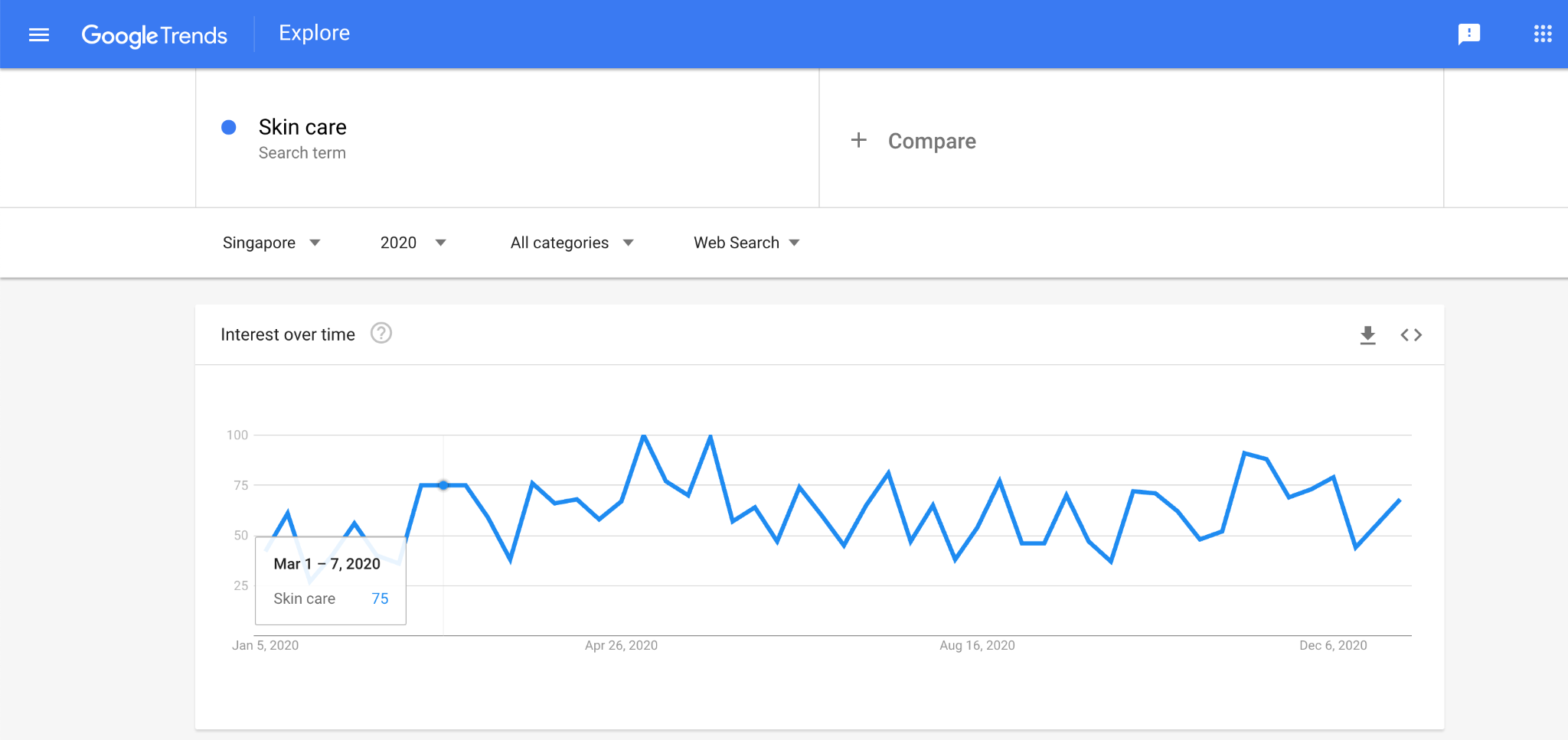 Searches for "skin care" (2020)
8. Vegan Food
Greater awareness of health and nutrition has also led to rising interest in vegan food in Singapore. 2020 saw the debut of alt-protein companies such as Eat Just—providers of the first lab-grown meat to receive regulatory approval in Singapore. More recently, Next Gen began supplying its vegan chicken brand TiNDLE to local restaurants.
According to Google Trends data, 2020's high search volumes for vegan food carried over this year. Interest in vegan food is still in its nascent stages. But sellers that are ahead of the curve have a chance to engage a community of active sustainability advocates.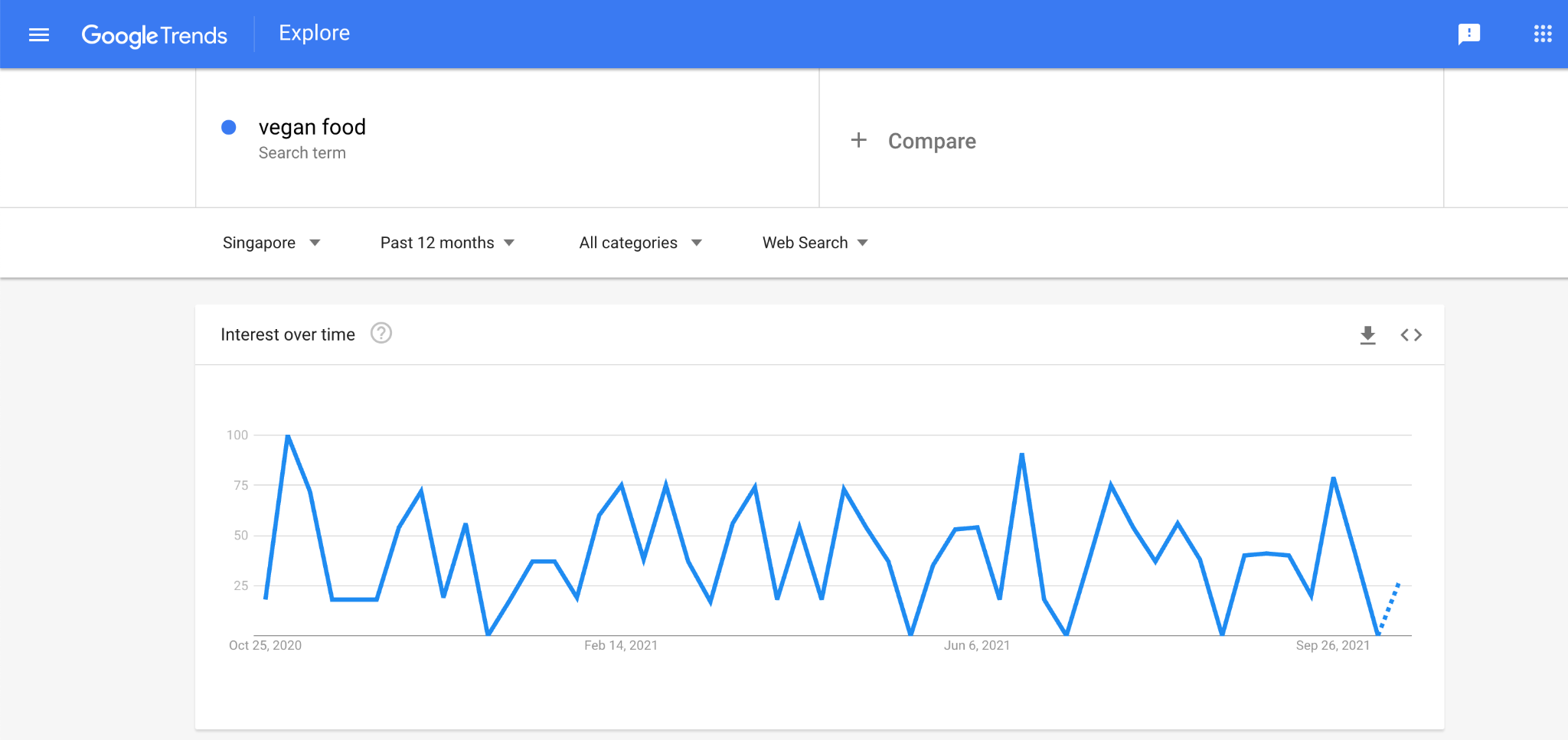 What's Next for Online sellers in Singapore?
The pandemic represents a turning point for eCommerce in Singapore and the rest of Southeast Asia. But for sellers and consumers in the region, the crisis is just one aspect of why Singaporeans shop online. Convenience, better prices, and wider product selections are all factors that sellers should take advantage of.
Sellers should also work with a reliable partner for fulfilment and warehousing, last-mile delivery, and international delivery. At J&T, we provide last-mile delivery solutions combined with integrated solutions for the world's leading eCommerce platforms, including Shopify and WooCommerce.
Contact J&T Express for more information.