The holidays are fast approaching, and there's no better way to welcome the season than with everyone's favourite pastime: online shopping.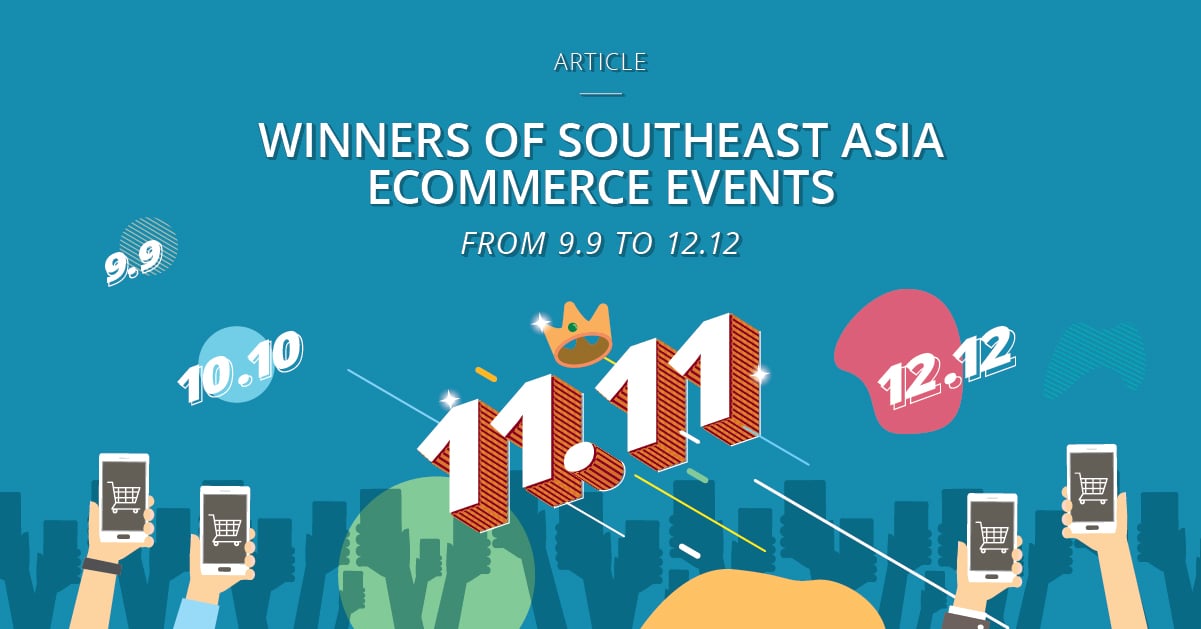 Consumers have taken quickly taken to eCommerce in Southeast Asia, and for two reasons. Not only is it convenient, but the growing popularity of day-long or week-long sales (a.k.a. flash sales) has also turned eCommerce into an irresistible proposition for holiday shoppers.
Following the success of Alibaba's Singles' Day or 11.11, many eCommerce companies have followed suit and now offer huge discounts on specific days or weeks of the month. Most popular today are 9.9, 10.10, 11.11, and 12.12, which collectively make Q4 the new golden period for the top Southeast Asia eCommerce platforms.
The two biggest sales inspired by 11.11
Three of the largest Southeast Asia eCommerce platforms—Shopee, Lazada, and Zalora—went head-to-head in a bid to be crowned the champion of both the 9.9 and 10.10 sales events in 2018 and 2019.
9.9
Shopee kicked off the 2018 shopping festivities with its 9.9 Super Shopping Day event, which is ceremoniously launched across its platforms in Southeast Asia and Taiwan every September 9. It reported an all-time high in sales, reaching nearly 6 million orders within a single day, or thrice its usual daily transactions.
In 2019, Shopee smashed its 2018 record with thrice the number of orders, plus "more than 113 million deals" offered to buyers. It also achieved a peak sales volume of 187,606 items in just one minute.
Meanwhile, more than 10 million shoppers took part in Lazada's 24-hour shopping event in 2018. It was a record-breaking number that would be beaten again the next year, during Lazada's Big Discovery Sale in 2019—and within just 8 hours. That's not surprising given the marketplace's deep discounts of up to 90%, plus S$999 in vouchers.
Likewise hitting overwhelming numbers, Zalora welcomed a 5.59% online traffic increase during its seven-day sale. While its discount categories were different from those of Shopee and Lazada, all three Southeast Asia eCommerce platforms shared a common discount range of 50% to 59% that led to the highest sellout.
10.10
Bridging the gap between Singles' Day and 9.9 is another flash sale held in October, otherwise known as 10.10. Despite arriving just a month after 9.9, consumer demand remains high. After all, the month of October's usually when holiday marketing begins.
According to SaaS company Meltwater's Ecommerce in SEA Industry Report 2018, "consumers start discussing their holiday shopping well in advance," so this is also the time of the year when brands ramp up their targeted offerings and promos.
Analytics and software company Omnilytics has also found that 10.10 produces results similar to that of 9.9, at least for fashion brands and retailers on our three top Southeast Asia eCommerce platforms. But these two "earlier" sales events can also yield slight differences across platforms. For example, for 2018's 9.9 and 10.10 sales, Zalora achieved a higher sellout for 10.10 compared to 9.9.
This might be the result of shortened sales periods—Lazada, for instance, only offered discounts between 10 a.m. to 10 p.m. that day. And as Omnilytics noted, these higher sellout rates can come "at the expense of high discounts."
What can we expect on 11.11 and 12.12?
Special-date sales are set to get bigger and better across eCommerce Asia platforms.
Last year, the 12.12 sale was overwhelming for Shopee, which received over 12 million orders across SEA and Taiwan. Leading in Indonesia and Vietnam, its average visits increased by 74% in the last three months of the year. The majority of Shopee's traffic is derived from mobile users, ranking them first in the mobile app arena.
Lazada has consistently topped its yearly sales target, even doubling its rate for 2018 compared to the previous year's. It hit record sales in Malaysia, peaking at 3,000 transactions per minute. As of Q4 2018, Lazada holds the spot for the highest web traffic in the region, with 183.4 million visits in the quarter.
Zalora isn't doing too shabby, either. The fashion marketplace was expected to increase its shopping base for its annual 12.12 Online Fever event by 32% in 2018. And the South China Morning Post's January 2019 profile on the Zalora Group included this tidbit for 11.11:
Since Zalora started taking part in 11.11 in 2014, sales have doubled every year, [CEO Giulio] Xiloyannis says. This year, site traffic and the number of items ordered tripled compared to 2017.
For 2019, both Shopee and Lazada are banking on the concept of fun in online shopping. Shopee has long had games and interactive apps on its regional platforms. But for the Philippine market, it is also counting on emotional ties and seasonality to boost 11.11 sales figures. It rebranded the traditional Singles' Day sale to "Big Christmas Sale," ushering in the country's 'official' holiday-shopping kickoff.
(Its other markets for eCommerce in Southeast Asia will continue to use "Big Sale" instead.)
In an October 2019 interview with ABS-CBN News, Lazada Group CEO Pierre Poignant states that the regional marketplace is offering 80 million deals (with free shipping for 25% of these deals) alongside 50 million shopping vouchers ready for use by November 1.
The CEO adds that Lazada's 11.11 sale would be gamified for its 50 million annual users. The marketplace will entice its shoppers to "form groups of 11 to 22 users to complete missions in exchange for daily prizes and coins." The group which gets the top spot will be given a prize on November 11.
Looking ahead to more sales events
Consumers' hunger for shopping and discounts continues to feed big shopping sales. By 2025, a $240-million growth is expected to hit Southeast Asia's digital economy, which is $40 billion more than previous predictions.
With the success of these one-day sales, it's likely that we'll get introduced to new shopping dates such as 4.4 and 5.5. In fact, Shopee has already added these dates to its regional sales schedule, and taken a per-country approach.
For example, Shopee Philippines used 4.4 to kick off the summer-sale season with its Summer Bazaar, and 5.5 as the last day of its one-week Double Double Sale. Shopee Singapore also designated 5.5 as its Brands Festival.
And with only 12 specific days in the year up for grabs, Lazada is exploring other options for its sales events. It nixed the standard matching month-and-day format for its 24-hour 2019 Mid-Year Festival, opting instead to hold it on July 12.
Regardless of the days of the month they fall on, flash sales will consistently report high numbers this year as new Southeast Asia eCommerce platforms emerge and crowd the online shopping calendar.
Send gifts straight to the doorstep
The holidays are well-anticipated by consumers and companies alike. You owe it to yourself to contact a shipping service that puts your best interests first.
Shop on Southeast Asia eCommerce platforms, and partner up with a reliable and cost-effective shipping company operating in the region. J&T Express calls Singapore home, along with five other significant eCommerce markets in Asia.
Looking to take advantage of these special sales events, and sell regionally or globally?
Fill up the following form to get started.