So you have already picked out which top eCommerce marketplaces you want to buy from (and maybe do business with), learned how to get your parcels through customs clearance, and found out how crucial last-mile delivery is for your brand.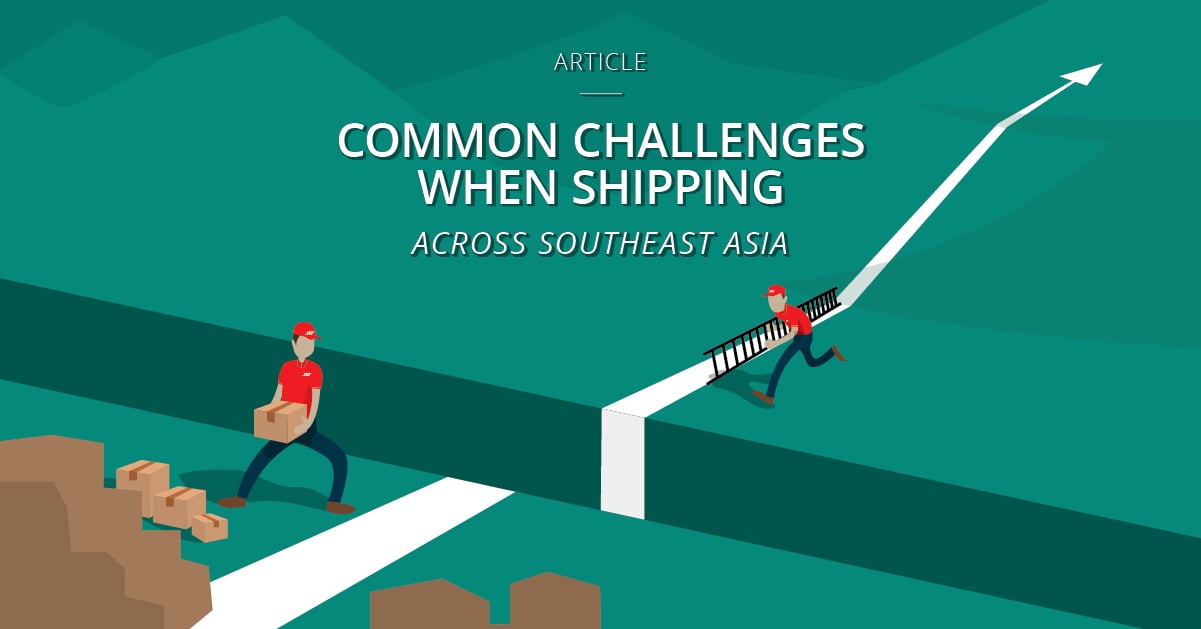 Everything's sorted, right? Not quite.
One of the most common warnings you'll encounter is that there's no single template to follow for eCommerce fulfilment. Singapore (and its logistics industry) is markedly different from Indonesia, the Philippines, Thailand, Malaysia, and Vietnam and their respective industries. What works in one country may not be applicable elsewhere.
Also, each country faces its own set of challenges for eCommerce shipping fulfilment. Whether you need a postal service provider for your upcoming digital splurge or are considering shipping products overseas, you'll definitely need to read on. This way, you can set your expectations and prepare accordingly for cross-border transactions and eCommerce delivery.
As with our very first blog post, we have categorised our findings per Southeast Asian country. We also use here the World Bank's Logistics Performance Index (LPI) dataset for 2018, which uses six metrics for global rankings and scorecards:
Customs clearance efficiency
Trade- and transport-related infrastructure
Ease of arranging competitively priced international shipments
Competence and quality of logistics services
Tracking and tracing
Timeliness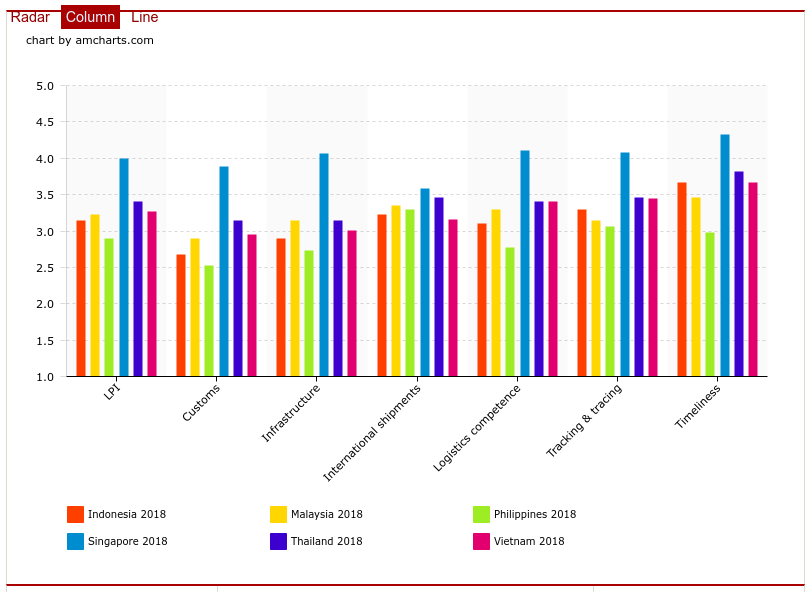 Indonesia
There are plenty of places to visit in Indonesia; its more than 18,000 islands offer a real wealth of options. But for logistics companies operating here, the largest Southeast Asian country's unique geography with varying terrain is a challenge in itself.
Shipping services thus have much ground (plus water and airspace) to cover. That's great for customers who need to send packages from east to west and vice versa, or from urban areas to the rural. But in logistics, it's anything but.
Infrastructure problems—poor roads and bridges, particularly beyond the main island of Java—compound this problem, and add to the overall cost of last-mile deliveries. It's such that Indonesian infrastructure has been described as recently as 2017 as "being a major issue in the growth of the nation's digital economy – as well as its overall economy."
And while the Indonesian eCommerce business is booming on the consumer side, there's much to be done backstage. Tech Wire Asia noted in 2018 that for goods importers, "bottlenecks in supply chains, long dwelling times in ports and lengthy trade clearances" are perennial headaches. This makes logistics a costly affair, resulting in higher product prices.
For this year's LPI, Indonesia consistently places second to last in all categories except for tracking and tracing and delivery timelines. In those two categories, the country is in the middle of the pack with scores of 3.30 and 3.67, respectively.
Malaysia
While Malaysian shoppers are becoming more comfortable with eCommerce, their discomfort at its last stages is becoming more pronounced.
A June 2019 survey by the iPrice Group and a tracking-software company has found that 43% of Malaysian consumers are "unhappy with their e-commerce delivery experience." Another important finding is that parcel deliveries regularly take 5.8 days to complete in Malaysia, a lot slower than the average of 3.3 days in the surveyed countries.
These results match the 2018 LPI, where Malaysia ranks second to lowest for timeliness with a 3.46 score.
They also tie back to existing infrastructure, personnel and IT adoption concerns. A July 2018 article on The Star Online notes that the country's logistics industry must deal with traffic bottlenecks, driver shortages, non-compliant delivery trucks, and the lack of a common customs, immigration and quarantine (CIQ) centre.
Smaller, more agile, and well-funded on-demand logistics companies also provide more options for consumers—but also significantly increase competition within that sector.
The Philippines
Geography-wise, the Philippines has the same disparity as Indonesia. Even if it has "only" more than 7,000 islands, delivery services will still have a tough time reaching the most remote and underserved areas.
Let's use the publicly available information from J&T Express Philippines as an example. The megacity of Metro Manila enjoys the shortest delivery ranges, with just one to two days of waiting time. The same goes for packages from Metro Manila to anywhere in Luzon.
The numbers go higher when moving out to island destinations and southward island groups Visayas and Mindanao. The longest delivery timeframe is at seven to eight days between small island outposts.
The country's infrastructure problems also hamper deliveries, eCommerce or otherwise. The roads and highways of Metro Manila and the cities of Cebu and Davao are getting more congested every year. The Japan International Cooperation Agency (JICA) pins the economic cost of gridlock in Metro Manila alone at P3.5 billion a day, or around US$68 million. Its transport and cargo ports are also seeing a bigger influx of both people and goods.
And there's plenty left to be done in other industry areas. Comparing the Philippines' logistics industry with its Southeast Asian siblings via the World Bank's LPI data, the country scores the lowest in all aspects except for the ease of arranging international shipments. For worldwide data, it ranks 60th with an LPI score of 2.90.
Thailand
Placing 32nd globally and second among our Southeast Asian markets for logistics performance, Thailand is doing pretty well for itself.
Export.gov also paints a rosy picture. In a nutshell: Thailand 4.0 is doing wonders for its eCommerce and shipping sectors, more consumers are going online and are trusting local and global eCommerce websites, and the country's IT infrastructure is seeing the needed changes and investments.
But the US Department of Commerce's International Trade Association (ITA) also warns businesses about Thailand's "first-to-file, first-in-right" system for intellectual property rights. Counterfeit goods are a longtime problem in global markets, but eCommerce gets these out of the tourist traps and into local homes, and possibly across country borders.
The risk is severe enough that Thailand's Department of Intellectual Property is now working with Lazada Group to "resolve and prevent the sale of counterfeit goods."
Vietnam
The eCommerce business is booming over in Vietnam, with more of its population going online to shop on well-known, locally grown marketplaces. It's also right in the middle of the pack for the 2018 LPI, except for the international-shipments category, where it places last with a 3.16 score.
But some things haven't changed. As long as cash-on-delivery is allowed (it makes up 90% of all online transactions), the Vietnamese market will keep buying.
And customs clearance can take a while. The Hong Kong Trade Development Council (HKTDC) notes that Vietnam's long customs processes can be costly for logistics companies. Both exports and imports processes take 21 days total, with costs per cargo container reaching the US$600 range (around VND14 million).
The council adds that Vietnam's logistics facilities are located "far from either ports or manufacturing plants," and don't always have highway access. That means transporters have difficulty moving cargo from one place to another, and take a long time doing so.
Singapore
Most would think, "Singapore's doing pretty well in local and international logistics. Why is it even on this shipping-challenges list?"
As it turns out, even with this country placing seventh on the 2018 LPI (and first among our markets), it does have a couple more hurdles to overcome.
A 2018 ecommerceIQ profile of fintech startup RateX and its CEO Jake Goh states that Singaporean shoppers actually spend more on cross-border delivery than they realise. The add-ons are in the form of higher transaction fees and foreign exchange rates, as well as the lack of consumer awareness on current online discounts and promos.
And having a population that loves to work has one clear consequence on last-mile deliveries: nobody's home, in the most literal sense. That means "more than 1 in 10 deliveries" are halted at the very last stage of the eCommerce transaction.
But what if there's a doorstep delivery service in the country that operates seven days a week? J&T Express does exactly that: bringing important eCommerce parcels to recipients even on weekends. That means someone's home to sign for them, no eCommerce deliveries are missed, and no packages are returned to sellers.
J&T offers another way to ensure eCommerce shipping fulfilment: real-time parcel tracking and tracing. Customers will know exactly where their orders are the minute they leave our eCommerce-enabled warehouse (or the seller's HQ) and make their way through the city-state!
Ready to ship?
Our eCommerce solutions address the biggest shipping challenges discussed here, including those for international shipping and last-mile delivery. And we're not limited to eCommerce deliveries. You can also use our product bundling service and warehouse management system to jump over various infrastructure and consolidation woes.
Looking for a reliable partner for local and international eCommerce shipping?
Fill up the following form to get started.