Business owners often go where their customers are. And in an era when 'socials' don't always mean actual, physical connections between human beings, social media has quickly become a critical eCommerce component for entrepreneurs.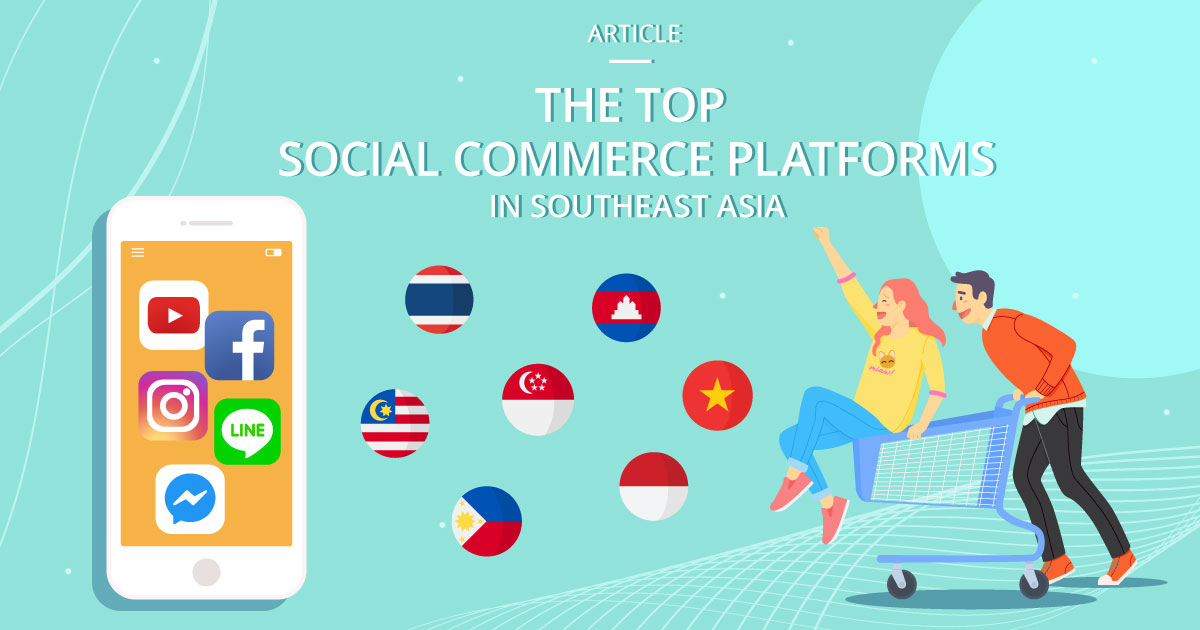 Consider this: as of 2019, 360 million people in Southeast Asia went online. Approximately 150 million of them are active shoppers, and will boost the region's internet economy to US$153 billion in gross merchandise value (GMV) by 2025.
Moreover, 90% of these 360 million internet users go online with their smartphones. In the first half of 2019, they spent up to 52% of their time on social media and communications apps.
Why shop (and sell) on social media?
Buying on social media is all about community and trust. Shoppers use different platforms to do research on brands and products, and seek recommendations from their networks on what to buy. They leave reviews on sellers' official pages, tag them for raves and rants, and show off their new buys on their own feeds.
And digital content can easily drive impulse purchases. In fact, 44% of the respondents for Econsultancy, Magento and Hootsuite's 2019 report ("The State of Social Commerce in Southeast Asia") admit to making "three or more online purchases in the past month" because of social media posts or ads.
Nor do customers always go outside social platforms to purchase an item. According to PricewaterhouseCoopers (PwC)'s Global Consumer Insights Survey 2019, Southeast Asian shoppers in four countries buy straight from social media. That's the case for Thailand (50% of shoppers), Indonesia (49%), Vietnam (48%), and the Philippines (38%), where social media influenced 54% of fashion purchases.
The same convenience works for social commerce sellers. In PayPal's 2017 study "Beyond Networking: Social Commerce as a Driver of Digital Payments," respondents from eight countries (including Southeast Asian nations Singapore, the Philippines, Thailand, and Indonesia) provided the following reasons for selling on social media:
They can easily reach a wider group of customers
Compared to eCommerce marketplaces, it is easier for them to set up their business and have a low overhead
They can also leverage their personal networks to sell and reach other networks
Social media platforms know this—and have gone out of their way to welcome social commerce. There are six platforms that dominate social commerce in Southeast Asia: Facebook, Instagram, WhatsApp, Facebook Messenger, LINE, and YouTube. There's also one 'surprise' social network coming out of Vietnam.
Which social commerce platform should you use in your country?
Cambodia
There is only one major platform as far as Cambodians are concerned: Facebook.
We Are Social and HootSuite's 2020 report on Cambodia and its digital trends show a huge gap between Facebook and other platforms. There are 9.7 million active social media users in the country, and 9.2 million of them can be reached by Facebook ads. Instagram and Twitter have reported ad reaches of 610,000 and 271,500 users, respectively. LinkedIn did slightly better than Twitter with 370,000 reached users via ads.
The blog Geeks in Cambodia offers pros and cons for this situation. Facebook's dominance means social commerce is a hit here compared to eCommerce marketplaces, to the point that Facebook has become synonymous with the internet at large.
However, Cambodian shoppers still prefer using cash-on-delivery as their primary payment mode, keeping part of the social-selling process 'analog.'
Indonesia
Indonesians spend up to four hours a day on their mobile phones, like their Philippine and Malaysian counterparts. But they're not just browsing—they're shopping (or contributing to their country's internet economy, predicted to hit US$130 billion by 2025).
Also, eCommerce is the king here, with 30 billion app sessions over six months (and with Tokopedia as the top-performing marketplace).
When it comes to the socials, McKinsey & Company's 2018 report on Indonesia's online commerce notes that Facebook, Instagram, LINE, and WhatsApp are the preferred platforms. Collectively, these platforms rack up the following statistics:
40% of sales are done via social commerce
Electronics, fashion, and health & beauty as the top three consumer categories, making up 70% of online sales
10 million Indonesians buy only via social commerce, and another 10 million also buy through marketplaces or e-tailing
Social commerce makes up more than US$3 billion in GMV, and is predicted to go up to "between US$15 billion and US$25 billion by 2022."
PayPal's Asia report on social commerce also states that 80% of Indonesian online merchants sell on social media. A whopping 92% are on Facebook, 76% sell via WhatsApp, 72% sell on Instagram, and 49% are on Facebook Messenger.
Malaysia
Social media is massive in Malaysia with 26 million active users, and with 99% of them going on social media via mobile devices.
We Are Social and HootSuite's joint 2020 report on Malaysia adds that eCommerce is doing well in this country. 82% of its internet users bought something within the survey period, while mobile usage outpaced desktop-based shopping at 64% versus 44%.
Consumers also love to spend big. Travel-related purchases make up US$5.38 billion; electronics & physical media, US$1.01 billion; and fashion & beauty, US$874 million.
The Malaysia Country Commercial Guide of the US Department of Commerce's International Trade Administration names 10 of the country's most popular social commerce platforms, but we're including just the top five here:
YouTube grabs the lion's share for customer influence and purchasing decisions, garnering 93%
WhatsApp and Facebook tie with 91%
Instagram follows with 70%
Facebook Messenger rounds out the list with 64%
The Philippines
Filipinos love social media—so much so that their country has been labeled the Social Media Capital of the World. 99% of the country's internet users are signed up to at least one social media platform; and (as mentioned earlier) they spend approximately four hours online via mobile device.
And all that's despite long-running issues on internet access, speed, and costs.
Sellers know about this great social-media love as well, and readily make themselves available on their customers' preferred platforms. PayPal's Asian social commerce report notes that:
87% of them use social media to sell their products
Facebook (94%), Facebook Messenger (84%), Instagram (56%), and WhatsApp (21%) are the platforms they use for transactions
The Philippines' percentages for the first two social media platforms are also the highest for all the surveyed countries
No wonder 69% of Philippine merchants not doing social commerce are looking to get in on the action.
Thailand
Over at the Land of Smiles, 95% of online sellers are doing business on social media, according to PayPal's survey.
But its numbers also have a better distribution across platforms. In particular:
"Only" 79% of merchants use Facebook
54% go for Facebook Messenger
46% are on Instagram
11% sell via WhatsApp
The potential adoption of social selling by merchants is also at 64%, while wide customer reach is the top reason for merchants to go on social media.
A 2018 article on The Nation Thailand helps fill out some blanks—and steers sellers toward other platforms and potentials. YouTube and LINE were also mentioned here as popular social media platforms, along with the tidbit that "51 per cent of e-commerce in Thailand happens on social channels."
But social commerce here is also set to include 'conversation commerce.' Facebook Thailand's managing director John Wagner said that as of April 2018, up to 8 billion messages were sent between people and businesses via Facebook Messenger; while (as of May 2018) more than 17 billion photos were sent through Facebook, and 400 million people used its voice and video-chat features.
And on Instagram, interactions between shoppers and sellers are generally instigated by Instagram Stories. By April 2018, "more than 150 million Instagrammers were connecting with businesses each month."
Vietnam
Anyone considering doing social commerce in Vietnam (or, as the country calls it, social network shopping or SNS) may want to read market research firm Q&Me's July 2019 survey findings first.
Unlike Cambodia, where social commerce rules, in Vietnam eCommerce marketplaces reign supreme, with 91% of shoppers buying from there. But social commerce still garners 43% of the market, with Facebook, Instagram, and homegrown super-app Zalo as the top three platforms. Facebook has an 89% popularity rating, while Zalo nets 7%, and Instagram, 3%.
As for what products the Vietnamese buy on these platforms, fashion products are at first place with 55% of all purchases. Beauty products come in at second with 30%; and books, stationery and gifts are at a distant third with 16%.
And Vietnamese social commerce shoppers are quite loyal. 64% will return to a store they have already bought from in the past. As long as that store's products are of good quality, have a wide range of goods available, and have responsive owners and customer service, that is.
Singapore
Out of all the countries included in PayPal's Asian s-commerce survey, Singapore scored low on several categories:
Only 63% of Singaporean merchants do social selling (with Indonesia having a much better 80% rate)
Facebook remains the biggest social commerce platform for merchants in the city-state with a 70% share
It is followed by Instagram at 46%, WhatsApp at 44%, and Facebook Messenger at 29%
Then again, the numbers could go up this year onward. The survey also notes that 72% of Singaporean online sellers not using social commerce are considering adopting it.
Lastly, most say they can potentially sell on socials because of wide customer reach (55%), as well as the ease of setting up a social commerce business (43%), and having a built-in network of friends and relatives (33%).
After sealing the deal…
Now you know where to reach your customers. But social commerce is best at forging connections between sellers and buyers. Most platforms do not have built-in logistics, leaving sellers in charge of choosing long-term partners for order management and actual parcel shipments.
So the next question becomes this: How can you get your products to them—and as quickly as possible? J&T Express offers social commerce sellers comprehensive order fulfilment and warehouse management solutions, as well as the capacity to do international and last-mile deliveries.
Interested in growing your business with us? Fill out the form below to get started.