With approximately three-quarters of Internet users in Singapore shopping online, going into eCommerce makes sense because that's where the action is. Selling online also means fewer overhead costs like store rental, but there are still expenses to be incurred at every stage. You will definitely need to spend some money to make money—just like any other business.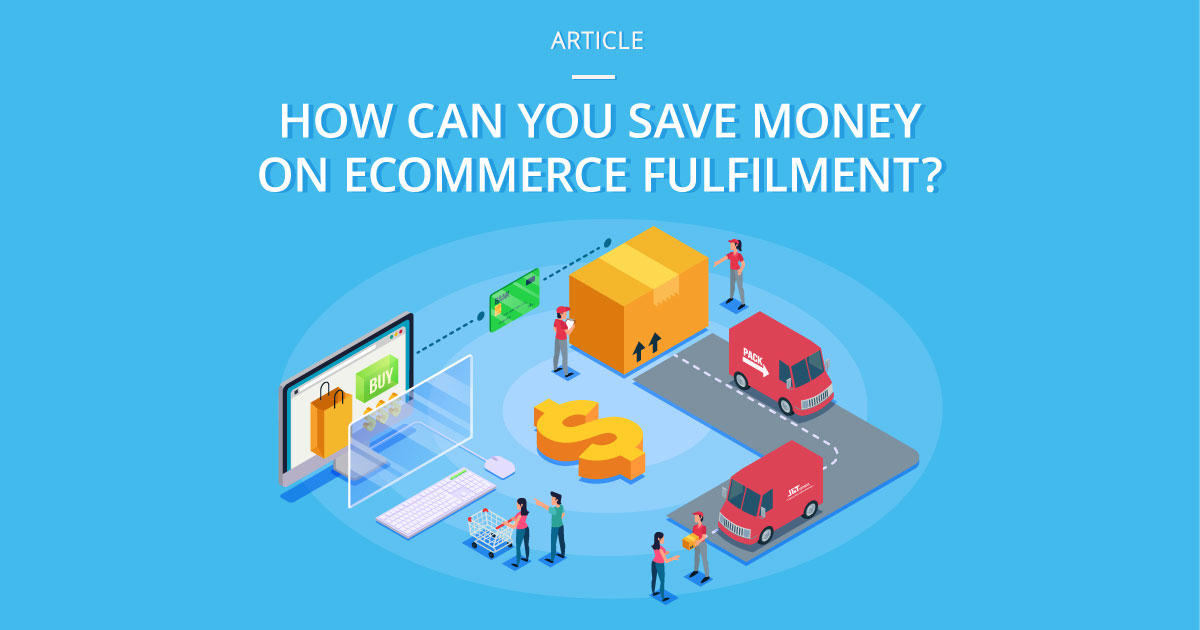 The equation is simple: Profit = Revenue - Expenditure.
But what if it's possible to increase your profit margin while saving money, time, and effort? To reduce cost, you can start by looking at how your order fulfilment and prior business stages are conducted, as well as how much you spend on each stage.
From there, delve deeper into how your expenses for eCommerce shipping fulfilment can be better managed, and how the process can be simplified.
By the end of this article, you'll learn how to reduce your eCommerce fulfilment expenditure and free up more time to focus on other important aspects of your business. This is a win-win situation every entrepreneur dreams of, and we can help you get there.
1. Get proper software—and automate everything
Are you tracking your orders and inventory with an Excel sheet? Save time and brainpower by investing in good order management software!
The right order management software isn't necessarily the one that big, successful businesses use. Rather, it's one that best meets your business' needs at this stage. For example, if you offer only five products and have a relatively low monthly order volume, your software needs will greatly differ from those of a multimillion-dollar retailer.
If a task like order tracking can be automated, let your software take care of it. With this load off your mind, you can now direct your energy towards the other tasks that require a human touch. Automating also reduces the chances of human error (such as typos in inventory count), so there'll be fewer nasty surprises in your daily operations, along with higher efficiency.
2. Review your current inventory storage strategy and packaging solution
Are you storing your products on your own? A major benefit to storing your own merchandise is being able to keep a close eye on it and managing it.
We all know space is at a premium here in Singapore, and depending on storage location and the amount of space required, your inventory storage costs may escalate rather quickly. While expensive, this method gives you greater control over the fulfilment process and allows you to manage it completely.
Is dropshipping your preferred supply chain management method? The cost savings on inventory storage space make a massive difference when dropshipping!
These savings do come with drawbacks, of course. For example, storing your merchandise with your manufacturer or wholesaler means a lack of direct control over your inventory and the fulfilment process. This could lead to a delay in delivery time, as well as the possibility of running out of stock—making for unhappy customers.
Packaging cost is another line item in the expense sheet you can look at. How are you currently packaging your orders?
No one can deny the convenience of ready-made packaging. It's a game-changer when you've heaps of orders to pack because all you need to do is seal and send.
On the other hand, buying packaging materials in bulk and packing each item individually can help you save a ton of costs. However, the downside to DIY packaging would be the amount of time invested in something so simple.
3. Hire a third-party order fulfilment company
Working with top regional marketplaces like Shopee, Zalora, Lazada, and Qoo10? You might want to consider hiring a third-party order fulfilment company.
A third-party logistics (3PL) company takes the entire fulfilment process off your hands—from storing, picking, and packing to shipping. Although the initial investment required in 3PL arrangements can appear intimidating, outsourcing logistics management can really help as your business grows.
Not only do you save on logistical manpower, but you also benefit from the economies of scale on packaging and shipping costs the 3PL can offer. This reduces your fulfilment costs in the long run.
Hiring a 3PL also ensures your business' ability to scale its fulfilment operations as it grows. It's an investment that will pay dividends as your business matures.
Although doing it yourself may be the best way to save money at the beginning of your entrepreneurial journey, there comes a point when you'll need to look for alternatives. Part of planning for the growth of your business includes scalability of all functions, especially eCommerce fulfilment.
Your move
J&T Express is an established company offering eCommerce fulfilment services (Singapore and the rest of Southeast Asia). Our core Singapore fulfilment services include the most critical parts of an online order: storage and warehousing, picking and packing, and shipping. You'll never oversell, run out of stock, mispack, or lose a parcel again.
We are also Shopee's official logistics partner, and integrate with other major marketplaces and platforms too. Hello, sales targets!
Leave the logistics to us, and focus on the things that really matter. Getting started is easy, all you need to do is fill up the form below, and we'll get in touch to begin our partnership!