Cross-border shipping may be tricky in the eCommerce industry. Costs can differ largely due to its dimension and weight but more importantly on the method, declared value and receipient addresses. If these are not well-taken care of, there may be a sudden cost spike and result in a lost sale and a unhappy customer.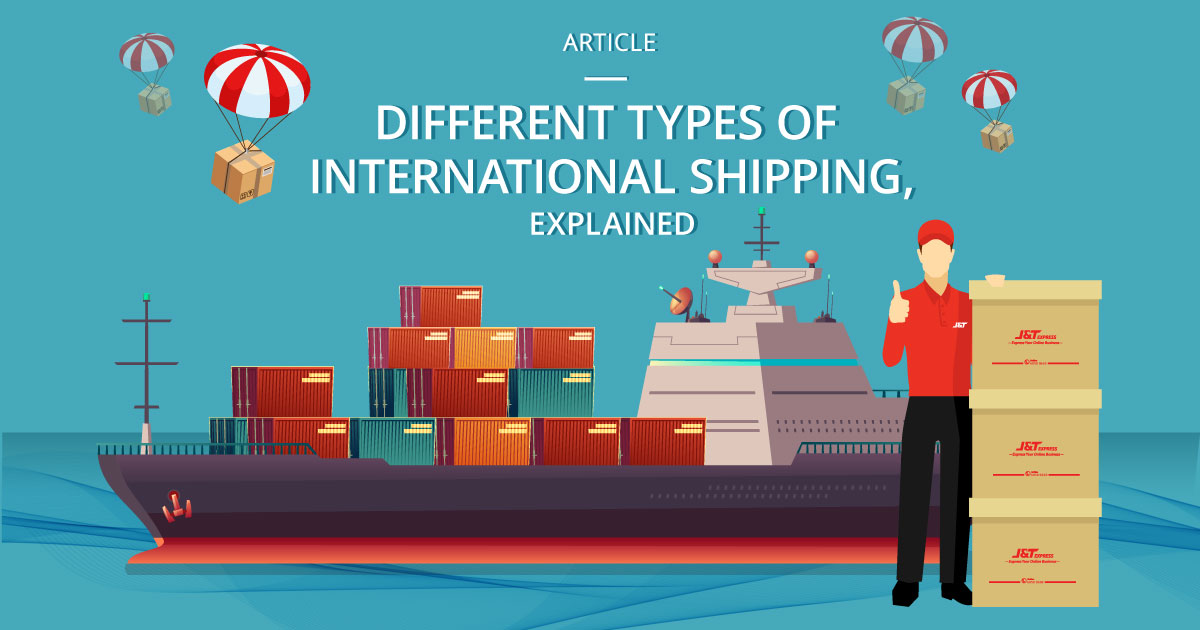 In our previous blog posts, we talked about the various stages of eCommerce, including:


There's one step in this process that most online customers consider the 'easy' part, or don't always think about: selecting which type of international eCommerce shipping to use. After all, there are just a few to choose from, and drones don't actually count yet.

Also, as long as parcels go from Point A to Point B, there's no point in stressing out, right?

Sellers would definitely say no to that. It now becomes your job to stress out over it—and pass on as little to none of that stress as possible to your customers. Going international with your eCommerce business means more sales and wider coverage, but also more complications to deal with compared to staying local.

The good news is it's our job to make cross border shipping and parcel deliveries completely painless for you! In this post, we'll talk about the different types of international eCommerce shipping, as well as the points to remember when picking the most suitable method for your online retail business.
Get your parcels ship-shape
There are three main methods for you to get your parcels to your international customers: by land, air, or sea. And as with all things, each shipping method provides its own advantages and disadvantages.
Air freight
Let's start with air shipping or air freight. It's the quickest out of the three options, which makes it the best choice for express deliveries or time-sensitive parcels—say, documents, perishable goods (e.g., pharmaceutical products and food), emergency supplies, and high-value consumer products like electronics.
However, it also involves the highest costs per parcel or package. With everyone wanting their deliveries done ASAP, expect air freight's speed and limited cargo space to come at a premium.
Land freight
Cross border shipping over land involves the use of trucks to move your products across long distances and landlocked countries. It'll take longer than shipping by air, but it's a better fit for sellers sending out large commercial shipments or those not accepted by cargo airlines.
You will also encounter two additional terms here: full truck loads (FTL) or less-than-full truck loads (LTL). FTL means you'll pay for the cost of filling one whole truck with your shipments, while LTL bills you only for the space you use up in one vehicle.
FTL gives you the convenience of having a container all to yourself, plus there will be fewer stops between logistics hubs or people handling your shipment. Meanwhile, LTL is more cost-effective as you pay less, and only for what you need. But the downside is you'll have to wait until the truck's filled up with other shipments, or after all other detours for loading and unloading have been made.
Sea freight
Sea freight would be a better fit for your eCommerce shipping needs if you're shipping in bulk, and need containers and pallets far larger than what air and land freight allow. Think of cars, furniture, and massive loads of surplus or secondhand products as natural 'passengers' for sea freight.
It's also a more affordable option for sellers who aren't dealing with time constraints. Going by sea can sometimes take months!
Courier service
Pressed for time and money, and sending out much smaller packages? Courier services are the most logical option. Door-to-door or last-mile deliveries also fall under this option; and private couriers often have their own networks and logistics systems within their senders' and recipients' countries, which eases your workload further. A courier service with both domestic and international shipping can help you liaise with just 1 party.
Our eCommerce shipping options
J&T Express Singapore offers you three eCommerce shipping choices: International Express, International Line Haul, and International Postal.
As its name suggests, International Express is the fastest option we have, with a maximum delivery time frame of five business days. It's also the roomiest in terms of weight limits, with a 30-kilogram cap per shipment.
International Express parcels and packages are sent out worldwide, and senders can use our comprehensive tracking system to know where shipments are at any time. Lastly, retailers can choose between Delivery Duty Unpaid (DDU) or Delivery Duty Paid (DDP) for customs fees and taxes.
Unlike International Express' inclusiveness, our International Line Haul option places several restrictions. It's limited to Southeast Asian destinations, with a delivery time frame of three to five business days in West Malaysia, and six to nine business days for the rest of the region. Its parcel tracking system is also less comprehensive compared to that for International Express shipments.
However, the line-haul option accommodates shipments of up to 30kg in weight. It also enables flexibility in either DDU or DDP charges.
Lastly, our International Postal option is perfect for eCommerce shipping. Parcels have only up to 2kg in weight limits and pass through customs via DDU, but they can be sent out worldwide. It's also the most affordable among our three international delivery options.
Check out the table below for our global delivery estimates for International Postal delivery:
| | | |
| --- | --- | --- |
| Destination | Country | Delivery time frame (in # of working days) |
| Europe | Austria | 8-10 |
| | Belgium and the Czech Republic | 7-10 |
| | Denmark | 7-13 |
| | Finland | 9-12 |
| | France | 5-8 |
| | Germany | 4-6 |
| | Hungary | 8-11 |
| | Ireland and Poland | 7-11 |
| | Italy | 13-15 |
| | Netherlands | 5-10 |
| | Portugal | 10-15 |
| | Spain and Switzerland | 7-12 |
| | Sweden | 6-10 |
| | Turkey | 9-13 |
| | United Kingdom | 3-5 |
| | Rest of Europe | 8-14 |
| Asia-Pacific | Australia and Thailand | 6-10 |
| | Hong Kong and South Korea | 5-8 |
| | Japan | 7-9 |
| | New Zealand | 6-11 |
| | Taiwan | 5-7 |
| | Rest of Asia-Pacific | 6-18 |
| Americas | Canada | 8-11 |
| | United States of America | 7-9 |
| | Rest of South America | 8-18 |
| Middle East and Africa | Rest of the Middle East and Africa | 8-18 |
ECommerce sellers with more stringent requirements (or customers who just want to make sure they're picking the right option) can ask our professional team for advice, as well as customs clearance assistance.
Time to ship!
Especially for new sellers, international eCommerce shipping can be a complex area of business to navigate.
Knowing which method to use is one thing; finding a logistics company to work within the long term is another matter. J&T Express has extensive experience in handling eCommerce shipments across Southeast Asia through our outposts in Cambodia, Indonesia, Malaysia, the Philippines, Thailand, Singapore, and Vietnam! We're prepared to conduct international shipping with your parcels across borders, oceans, and airspaces.
Fill up the form below so we can get started.