Cross-border eCommerce—defined as the selling of goods online from one country to another—is the next frontier for online merchants in Southeast Asia. According to Mordor Intelligence, Southeast Asia's cross-border eCommerce sales account for more than 40% of the region's eCommerce market, which itself is predicted to surge to US$150 billion by 2025—US$50 billion more than previous forecasts.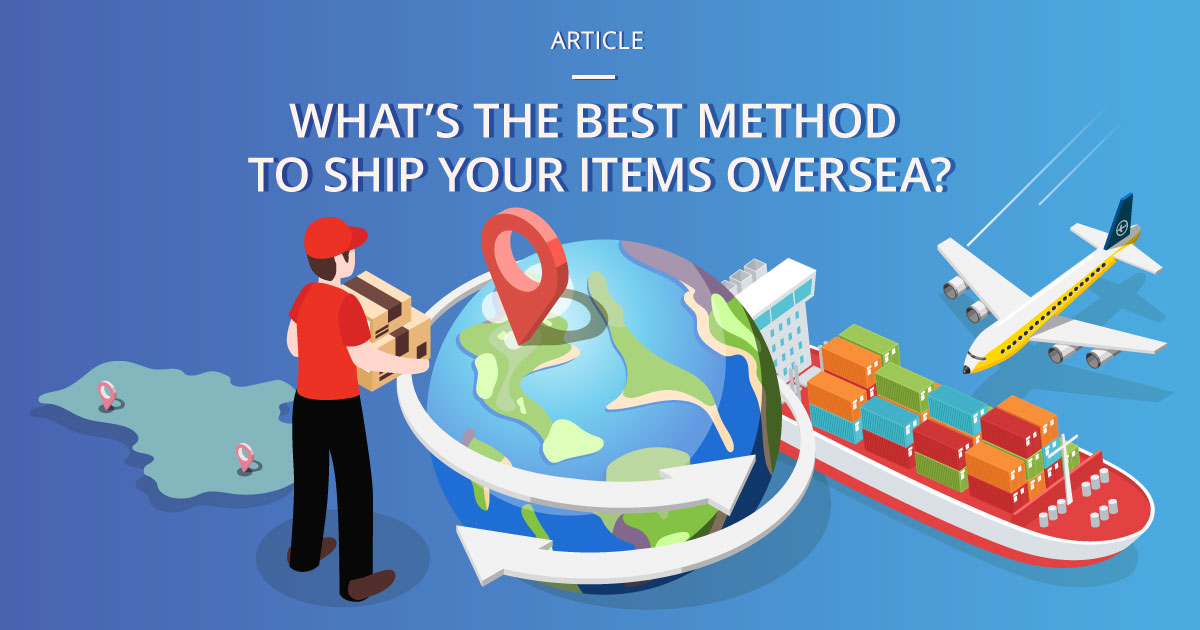 At a more granular level, the Visa Global Merchant eCommerce study shows that 66% of businesses in Singapore that sell online have international customers. In addition, cross-border sales account for 31% of these companies' revenues.
This is hardly surprising as Singapore has the region's most mature internet and eCommerce economy. But for emerging markets in Southeast Asia playing catchup, cross-border selling is a lot more challenging than it looks.
Southeast Asia's eCommerce shipping challenges
Logistics is arguably the biggest eCommerce challenge in Southeast Asia.
Apart from the region's complex geography, sellers also have to contend with different customs regulations, varying levels of infrastructure, and an assortment of local logistics players across Indonesia, the Philippines, Vietnam, Thailand, Malaysia, Singapore, Brunei, Cambodia, Laos, and Myanmar—the 10 countries that make up the Association of Southeast Asian Nations (ASEAN).
The challenge for eCommerce players in the region is figuring out the most efficient and cost-effective solution for cross border shipping, which is often where bottlenecks occur. A package heading to a rural town in the Philippines may be stuck in a shipping depot in Metro Manila due to a customs issue. A shipment to Bangkok may go awry due to a faulty postcode.
Whatever the case may be, everyone ends up losing. The customer obviously doesn't get their order on time (if at all), the logistics company has to field complaints, and you end up getting negative reviews and processing refunds.
So, what then is the best international eCommerce shipping solution for Southeast Asia? We look at four options below.
Air freight
For time-sensitive eCommerce shipping, air freight services offer the best way to deliver goods efficiently and safely. But there's a catch. While air freight is indeed faster and more reliable than ocean freight, it's also limited by cost due to the higher fuel and consumption and operation costs of aircraft.
According to the World Bank, air freight is priced up to five times that of road transport and up to 16 times that of sea transport. Air freight rates generally start at US$1.50–US$4.50 per kilogram.
It's for this reason that goods shipped by air tend to either have high values or specific time requirements. For example, products like high-tech consumer electronics as well as fashion and apparel need to be shipped by air due to the rapid loss of value between production and delivery.
Air freight is also generally more practical for direct city-to-city shipments and for direct routes between countries in Southeast Asia.
Land freight
Cross-border trucking can be faster and cheaper than both land and ocean freight, depending on your cargo and destination in Southeast Asia. For example, cross-border shipments between Thailand and Malaysia are best done by land due to the existing (and busy!) border points of Sadao (TH) and Bukit Kayu Hitam (MY) or Padang Besa (MY).
Road freight also offers the benefit of flexibility. Unlike air and ocean freight, which depend on the fixed schedules of airline and shipping companies, trucking offers more leeway when it comes to routes and departure times.
You will come across two terms when shipping goods internationally by land: full truckload (FTL) and less-than-full truckload (LTL). FTL means paying for the total cost of filling an entire container with goods, while LTL will require you to pay only for the space used in the container.
There are pros and cons with either setup.
On one hand, FTL might be more expensive but it means having an entire container to yourself. This, in turn, usually means faster delivery times due to fewer stops between shipping depots and fewer instances of loading and unloading goods. On the other hand, LTL is often cheaper but it can mean slower delivery times due to having to pool your goods with other shipments, which can take time.
Ocean freight
Ocean freight offers great value for money, especially if you're shipping in bulk and/or in volumes larger than air and land freight limits. The tradeoff, however, is that shipping by sea is slow, more so if you're shipping internationally across long distances (e.g., anywhere outside of Asia to Southeast Asia). If time is not an issue when choosing a preferred mode of freight, shipping by sea is almost always the practical choice.

The cost of ocean freight comes down to two primary options: full container loads (FCL) and less than container load (LCL). Shipping by FCL tends to be the 'cleaner' and faster option, as LCL shipments often require extra paperwork not to mention more physical work to consolidate and de-consolidate multiple shipments in one container.
It's also worth noting that ocean freight is also the most carbon-efficient mode of transporting goods—an important factor to consider if your organisation is trying to be more sustainable.
Courier services
Courier services are all about one thing: convenience.
For the vast majority of online merchants pressed for time and money, courier services are often the most logical option for cross border fulfilment. While private courier companies have earned a reputation for being too expensive for international shipments, in the past few years, players have emerged offering a suite of solutions for online entrepreneurs plus optimised pricing for different services, ranging from first-mile to last-mile delivery.
Private couriers also have networks with public and private postal operators, as well as local delivery service providers. This takes the hassle out of dealing with multiple forwarders and shipping companies.
Moreover, private couriers offer customers the security of end-to-end tracking, coverage for lost and damaged goods, and dedicated customer service.
Consider multimodal solutions
Given the geographical and financial differences, as well as the cultural expectations of customers in Southeast Asia (deliver everything for free, now!), an increasing number of shippers are discovering the benefits of multimodal shipping as an eCommerce international shipping solution.
For a nominal fee, this setup combines different shipping methods like air and road freight or ocean and road freight to deliver goods to their final destination, all under a unified bill of lading.
For example, cargo can be transported from Singapore to a major city in the Philippines by air. From the airport's cargo centre, the shipments are loaded into a truck and delivered to a distribution centre, where they are then delivered by a postal carrier (i.e., last-mile provider) to the customer.
The key benefit of this arrangement is that it cuts down on paperwork and requires less communication between shipper and the logistics provider.
Get ready to ship
International eCommerce opens up the tremendous potential for businesses to tap the fast-growing Internet economy of Southeast Asia. But at the same time, the complexity of cross border shipping in the region may cause you to hit a point of diminishing returns.
The key is to find a reliable logistics provider who can handle your cross-border needs. At J&T Express, we have extensive experience in handling eCommerce shipments in Southeast Asia. From customs clearance and international shipping to warehouse management and last-mile delivery, we can help you overcome the challenges of eCommerce shipping in Southeast Asia.
Fill out the form below so we can get started.