When it comes to shopping, there are several steps in the journey from browsing to purchase. In fact, research from Facebook and Bain & Company revealed that while 54% of digital consumers in Southeast Asia discover products via social media, 33% still check physical stores before making a purchase.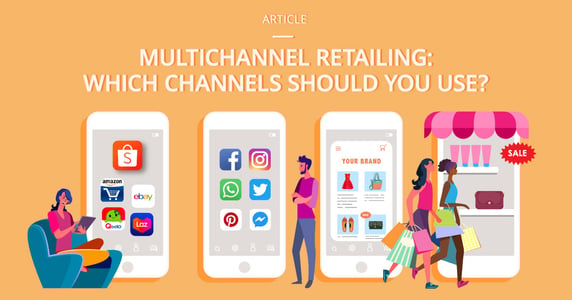 There's also no such thing as channel loyalty. Digital consumers hop across platforms and shop on an average of 3.8 websites, and customers who prefer shopping at physical stores may still buy from online shops if the prices are better or it offers free shipping, and vice versa.
For eCommerce in South East Asia, sticking to just one channel won't be enough to satisfy your customers' needs. A multichannel eCommerce solution is the key to broadening your influence and effectively increasing your sales.
Multichannel vs omnichannel: What's the difference?
While the two terms refer to having more than one active sales channel (and tend to be used as buzzwords), there's one huge difference between them.
Omnichannel (or "all channels") puts the customer, not the product, at the centre of its strategy to create a unified shopping experience across several channels. If you're going with an omnichannel strategy, your customers' buying experience with you must be the same across all your channels.
This allows their overall interaction with you to become seamless, which is essential for clinching sales and a positive eCommerce reputation.
There is, however, one drawback to this approach. Switching to omnichannel retail requires significant resources and complex structural changes. You'll need to pour money into backend matters like your IT infrastructure, content management system (CMS), and product information management system (PIM).
Multichannel retail, on the other hand, focuses on the product. Here, you offer different channels as separate purchase opportunities for customers. Customers can then buy the same product across channels, with each acting independently of the others.
Sellers can also take advantage of that flexibility. There will be people who are more suited for online sales, and others who are a better fit for brick-and-mortar retail. Similarly, multichannel retail enables diversity in product selections and target markets. Some items can be a hit in your physical stores and a miss on your eCommerce website, and some people prefer buying online over shopping in person.
While multichannel retail doesn't have omnichannel retail's seamlessness, it's a more accessible option—and it also increases your eCommerce business' reach.
The best retail channels for eCommerce businesses
Of course, it isn't enough to have more than one sales channel! Selling on an irrelevant channel may, in fact, cost you more money. This makes having a strategic approach the key to success.
We suggest being selective, doing a cost-benefit analysis, and figuring out which channels to expand to next. Here are a few options.
1. Third-party shopping platforms
Online marketplaces like Shopee, Lazada, Qoo10, and Zalora sell a broad range of items to an international audience that may or may not already have a specific brand or product in mind. It's fairly easy to set up shop on these marketplaces, and there will always be buyers for even the most unique products.
However, these general marketplaces are not always the best for brand-building. Sellers are a dime a dozen; and it's tough to stand out from the rest of the pack, much less foster customer loyalty. It can be done—but you need to be highly familiar with each marketplace's rules and tricks.
2. Social media channels
Social commerce is a relatively new avenue for selling products and services. But it's taking off in Southeast Asia, and fast.
Econsultancy, Hootsuite, and Magento's The State of Social Commerce in Southeast Asia report revealed that 85% of our region's social media shoppers deem buying through these platforms 'quick and easy,' and 84% will buy more on socials over the coming years.
In turn, 95% of eCommerce marketers feel that social media will rise in importance for them over the next five years.
So consider this your next long-term sales channel, and one needing a worthwhile investment. Popular platforms such as Facebook and Instagram already have eCommerce operations built in, and Twitter and Pinterest help drive organic interest through linked posts and tags.
3. Your website and shopping cart
Don't forget about your own website and shopping cart! You can fully tailor this sales channel as you don't have to deal with the restrictions that come with selling on third-party platforms and in physical stores.
Tools such as email marketing and education content can not only create a personalised customer experience, but can create a lasting, positive impression.
Remember that attracting traffic to your site may be more difficult compared to going with an established marketplace. But the long-term benefits are far more rewarding.
4. Brick-and-mortar stores
Contrary to popular belief, physical retail is not dead! Nor has eCommerce fully replaced it. In fact, physical and online sales can work together—and that cooperation's essential in both omnichannel and multichannel retail strategies.
Retail giants such as Amazon and Alibaba have moved into the physical retail space. Thailand's Pomelo and Singapore's Love, Bonito have followed suit. And Zalora has been putting up temporary pop-up stores in Singapore, the Philippines, and Malaysia over the past few years.
Southeast Asians also love visiting shopping malls for leisure, and online sales channels can't capture the entire market. ECommerce entrepreneurs may need to go 'old school' to diversify and maximise sales.
Sales channel management is key
Multichannel retail can be a beneficial strategy for eCommerce operations. You can target buyers at the different stages of their purchasing journey, broaden your influence and improve brand perception. You'll also sell a more diverse set of products and capture audiences that were once out of your reach.
Sure, these different channels are considered silos in a multichannel strategy. But there is a way for you to effectively manage your sales, inventory, and shipments on just one platform.
J&T Express offers several eCommerce solutions and integrations that can get your business onto several channels in a snap! Enjoy full store operations and fulfilment services for major marketplaces like Shopee, Lazada, Zalora, and Qoo10; and connect your Shopify, WooCommerce, or Magento stores to our logistics systems for speedy processing and shipping. We are also Shopee's official logistics partner in Singapore, so you can easily schedule your J&T shipments on Shopee!
Fill out the form below so we can get started.