Southeast Asia is one of the most exciting places today to be an online seller. With a growing middle class, a tech-savvy population, and an Internet economy expected to reach US$300 billion by 2025, the region is poised for an eCommerce boom. And e-marketplaces such as Shopee, Lazada, and Tokopedia are making it easier for solopreneurs and businesses to capture a share of the online market.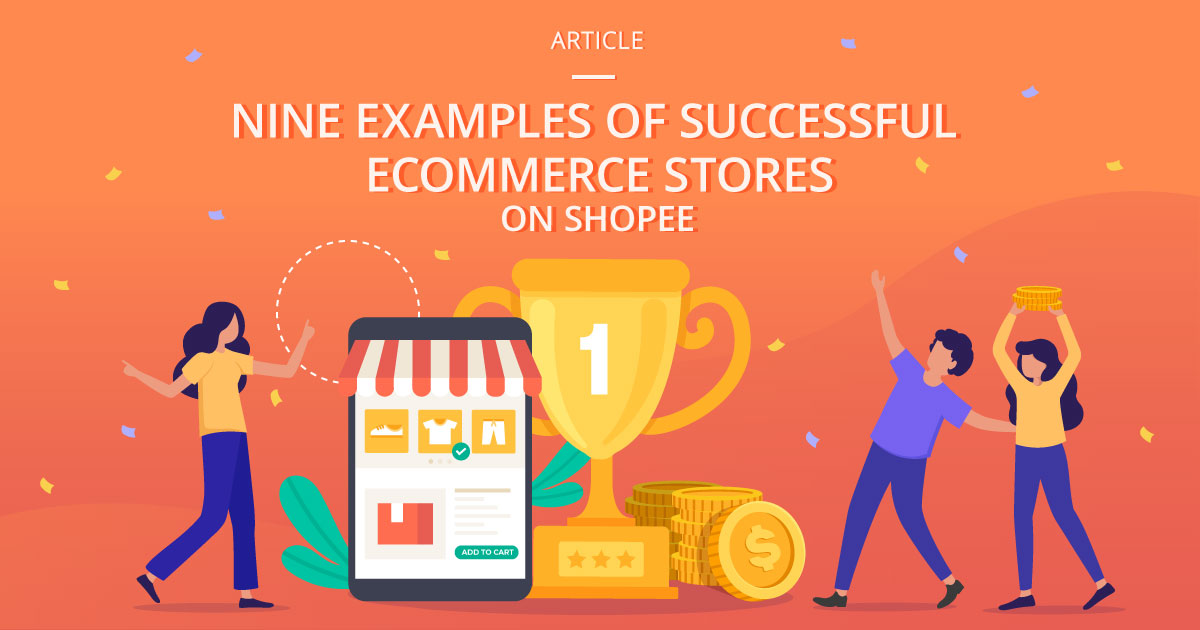 We've previously covered the success stories of 10 Lazada sellers in our region. This time around, let's zoom in on several examples of successful Shopee stores, and examine their eCommerce Asia strategies.
Malaysia
Cheng Woh
If shops had personalities, Cheng Woh would be that grandpa who could tell you all about decades-old herbal remedies—as well as the latest updates on his social media feed.

That's because the business has been around since 1933 as a brick-and-mortar store. Yet this traditional shop has found success on Shopee, achieving a 98% chat performance and a five-star rating out of over 10,000 reviews.
Despite carrying some specialty items—such as ginseng roots and Chinese medicated oils—Cheng Woh isn't complacent about its marketing efforts. Its product photos, for instance, are clear and appear to have been professionally shot.

For example, a packet of herbal soup ingredients is promoted with an image of the actual soup. Such effort can go a long way towards attracting the target audience. After all, a photograph of ginseng roots arranged carefully on a plate is more alluring than a picture of the roots simply stuffed into a plastic package.
InSnack
At one point in our lives, we've all been obsessed with a snack that a friend brought back from overseas. Before eCommerce business, the only way to buy those goodies was to travel ourselves. Now, thanks to cross-border eCommerce and e-marketplaces, it's getting easier to purchase such items.

That's what InSnack has in mind for Malaysian online consumers. Instead of competing with larger stores that sell a wide variety of consumable and grocery goods, this Shopee seller chose to specialise in snacks, sweets, and beverages from Thailand, Japan, and Korea.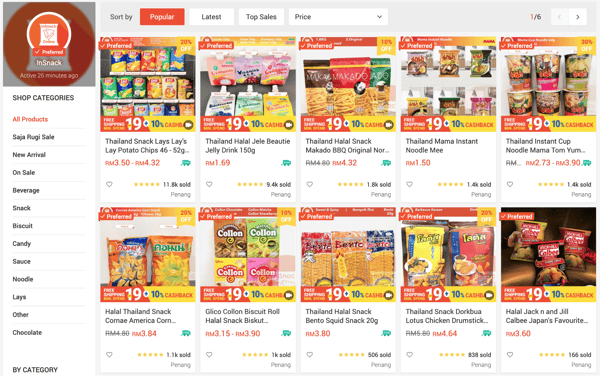 With 7,700 followers of its Shopee store, InSnack appears to have found its niche. It also delivers on its promise, with a mere 1% cancellation rate.
Philippines
BabyBabsStore
Baby product listing are a big hit online. For example, the number of diapers sold on Shopee during its latest 12.12 sale is equivalent to 12,002 years' worth of nappy changes. But that's not surprising when you consider that new moms often spend much of their time at home, and thus find online shopping to be especially convenient.
Katrina Joy Caputolan is one of many Shopee sellers in the baby & kids category. Her shop, BabyBabsStore, primarily sells clothing.

Although Caputolan first launched her store on Facebook, creating a Shopee page four years ago really helped her business take off. She soon tripled her sales by taking advantage of various seller features, especially Shopee campaigns such as mega-sales. She also began offering free return and exchange for damaged goods, as well as 24/7 customer service.
To optimise her Shopee page for search results, Caputolan uses descriptive product listing categories and product names, as seen below: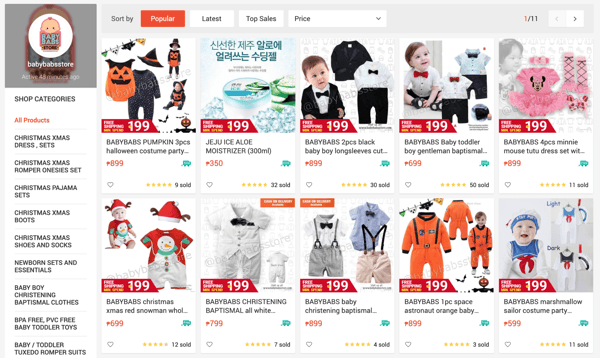 She also sells clothing in sets suitable for certain seasons and special occasions, such as Christmas and christening.
Xuyi Fashion

Among Southeast Asian countries, the Philippines is one of those that are most enthusiastic about Christmas. That explains why Xuyi Fashion, a Shopee store, can sell more than a hundred pieces of something as quirky as Santa Claus earrings.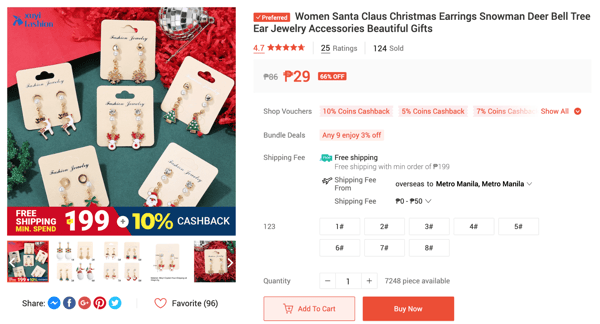 Apart from seasonal items, Xuyi Fashion claims to have new products available every day. It also offers hair accessories and home & living items on top of jewelry, both for retail and wholesale.
The seller is also transparent with customers, informing them via the shop's homepage that the items are shipped from China and that deliveries may take one to three weeks.
Singapore
JK Beauty Hub

The first thing that JK Beauty Hub tells you about its online shop is that it imports its products directly from Korea. This, according to the store description, guarantees that the items are authentic and prices are low.
Its banner images feature products of popular Korean cosmetics brands Nature Republic and The Face Shop. Its menu bar carries more brand names such as Laneige and TheSAEM.
For aspiring Shopee sellers with low capital, JK Beauty Hub proves that you don't need to have hundreds of items in your catalogue—as long as you have a strong proposition. The store sold only 173 products back in December 2019, but takes pride in the fact that every single one is truly from a Korean brand. It carries items that are in high demand, as well as products that people are likely to buy in larger quantities or to purchase repeatedly.
JK Beauty Hub also goes beyond mere product descriptions. For instance, for an aloe vera soothing gel—one of its top-selling items—it explains that the aloe vera was sourced from an organic farm in California. It also offers an infographic suggesting ways to use the gel.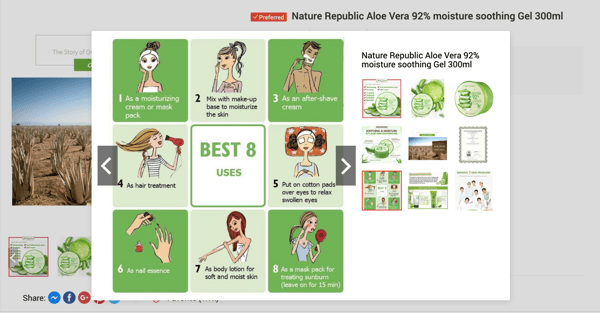 Small wonder that it has sold over 4,000 tubs of this gel. By providing this visual guide, JK Beauty Hub is able to help potential buyers understand the product's benefits.
Idolm Mart

Idolm Mart sells a variety of personal care items. But what earned it a place on this list is not the fact that it has sold 1,800 boxes of dental floss, or that it helps you stay in grandma's good graces by allowing you to buy mahjong paper.
The reason we're featuring Idolm Mart is its foresight. As early as December last year, when many shops were focusing on year-end shopping sprees and Christmas gift-giving, Idolm Mart was already promoting Chinese New Year goodies.

Given that Chinese New Year 2020 took place on the fourth week of January, Idolm Mart wasn't actually too far ahead of schedule. Companies and families that gave out presents and goodie baskets would have appreciated the chance to plan their gifts in advance.
By promoting these items more than a month ahead, Idolm Mart got a head start on other Shopee sellers. And by receiving orders in advance or studying the number of people who have saved its goodies as a favorite or added them to a shopping basket, Idolm Mart also anticipated demand and planned its production schedule. That's crucial for products that are made to order and created by hand, such as pineapple tarts.
Indonesia
Meiza Batik Fashion
A traditional technique of wax-resist dyeing, batik is often used in Indonesian textiles. And now, the fashion elite have spoken—batik is in.
Shopee store Meiza Batik Fashion capitalises on this trend by featuring batik prints on both classy and casual apparel.

The store offers batik clothing for casual and formal occasions, and accepts retail and wholesale orders. It also offers men's batik clothing.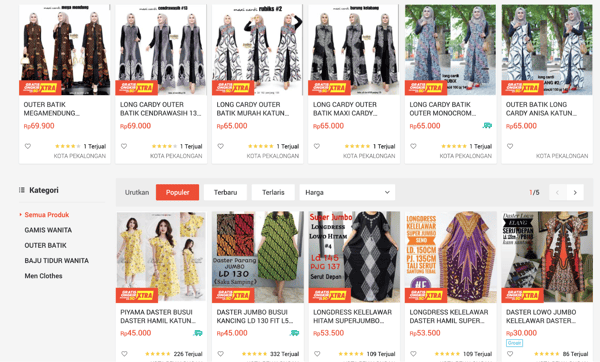 With apparel & footwear being the most popular category in Indonesian e-commerce—accounting for 18.33 billion rupiah (roughly US$1.3 million) in revenue in 2019—it's tough for fashion sellers to succeed. By carving out a niche, Meiza Batik Fashion is able to narrow the competition while reaching a specific target audience.
It also helps that the seller consistently receives high ratings, and shares examples of positive customer feedback on its Shopee homepage.
Thailand
Beauty Mania Shop

Here are two trends that beauty and personal care sellers should know about Thailand—it has an ageing population, as well as a growing affluent consumer class that's willing to spend on premium products.
That said, it's a strategic move to sell quality anti-ageing products made from natural ingredients. That's what Shopee seller Beauty Mania Shop does.
It sells, among other things, serums and firming creams with ingredients like mushroom blends and avocado.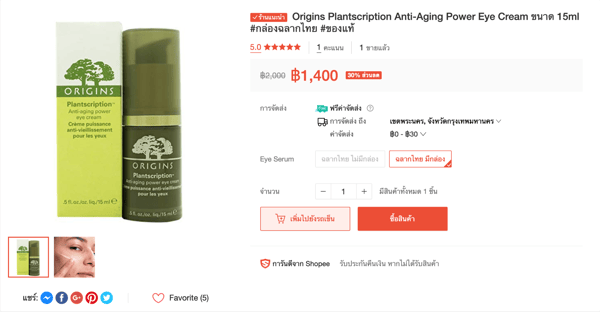 The shop also carries respected skincare brands such as Three, Guerlain, and Biotherm that fall in the middle to high-end price range for mass-market skincare.
Vietnam
Phu kien Moc Linh
Electronics & media is the most popular e-commerce category in Vietnam, with a volume of US$685 million in 2019. On Shopee, one of the top searches in this category is for "tempered glass iPhone." The top seller for this item—with 54,500 pieces sold to date—is seller Phu kien Moc Linh.

This Shopee store specialises in the wholesale and retail of iPhone accessories. These range from no-nonsense items, like a pair of white earphones, to quirky accessories such as a USB cable protector in the form of a hedgehog.
For its popular tempered glass for the iPhone, Phu kien Moc Linh made the most of Shopee tags. Someone searching for a "6 plus," for example, would find not only the iPhone 6 Plus among the results, but also this item: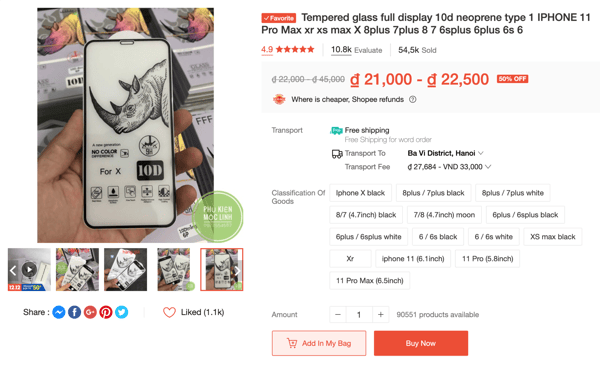 Of course, product discovery is only one part of the equation. The seller needs to meet the buyer's expectations. With a 4.9-star rating for this item, it's clear that Phu kien Moc Linh consistently delivers a satisfying product.
Pro tips for Shopee success
While Shopee offers online stores support through campaigns, subsidised shipping, and promotional tools, it's up to each seller to make the most of these features and get creative, too.
Based on these examples of successful stores on Shopee, here are some pro tips to note:
Take professional product photos. Consider the image backdrop, product arrangement, and lighting.
Find your niche. ECommerce businessin South East Asia presents vast opportunities for both big and small businesses. If you can't compete with the big guys, narrow down the competition by zoning in on a more specific target market.
Be specific and descriptive when writing product names and item descriptions, as well as when identifying product tags. This increases your item's discoverability. Make sure these words and tags are relevant; otherwise, they'll come across as spammy.
Create visual guides that explain how and when your product can be used.
Sell seasonal items. Identify the holidays that matter to your market, and sell products suitable for the occasion.
Prepare in advance for major shopping events and holidays, especially if your items take time to ship or produce.
Take inspiration from traditional crafts, and put a modern spin that will appeal to online consumers.
Don't be afraid to sell premium products if market demand exists for them.
E-marketplaces like Shopee have lowered the barrier for businesses to sell their products online. More than just eCommerce pricing strategies, by studying successful stores' best practices, you can build and grow your online business, and capture a slice of the eCommerce Asia market.
Your turn
Selling on Shopee means you'll need a reliable integrated logistics partner to take charge of the most demanding parts of eCommerce platforms in South East Asia. J&T Express' comprehensive eCommerce solutions and software integrations can assist you as you steadily build up your Shopee store—and see your sales numbers and seller rating go up.
We are also Shopee's official logistics partner in Singapore. This means you can easily arrange your J&T shipments, get tracking numbers and notifications, print waybills, and calculate shipping fees through Shopee's system!
Ready to gear up for store operations all the way to last-mile delivery?
Fill up the form below to get started.