As a top Southeast Asia eCommerce platform, Shopee has made it easier than ever for anyone to open up a virtual store and start selling. But that also means it has an influx of sellers, making it tough for them to stand out from the rest.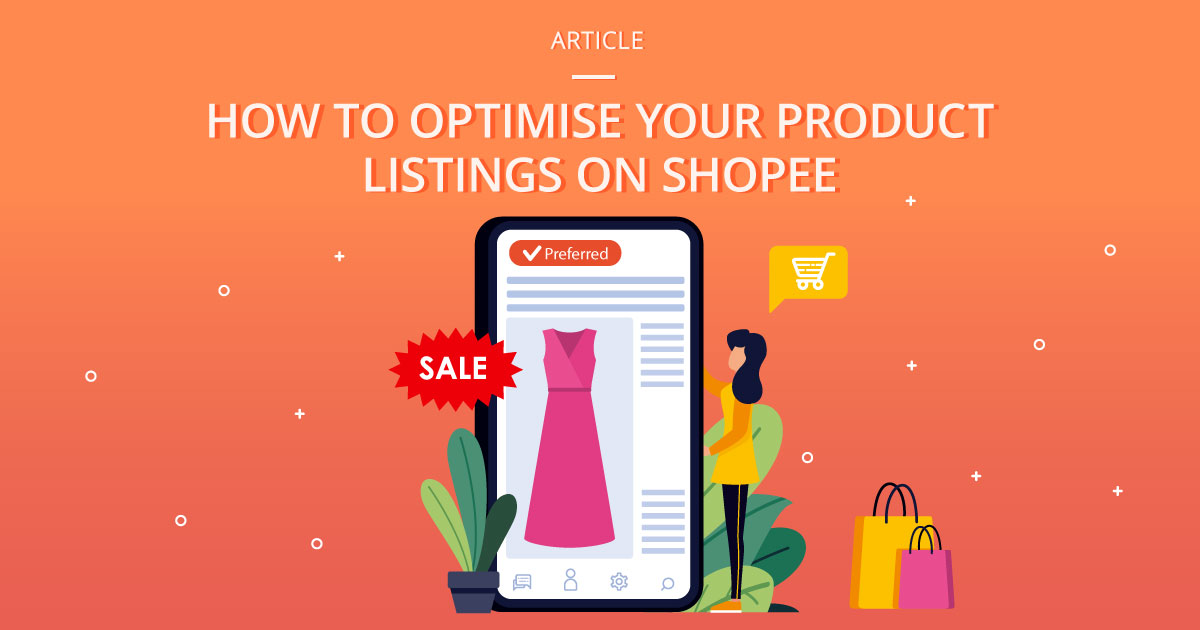 The market is saturated with eCommerce sellers fighting for top sales per niche. Competition is stiff, and many entrepreneurs have the same products you do. The solution isn't to look for a competition-free product to sell; even the most unique products will eventually face competition. Instead, your best bet is to optimise your online product listings so that consumers can find you via search, and shop at your store.
Here are some tips for anyone doing eCommerce in Southeast Asia on how to optimise Shopee product listings for sales success.
Become a preferred seller
Being a preferred seller on Shopee is like securing a seal of approval. It is given by the Shopee Team only to outstanding and reliable sellers.
To qualify as a Preferred Seller, you must have high shop ratings, a large number of successful orders, and excellent customer-service ratings. Preferred sellers are identified by an orange tick and a 'Preferred' badge.
Visit Shopee's Preferred Seller Programme page on the marketplace's Singapore website to see the exact criteria and targets that it uses.
An advantage of being a Preferred Seller is that it'll attract more buyers who see the badge as an affirmation of product and service quality. Preferred Sellers also enjoy better search rankings, which means higher discoverability by shoppers. Their products get more views and eventually lead to more orders, increasing store sales.
Buyers are also rewarded with Shopee Coins when they shop with Preferred Sellers. Shopee Coins are a part of the eCommerce platform's reward system. Buyers can exchange 100 Shopee Coins for a discount of S$1 for their next order.
Bear in mind that your title as a Preferred Seller can be revoked if and when you fail to meet Shopee's service standards.
Improve your digital assets
Southeast Asia's internet economy has grown to more than triple its size in the past four years, hitting US$100 billion in 2019. With such growth, sellers today find themselves in an increasingly competitive market. How can you cut through the clutter on this top Southeast Asia eCommerce platform and showcase your products?
Product photography
One way is to differentiate your store with compelling product photos and optimised product copy. Digital assets are the lifeblood of any online business, no matter which Southeast Asia eCommerce platform or eCommerce marketplaces you are on.
In buyer surveys conducted by Etsy, 90% of its buyers think that image quality strongly influences their purchase decision. Your buyers are first engaged by visual elements, and your image quality defines this initial engagement. As a store owner, improve your product photography skills or outsource it to a professional. Use attractive photos in your store so that it can better engage your customers and increase conversion rates.
Product information
Apart from photos, your product description makes up another important traffic source. Buyers may search for a specific product on Google or Shopee itself. When they type in 'portable charger', you want your product to be at the top of the search results. If that happens, it means you have successfully optimised your product page on this top Southeast Asia eCommerce platform.
Such results can be achieved through search marketing, a process where you can grow traffic from search engines through paid or unpaid strategies.
Without spending any money, you can optimise your shop and product pages in a few ways. For your product description, be as detailed and helpful as possible. If you are selling a particular kind of bag, provide information about the bag's dimensions and material. In your product title, include these elements: Brand, Product Name, Gender, Pattern, Type, and Colour. Lastly, use keywords that buyers would search for, but don't overdo it or Shopee may penalise you.
Utilise marketing tools in Seller Centre
Another way to boost sales on this Southeast Asia eCommerce platform is to maximise the tools on the Shopee Seller Centre. We've summarised some of the main tools as follows.
Flash Deals
On Shopee's homepage, buyers can see a carousel of discounted items under Flash Deals. The products listed under this section get up to 4,000 average views, greatly boosting its visibility and bringing in sales. This tool can be a useful way to help clear stock, too.
You have to nominate your products and gain approval before it can appear on Flash Deals. To nominate products, log into the Seller Centre, proceed to the Marketing Centre, and click on 'Flash Deals'.
Top Picks from Shop
This marketing tool is designed for sellers to cross-sell their products and increase sales. Go to the Marketing Centre, and click on the Top Picks from Shop button. Here, you can create a collection of four to eight of your best-selling products.
This collection will be displayed to Shopee customers who are browsing items in your shop. This tool helps you sell smarter as your bestsellers are consistently seen. It also helps to increase your shoppers' basket size.
My Campaigns
Shopee launches several periodic campaigns, using banners on its homepage or category pages to promote them. You can nominate your items to appear in these campaigns to boost their exposure and page clicks. Your items may even be highlighted in an email blast or targeted push notifications to Shopee users. This added promotion means you get exceptionally high store visits and visibility, all for free.
Check out upcoming campaigns and nominate your products at the Marketing Centre, under the My Campaigns page. Note that you have to provide at least a 10%-20% discount for it to be chosen.
Track your store performance
With eCommerce in Southeast Asia growing at breakneck speed, one way to truly stand out is to harness the wealth of data you have. Distilling data-driven insights helps you make smarter and more informed decisions, giving your store a competitive advantage.
In the Seller Centre, look for the My Data button. You will be led to your store's dashboard, where you can see these features:
Key metrics: Shows the total numbers for sales, orders, conversion rates, and page views
Product rankings: Shows top products based on sales, units, page views, and conversion
Category ranking: Lists the categories that your store has the highest sales for
Apart from the Dashboard, you also have the Product page. The page is further divided into three sections:
Overview: Provides detailed metrics on the shop's traffic, retention, and conversion
Performance: Provides detailed metrics on individual products
Diagnosis: Identifies poor-performing products, and how you can take appropriate action
With such a comprehensive data-analysis platform in place, Shopee takes the guesswork out of your eCommerce operations.
It's your move
Optimising your product listings on Shopee can be a lot of work, but it's a must if you wish to ace the eCommerce game. Processes such as product packaging, shipping, or last-mile delivery can make or break your store on any Southeast Asia eCommerce platform, too.
Want to make parcel logistics and delivery as painless as possible? J&T Express operates across Southeast Asia, and provides integrated eCommerce solutions for online sellers located in Singapore.
We are also Shopee's official logistics partner in Singapore. This means you can easily arrange your J&T shipments, get tracking numbers and notifications, print waybills, and calculate shipping fees through Shopee's system!
Contact us to get started, or fill out the form below.