With so much to gain in the world of eCommerce in Southeast Asia, the competition is fierce.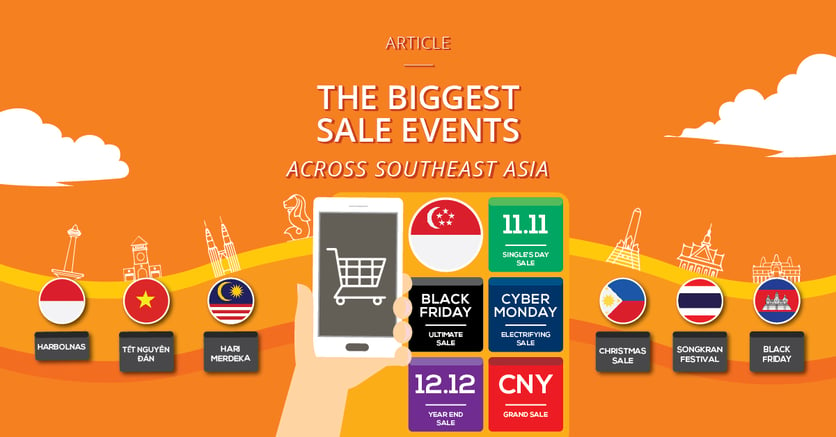 According to the e-Conomy SEA 2019 report by Google, Temasek, and Bain & Company, the region's US$100-billion internet economy is projected to reach US$300 billion in 2025. And with the spending power of 360 million internet users (and counting), this growth spurt has already gone well beyond previous estimates for eCommerce in Southeast Asia.
Driving these sales are the top eCommerce marketplaces. The pack is led by Lazada, with competitors like Shopee and Zalora in hot pursuit. The 2019 study "Riding the Digital Wave: Southeast Asia's Discovery Generation" has found that consumers tend to purchase from multiple brands and platforms, giving players across the board opportunities to compete.
This also increases consumers' choices for both products and sale events, granting them access to a wide variety of merchandise.
Southeast Asia-wide sale events
The final quarter of the year is a massive sales opportunity in retail. On the eCommerce side, each month is dominated by a shopping event represented by parallel digits: 9.9, 10.10, 11.11, and 12.12. And even if online shoppers buy from multiple marketplaces, double-number dates have gained prominence in the regional consumer calendar.
11.11 and 12.12
No SEA country is without a Singles' Day promo. Launched by Alibaba on November 11, 2009, this marketing event is based on an "anti-Valentine's Day" tradition that began at Nanjing University in 1993. The obscure holiday was originally meant to celebrate singledom, but the success of the sale transformed it into an all-encompassing affair. In fact, Singles' Day has been so successful, it started cashing in more revenue than Cyber Monday as early as 2012.
That same year, the Alibaba-owned Lazada launched a follow-up: Double 12 on 12.12.12. As the "little brother" of Singles' Day, Double 12 was intended to feature small and medium-sized enterprises (SME) typically overshadowed by giant eCommerce Asia businesses on 11.11. Most recently, its promos have been tailored to give Alipay mileage in offline stores.
Singles' Day is currently the biggest one-day shopping event in the world, leveraged by Alibaba to set new revenue records every year. In 2019, the eCommerce giant saw US$38.4 billion in gross merchandise revenue (GMV) over a 24-hour period. This 26% jump from 2018's US$30.8 billion GMV was driven by 1.292 billion orders coming from China's cities and "lower-tier" areas as well as Alibaba's cross-border markets.
Livestreaming also played a significant role in 11.11 2019, with more than 100,000 Taobao brands and merchants using this feature to market their goods.
9.9 and 10.10
Not to be outdone, Shopee devised a double-number sale in 2016 called the 9.9 Super Shopping Day. This 24-hour event has been held annually ever since, but Shopee has made results available only for its 2018 event so far. With 5.8 million orders, this is its highest ever performance record for this particular event.
Other eCommerce Southeast Asia platforms followed suit on holding 9.9 shopping festivals, with Lazada having its own event in 2018.
The trend of parallel digits as a sale event is rounded off by 10.10. Both Shopee and Lazada began holding October 10 sales in 2016 with Shopee 10.10 Mobile Shopping Day and Lazada Perfect 10.10. Though they're not quite as influential as its predecessors, deals and promos are still guaranteed to crop up on this date.
Major shopping events by country
For big dates to remember in eCommerce, Southeast Asia has its own lineup per country. Because of the region's diversity, each shopping event is tailored to different cultural, governmental, and seasonal factors. This leads to a variety of events aligned with the ever-changing preferences of shoppers.
Indonesia
National Shopping Day on Double 12 is Indonesia's biggest eCommerce event. In Bahasa Indonesia, it's widely referred to as Harbolnas or "Hari Belanja Online Nasional."
Initiated by Lazada Indonesia, the event is a partnership between the eCommerce marketplace and other online retailers like Zalora and Berrybenka. This collaboration's objective is to grow online retail in the country. Because of Lazada's Online Revolution, Harbolnas is also preceded by a month-long sale period starting from 11.11.
Meanwhile, Indonesia's most visited website, Tokopedia, also has its own discount event every August 17. The homegrown eCommerce startup celebrates its birthday with a Tokopedia Anniversary Sale that coincides with Indonesia's independence day. And with Tokopedia among the top digital advertisers in the country (with 36% of its budget spent on digital ads within the last 12 months), the exposure associated with both sales events and ads is prized by its 6 million merchants.
Malaysia
The government itself is involved in encouraging eCommerce activity in Malaysia. The National ICT Association of Malaysia or PIKOM started the annual #MYCYBERSALE event in 2014, running it for one week between September and October.
This year, PIKOM announced its partnership with neighboring SEA countries for cross-border eCommerce, turning the national event into #MYCYBERSALE ASIA. It also issued a total revenue forecast of RM 500 million.
On the other hand, Hari Merdeka—Malaysia's Independence Day—is a culture-driven sale event. The national public holiday falls on August 31, and prompts discounts and deals from both online and offline retailers.
The Philippines
In the Philippines, the Christmas season starts as early as September. And because people do their holiday shopping from November to December, Lazada's month-long Online Revolution is a timely way to introduce promos to the market. Running from November 11 to December 12, the event is essentially a hybrid and extended version of Singles' Day and Double 12.
Black Friday and Cyber Monday, both American shopping events following Thanksgiving, are also embraced by bargain hunters in the Philippines. According to Black Friday Global's 2018 data, sales activity increased by 180% compared to regular shopping days. Most retailers run their sales for three days up to Cyber Monday, the online version of Black Friday.
Thailand
The Songkran Festival may be known for its water fights, but Thailand's New Year celebration is also a time for splashy sales. The April 13-15 holiday attracts commercial activity from both locals and tourists taking part in the festivities.
Another tourist-magnet event is the June 15-August 15 Thailand Grand Sale. Mainly positioned as an offline shopping event happening in Bangkok, special promos can be expected to pop up even in the eCommerce space. After all, Thailand ranks third in market size for eCommerce in South East Asia.
Vietnam
Google, Temasek, and Bain & Company's aforementioned e-Conomy SEA 2019 report also noted that Vietnam is the second-fastest growing internet economy, with a rate above 40%. Its total value is also expected to reach US$12 billion in 2019.
In Vietnam, the selling season starts in January. The Vietnamese New Year, called Tết Nguyên Đán or Tết, is arguably the most important holiday in the country. It is also marked by festivities and, of course, bargains. To avoid the crowds, buyers now shop for flowers, clothes, and food online.
For the month of December, Vietnam has an 24-hour event called Online Friday. Organized for the first time in 2014 by the Vietnam eCommerce and Digital Economy Agency (IDEA), the inaugural event boasted of VND154 billion (approximately US$ 6.60 million) in revenue. By 2017, the shopping festival netted VND1.22 trillion (around US$53 million) from 1.3 million orders, as well as 2.4 million visits.
Singapore
2019 saw the revamp of the 25-year-old Great Singapore Sale (GSS). Typically running from June to July, this year it featured a fashion show, film screenings, and a food park, giving shoppers in the Lion State a greater and more immersive experience.
And to keep up with the trends in eCommerce, Singapore Retailers Association or SRA has incorporated the use of the GoSpree e-coupon app in 2017.
Black Friday and Cyber Monday have also been found to generate substantial retail activity in the country. Black Friday created a 511% increase in sales as of 2018, while the S$214 average spend in 2017 is higher than shoppers' S$190 average spend for Singles' Day 2018.
Participating in a sale event?
Offering discounts is a time-tested tactic to draw consumers, whether your business is built on brick and mortar or UI/UX principles. In eCommerce, the mass exposure and accessibility yielded by big sale events can bring new customers to your store, even if they live in a different time zone.
As the fastest-growing market in global eCommerce, Asia is clearly expanding the industry. While there will always be competition for regional sales, a combination of tourism initiatives and growing confidence in eCommerce platforms is leading to a rise in local and cross-border shipping within Southeast Asia.
Looking for a reliable partner for international delivery?
Fill up the following form to get started.