ECommerce in Southeast Asia is thriving. Regional marketplace Lazada makes it easy for anyone to sign up and start selling, with 155,000 sellers across six countries now doing brisk business.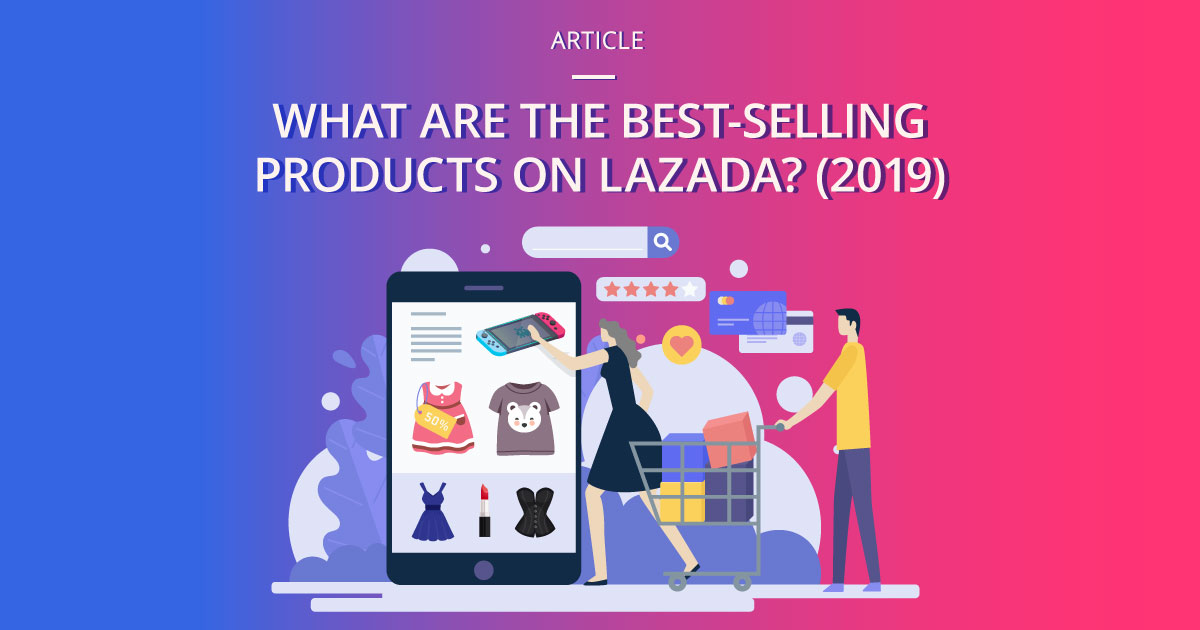 As for business resources, Lazada offers assistance through its Seller Centre and Lazada University courses. And tools such as Power of 5 (Chat for buyer engagement, vouchers and free shipping for promotion and conversion, Seller Picks for additional product boosts, Store Builder for decoration and customisation, and Lorikeet for rich content) help bring in even more shoppers and sales numbers.
Yet differentiation is always challenging in such a crowded market. One way to success in this top Southeast Asia eCommerce platform can be to focus more on the best-selling products within the region. That way, consumer demand for them is always high—as well as the sales numbers.
If you are banking on huge sales for your store, start by identifying the most in-demand products on Lazada, then stock more of these products. Across all Southeast Asian countries, the top categories emerging as 2019 best-sellers are electronics, and baby and beauty products.
Baby products
One in ten consumers in Southeast Asia has a child aged below one in their household, higher than the global average of 5%. The infant-formula market's size in the Asia-Pacific region also amounted to US$30.4 billion in 2015, making up roughly 65% of the global market. Lastly, the increasing workforce participation rate of Southeast Asian women also means that more parents prefer buying products online for their convenience.
Given those numbers, it's easy to see why baby product listings regularly top Lazada sales records. Major shopping events like Lazada's 2019 11.11 Shopping Festival see the continued popularity of fast-moving consumer goods (FMCG) such as diapers, milk powder, and toys like Lego.
But the "baby economy" has been going strong long before that. For example, diapers sold on Lazada accounted for 4%-5% of all diapers sold in Malaysia in 2016. This number grew to 10% in 2018, according to Christophe Lejeune, the former Chief Executive Officer of Lazada Malaysia. Additionally, milk bottles, infant formula, and baby clothes saw huge sales among Malaysian shoppers.
In the Philippines, Pampers Baby Dry XL Diaper Pants was the best-selling product listing for the first 12 hours of last year's 11.11 Shopping Festival.
Consumer electronics
Another leading product category on Lazada is consumer electronics. Last year, the best-selling products on Lazada Singapore's 11.11 Shopping Festival were all electronic devices: the Nintendo Switch, Xiaomi Mi Roborock 2, and Logitech M220 Silent Wireless Mobile Mouse.
On this Southeast Asia eCommerce platform, Xiaomi remains a favoured brand for smartphones and other consumer electronics. In Malaysia and Indonesia, the Xiaomi Power Bank S2 came in second and third place, respectively, for 11.11 sales. The Xiaomi Mi A1 mobile phone was also popular across the region for 11.11 2017.
The rising rates of smartphone adoption is also pushing regional consumer demand. This makes sense considering that for many in developing countries, smartphones are their first personal electronic devices. A whopping 90% of Southeast Asia's 360 million internet users also go online primarily via mobile phone. And in 2020, smartphone-adoption rates are expected to go up to 67% in Indonesia, and 71% in the Philippines.
For sellers who wish to bring in mobile phones, consider these best-selling models for Lazada's 7th Birthday Sale this year: the Xiaomi Redmi Note 7, Realme 3, and Samsung Galaxy M20.
Consumer-electronics sales look like they're guaranteed, but it can also be a tricky business. Shoppers may be less quick to purchase them online as they are unable to assess its quality beforehand. And compared to other commodities, the higher price points make them more hesitant.
As a seller for eCommerce Southeast Asia, you can reassure your shoppers by building on your image as a trusted seller. Some tips for sellers include being responsive to customer queries, providing detailed product information, and fulfilling orders on time.
Women's fashion and beauty
Women (and their substantial buying power) are becoming Southeast Asia's biggest online consumers. Approximately 80% of household purchases are made by women regionwide. And in Thailand, women are the primary decision-makers for purchases, even in categories that are traditionally non-female, such as alcohol and durables.
Female shoppers contribute the most to fashion and beauty products. Such categories are growing "more than three times year-on-year," as seen in last year's 11.11 and 12.12 Shopping Festivals.
Brand-wise, Maybelline placed first among Lazada Southeast Asia's best-selling makeup brands during 11.11 2018. Its Push Up Drama Mascara was also the second best-selling product in Indonesia for that particular year and sales event. Additionally, L'Oréal skincare products were popular with shoppers during 2017's 11.11 sale.
If you are looking to tap the growing purchasing power of female shoppers, Lazada's Women's Festival will also be a lucrative opportunity. The 2019 edition doubled sales for skincare products and Muslim wear in the entire region. Top-handle bags and shoes were also highly coveted by female shoppers.
As for success stories, Thai fashion designer Salisa Cheewapansri saw sales for her Lazada store, Salisa Clothing, grow by at least 20 times compared to normal-day volumes; and her stocks sell out "within half a day." The month-long campaign also boosted store traffic and follower counts for the marketplace's sellers.
To target female shoppers on this top Southeast Asian eCommerce platform, the shopping experience should be seamless and social. More attention can be spent on producing high-quality images, being responsive to queries, and enhancing your storefront for easy navigation.
Southeast Asia's best-selling brands on Lazada
Selling on this Southeast Asian eCommerce platform can be quite competitive. Bringing in the most well-known and in-demand products and brands is one effective way to ensure store visits and orders.
As a guide, here is a list of brands coveted by Southeast Asian shoppers (as of 2018), ranked from first to fifth position:
Diapers: Huggies, Mamypoko, Pampers, Babylove, Drypers
Home Appliances: Samsung, LG, Philips, Sharp, Coocaa
Makeup: Maybelline, L'Oreal Paris, M.A.C, Laneige, Wardah
Milk Formula: Enfa, Pediasure, S-26, Promil, Friso
Mobile Phones: Realme, Samsung, Xiaomi, Apple, Huawei
Skincare: L'Oreal Paris, Olay, Laneige, La Roche-Posay, Garnier
The final step
Think you have what it takes to be a great seller on this top Southeast Asia eCommerce platform? You can make it a reality with a reliable partner for local and international eCommerce shipping.
And we're not just talking about parcel deliveries! You can also use J&T Express' eCommerce solutions (such as product or order management) to simplify and ease your online-store workload.
Interested in working with a trusted partner for your eCommerce operations? Fill up the following form to get started.