A record-breaking 80 million items were bought online within 24 hours during Shopee's 2019 12.12 Shopping Festival. This top Southeast Asia eCommerce platform had an impressive performance for the 11.11 Shopping Festival too, with 70 million items sold in 24 hours.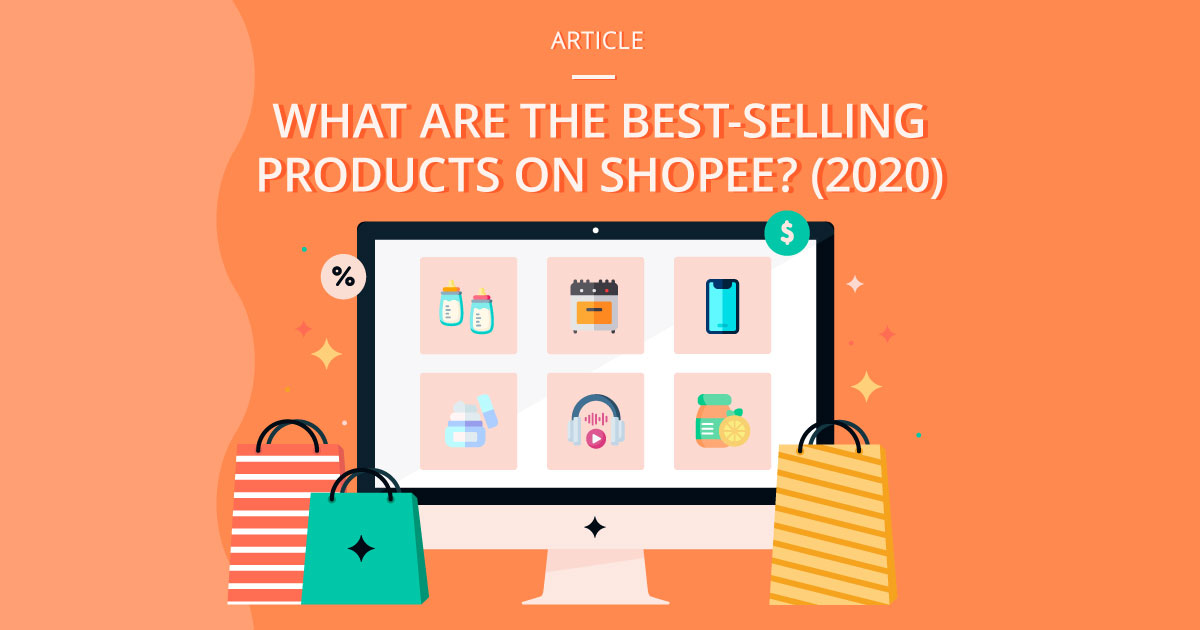 This combination of special sale events and massive purchase volumes has attracted online sellers around the region, knowing that each eCommerce Marketplace event represents a lucrative opportunity. It is easier to sell on these days too, thanks to Shopee Seller Centre's numerous marketing tools (Top Picks From Shop to cross-sell and increase basket size, Flash Deals to improve exposure, and My Vouchers for promotion and conversion) to help grow businesses and boost sales revenues.
If you're looking to gain a foothold in the market, it's a good idea to start with the most popular products on Shopee. By tapping on the enormous demand for best-selling items, you could rake in even more sales than expected. We've looked into Shopee's best-selling categories across Southeast Asia, as well as the specific items added to shoppers' carts.
Home appliances and baby products
Thanks to rapid urbanisation and growing affluence, we are seeing a rise in demand for baby products and housewares on Shopee. According to research by Nielsen, 10% of households in Southeast Asia have children less than a year old, and 13% with kids aged 1-2. This means the region's consumers are changing their lifestyles as they form families and build their own homes.
So it's not surprising that diapers triumphed as one of the top products bought on eCommerce Marketplaces like Shopee regionwide during 12.12 last year. According to the Southeast Asian eCommerce platform, the total number of diapers sold could last a baby for 12,002 years.
Nor is the diaper craze limited to the last month of the year. The 2018 edition of 11.11 also saw Babylove Power Pants and PetPet Disposable Diapers become the reigning best-sellers in Thailand and Malaysia, respectively.
Along with the baby boom comes home improvement. Southeast Asian shoppers are spending more on home appliances. Across the region, French cookware and appliance manufacturer Tefal recorded a 3,408-time uplife in orders during Shopee's 2019 11.11 Shopping Festival.
For sellers looking to bring in homeware, pressure cookers, electric ovens, light bulbs, and air fryers were the top-selling products during Malaysia's and Thailand's 9.9 Shopping Festival last year.
Mobile phones and accessories
Southeast Asia has one of the highest rates of mobile usage worldwide, clocking in an average of 3.6 hours per day. Thai and Indonesian users are on their phones for 4.2 and 3.9 hours a day, respectively—much greater than the United States' 2 hours per day and the United Kingdom's 1.8 hours daily. That helps explain the region's high demand for mobile phones and accessories.
Last year, smartphones were one of the top products bought on Shopee during its region-wide 12.12 Shopping Festival. The total number of smartphones sold in the marketplace could cover three football fields.
In Malaysia, we are seeing more users make big-ticket purchases. The latest mobile phone models such as the iPhone 11 Pro Max, Huawei P30, Asus ROG Phone II, Samsung Galaxy S10+, OPPO Reno 2, and Honor 20 Pro were snapped up during Shopee's 2019 11.11 Shopping Festival.
In particular, male Malaysian shoppers went for mobile gadgets and tech accessories. Well-performing keywords such as 'power bank', 'speaker', 'earphones,' and 'iPhone' were used more than 2.9 million times during the 11.11 sale event.
Accessories such as power banks also emerged as best-sellers in the Philippines and Vietnam during Shopee's 12.12 sale event.
Health & Beauty
The Beauty & Personal Care category was one of Singapore's top product categories for 12.12 in 2019. Brand-wise, Laneige and KAO were among Shopee's best-selling brands during the same period.
In the Philippines, top-performing beauty brand Maybelline recorded "an average of 4,227 times increase in traffic and 1,899 times growth in sales" during 11.11 in 2019. For Thailand, it was L'Oreal Paris that got an average of "5,306 times increased traffic and 480 times growth in sales" during 9.9 last year.
More male shoppers are shopping from this category, too. Conventionally, men shop for electronics or games, but skincare products are gaining in popularity among Filipino men. Face masks were ranked among Shopee's top ten most popular products for Filipino men in the first quarter of 2019.
If you are looking to bring in beauty products, COSRX's Acne Pimple Master Patch was one of Singapore's top products for female shoppers during 12.12 last year, while Vaseline Lip Therapy was a favourite among Thais for 11.11 in 2019.
The final step
Now that you have a glimpse of what our region's shoppers like to buy, you are one step closer to being a successful seller on this top Southeast Asia eCommerce platform.
Are you ready to sell on Shopee, especially on peak sales days like 11.11 or 12.12? Use J&T Express (a.k.a. Shopee's official logistics partner in Singapore!) to smoothly run your local and international deliveries. Our end-to-end eCommerce solutions and software integration with Shopee's system will also make sure everything's in order for when the orders come in. This includes daily store operations, warehousing and inventory management, and actual fulfilment.
Ready to sell on Shopee? Fill up the form below so we can get started.