ECommerce platforms are integral channels for selling goods and services. Compared to their brick-and-mortar counterparts, they are more affordable, accessible, and maintainable. Ecommerce platforms are winning hearts and gaining ground all over Southeast Asia—the region is experiencing some of the highest levels of eCommerce adoption in the world.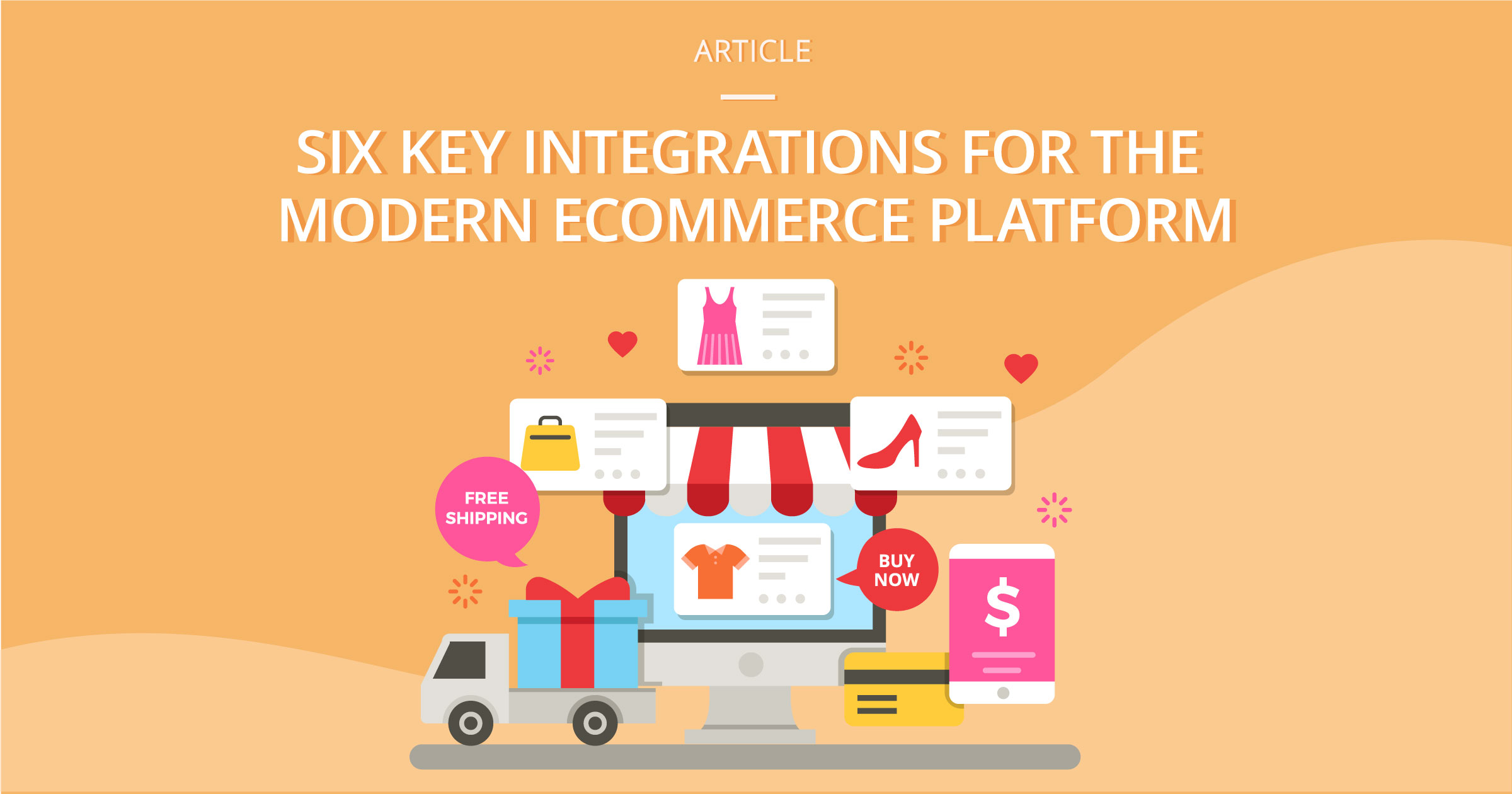 While modern platforms like Shopify, Magento, and WooCommerce have made selling online a plug-and-play experience, you'll need to spiff up your website with more powerful functions before it's officially ready for eCommerce operations.
This is where integrations come in.
The perks of an integrated eCommerce platform
"Integration" refers to the seamless communication between different tools and applications. What you input in one tool will automatically be reflected in another.
In our case, an integrated platform is one where data between all your front-end and back-end applications are transferred or passed seamlessly.
For example, an email marketing integration enables you to embed a newsletter sign-up form on your eCommerce website. All the newsletter signups on your website will automatically be updated in your email marketing tool, saving you time otherwise spent on manually transferring signup data from one medium to another.
Integrated eCommerce solutions offer several benefits:
They reduce errors. Because the data you input in one service reflects on your other integrated services, the rest of the work is practically done for you. There's less human error, helping you to avoid wrong orders, delayed shipments, or annoyed customers.
They increase efficiency. These automatic updates also save you a lot of time. By cutting manual entry down to just one instance, you have more time to do higher-order tasks and focus on growing your business.
They keep costs down. Automation eliminates the need to hire extra hands to fulfil tedious manual processes or firefight any issues arising from human error. In the end, you're saving money and energy in maintaining your online store.
They help improve your customer service. Because your back-end duties take care of themselves, your customers can do any number of tasks and receive automatic results. They can subscribe to your newsletters, get updates on their purchases, and view accurate inventory figures—all in real time.
They can scale with you. Last but not least, an integrated platform can grow with your business, so you can handle increased consumer demand without getting overwhelmed.
Key integrations
Here are some essential integrations for online stores:
1. Point-of-sale system (POS)
POS integrations are critical to eCommerce operations because these push product entries, inventory tracking, and prices into your website in real time.
You can also use them to collect customer data, from the most-purchased items to the average price of items bought. This data can be used to better understand customer behaviour and improve customer retention in the long run.
2. Content management system (CMS)
The CMS is used in creating, handling, and organising website content. This integration enables you to add and edit text, images, videos, and other content across multiple channels.
This is especially important for eCommerce marketplaces like Lazada and Zalora that have large product catalogues, huge volumes of content, and multiple identical pages. A CMS can help differentiate pages through canonical tags, which is essential for SEO. So when customers use search engines to find the products they want, they can easily find it.
3. Marketing automation APIs
Integrated eCommerce solutions for marketing make customer segmentation a simple process. By gathering data on eCommerce customers across different channels and touchpoints, marketing automation APIs can group customers according to their demographics, purchase habits, and preferred channels (e.g., mobile site, website, app).
Some marketing integrations also have tools for marketers to create their own advertisements and promo visuals. This makes possible targeted marketing and personalised product suggestions across different channels, and increases your odds of convincing customers to buy.
4. Cart abandonment software
Cart abandonment software is a re-engagement strategy that identifies customers who "abandon" their carts, or fill their carts with items but never push through with the purchase.
After identifying these users, the software will automatically reach out to them via email to try to get them to convert. These emails usually display the unbought items with a call to action (e.g., "Forgot something?") to entice customers to go back and check out. This is important considering an average of 69.57% of eCommerce carts are abandoned.
Through email re-engagement strategies, 44% of emails are opened and 11% are clicked; and a third of those clicks lead to a purchase.
5. Inventory management system
Inventory management software is crucial for Southeast Asia eCommerce platforms that juggle multiple warehouses across different locations. Not only would it be a huge inconvenience for customers to purchase an item only to find out several days later the item is out of stock, but it would also negatively impact customer experience.
This integration allows eCommerce platforms to have a centralised inventory database so businesses can keep track of in-stock items and immediately remove out-of-stock items from their website. The historical data gathered from this software can also help in understanding purchasing behaviour and forecasting trends, as well as inform decisions on future orders.
6. Shipping APIs
Many eCommerce businesses are competing based on the quality of their delivery service. The reason is obvious: fast, transparent, and reliable delivery services create happy customers. The longer it takes to deliver an item, the more unsatisfied a customer will be with your business.
As eCommerce businesses scale and the number of orders made each day increases, you must have the capacity to fulfil these orders on time. Fortunately, shipping integrations can do everything from auto-calculating rates, generating shipping labels, tracking shipments, and more. Having a transparent and reliable shipping partner will ensure that every package arrives at the customer's door without a hitch.
The right integration for your online store
Not all integrated eCommerce solutions will be compatible with your business. When picking integrations, look at the ones that are easiest to work with and most readily available for use.
J&T Express provides shipping APIs to top Southeast Asia eCommerce platforms, including Lazada, Qoo10, Shopee, and Zalora. Our APIs offer a seamless experience for both marketplaces and consumers, and support high transaction volumes.
Want to use J&T Express for eCommerce order fulfilment? Contact us, or fill out the form below.