Working in eCommerce is like conducting a full orchestra: all orders across multiple channels must be picked, packed, and shipped on time—all day, every day! Timing is crucial: the longer a customer waits for their parcel(s) to arrive at their doorstep, the higher their anxiety (and dissatisfaction with you!) goes.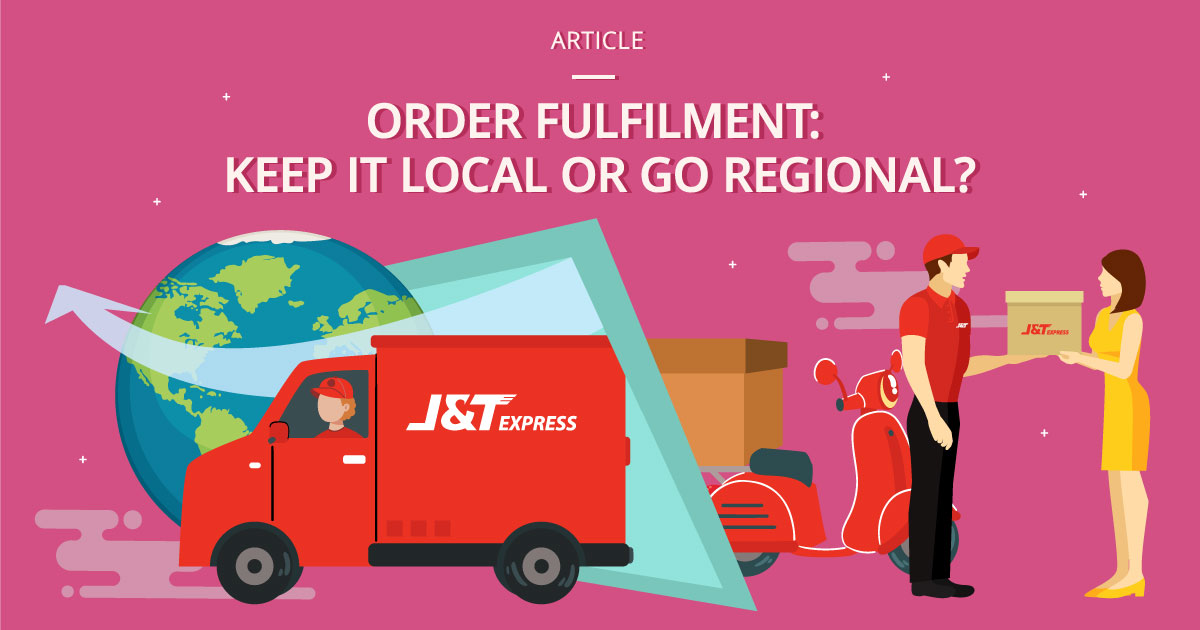 Unfortunately, that old saying "If you want it done right, do it yourself" doesn't apply in eCommerce shipping fulfilment. You need reliable partners to manage any hiccups that may develop during the process.
What you do have a final say in is where you'll do order fulfilment. Do you go big or stay home? And should you ship each parcel individually, or use fulfilment services (Singapore and for the rest of Southeast Asia)? Let us help you decide.
Staying local
Running 'local' eCommerce operations means your products will be sold and shipped only in your area, city, or country. This approach offers your business several advantages (and a notable disadvantage).
Pro: Location, location, location
You can pick and pack in-house, then ship out with a courier service; or use a third-party, full-suite logistics firm for just shipping, or the whole process.
Your choice depends on your current and expected volume of orders, as well as where you are in your country. For example, Singaporean sellers have a relatively easy time since the country's relatively small size means shorter travel times for deliveries. But for Indonesian, Philippine, and Malaysian sellers—who have air, sea, and land transport to consider—using a local fulfilment centre may be the better (or only) option.
Pro: Easier, faster, and more affordable
Focusing eCommerce shipping fulfilment to your home market gives you fewer worries overall. The only things you'll think about are the distance between Point A and Point B, the total cost of delivery, and fairly minor local shipping challenges.
Local delivery times also tend to be shorter, with a gap of one to three business days. And because the parcel makes only one stop, both you and your shoppers deal with lower overall costs.
Pro: You know your market
Selling at home also enables you to stock more of your products, and localise your inventory, or create trendy items or 'special editions'. You'll then have several stock-keeping units (SKU), and more opportunities to sell and make money.
Localisation also goes beyond products. You know who your customers are, so you can choose country-centric marketplaces instead of the bigger ones. For example, if you're in Indonesia, you can go straight to Tokopedia. Vietnam? Try Sendo.
You can tailor your marketing and sales strategy to your local audience, too. This extra attention to detail can earn you long-term customers, to the point where they will buy only from you.
Con: Limited audience
The grass could be greener on the other side. If you're doing local eCommerce, you might be backing yourself into a corner regarding customers and profits.
This strategy can also backfire on you if, for some reason, product demand in your country or city dips, and/or something happens to the local logistics infrastructure. In this case, you won't have any alternate markets—or a safety net for earnings.
Regional fulfilment
Regional fulfilment calls for you to ship your goods to shoppers in other countries and/or within a certain geographical region—for instance, Southeast Asian territories or ASEAN member countries.
As with local fulfilment, going regional comes with a few positives and negatives.
Pro: Wider audience
More shoppers in more markets will now have exposure and access to your products. In turn, more shoppers will buy from you, and you'll make more products they can get… and so it goes. This comes in handy particularly for big online shopping events!
It's also a counterpoint to local fulfilment's main limitation. If your own market doesn't sustain demand for your products, you can export to other countries instead—hello, backup plan!
Pro: One hub for all
A one-by-one or area-centric fulfilment approach won't work here, especially if you have a regular volume of orders. Unlike small local fulfilment centres, regional fulfilment centres are equipped to handle entire masses of cross-border purchases from different countries.
Regional hubs are also a cost-effective and manageable way of testing new markets and expanding your coverage without doing the whole brick-and-mortar deal. And if things don't work out, it's a lot easier to switch country markets.
Con: Limited (and more generalised) assortment
You can't exactly ship out your entire assortment to a regional hub! Most eCommerce sellers pick out their best wares and send those on to sell.
Keep in mind that every market is different. Let's say a hit product in the Philippines could be a bust in Vietnam. The reverse could happen between Singapore and Indonesia. What Thailand likes, Cambodia may not.
This means regional audiences get more generalised products online than their local counterparts. And with millennial shoppers buying based on personal connection (e.g., something 'speaks' to them), uniqueness, and how valued they feel, a broad assortment may not be enough.
Con: Higher costs and longer delivery times
There's a price to pay for convenience and wider coverage.
Regional fulfilment centres (and integrated logistics) will definitely cost more than your local variant. And while customs clearance and taxes are a necessary part of international eCommerce shipping, it makes sense to delegate that to your preferred third-party service. But that adds to your total bill, too.
Lastly, wider coverage also means longer delivery time frames. Same-day delivery can't always apply here.
Our advice
Ultimately, we say you decide through these four considerations:
Capability. How many products can you make or commission, and sell online?
Demand. Are your products trendy or popular in other countries as well? And are your products not being made/sold overseas?
Pricing. Do your goods have better quality and prices than locally available options?
Logistics. Is your logistics partner offering regional eCommerce-centric services as well? Or are they just doing local warehousing and fulfilment?
There is another alternative. Instead of choosing between local and regional fulfilment, how about getting yourself a logistics service that can do both?
Your turn
J&T Express is unique among eCommerce fulfilment services (Singapore) in these ways:
We handle parcel deliveries both within and beyond the country
We provide full eCommerce solutions for your business, as well as software integrations for your preferred online marketplaces
We are also in six other Southeast Asian markets (Cambodia, Indonesia, Malaysia, the Philippines, Thailand, and Vietnam)
Selling in Singapore, and looking for a long-term eCommerce shipping fulfilment partner?
Fill out the form below so we can get started.