Most eCommerce entrepreneurs make two big mistakes in the early stages of their business. First, they think they can DIY the entire process, and routinely choose and switch up who they'll work with from product ordering to the actual parcel delivery.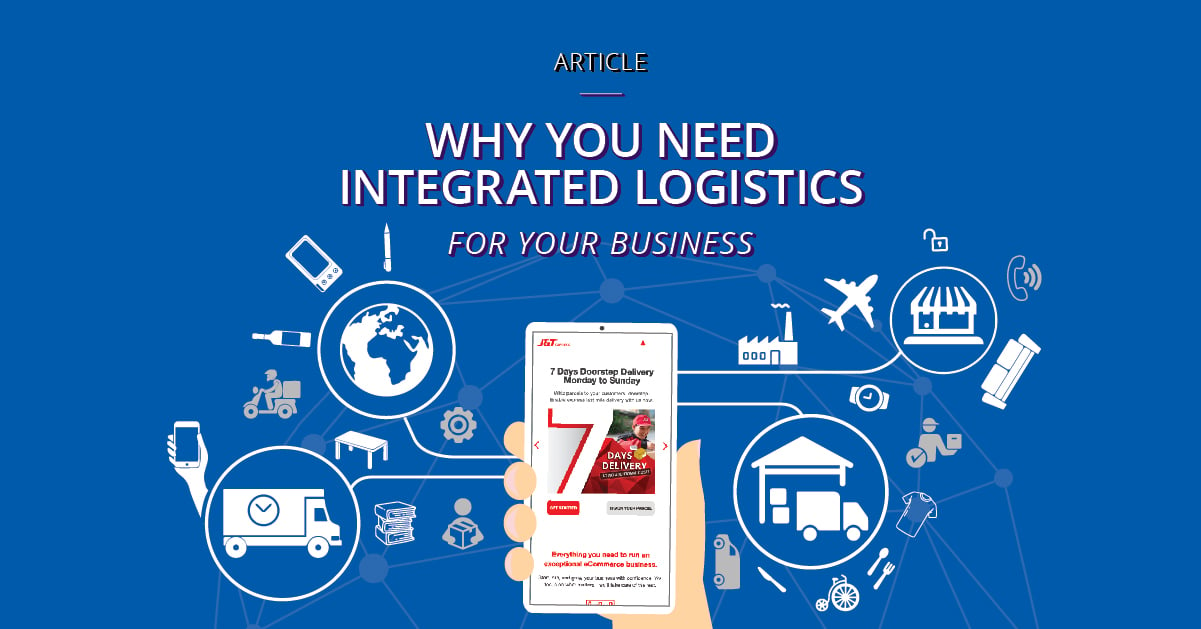 Second, they see these 'moving parts' (particularly regarding international eCommerce shipping) as completely separate from their business. "They're all the same, anyway," they say, "just with slightly different rates."
The beauty of eCommerce is that no single method works for everyone. One enterprise's requirements won't be the same as other businesses' needs, or even its own competitors'. But too much mixing and matching can be bad, too. There is such a thing as too much DIY, and no one in eCommerce works alone—everyone needs trusted partners, and at all stages of entrepreneurship.
Want to avoid committing these two mistakes (and streamline your business while you're at it)? We've got two words for you: integrated logistics.
What's that?
Shipping and logistics are terms that tend to be used interchangeably, but they're actually two very different things.
'Shipping' is the act and procedure of getting a parcel from Point A to Point B (or more). 'Logistics' on the other hand, includes shipping—and everything else in an eCommerce transaction. It kicks in from the moment an online shopper presses the left-click button on their mouse or trackpad:
Where is that purchased product stored? Does it have to be picked up from the seller?

How much of it is available, and when will our stock of it run out?

Where is it in the warehouse? Can it be consolidated with other orders from the same customer?

Where and how should the order be sent out?

Can the order be returned if the customer refuses or exchanges it with something else?
These five questions are usually handled by the online seller. But in integrated logistics, the seller designates one logistics provider as the chief entity responsible for these concerns. This means the logistics provider will take on the bulk of your vital (but also repetitive) business tasks.
And related to the two huge eCommerce mistakes mentioned above, having an integrated-logistics partner means no more DIY-ing, and no more multiple partners and fees! Dealing with only one logistics partner enables a smoother and more efficient logistics procedure overall.
Why use integrated logistics?
We admit that even as you've just averted two costly errors, the concept of handing over a chunk of your business to someone else still sounds daunting. But integrated logistics has other critical advantages that can't be beaten by cherry-picking or constantly comparing service providers.
They save you time
We all have 24 hours in a day, but we don't use them up the same way, or give them the same amount of energy. One-person enterprises or SMEs, in particular, often say they don't have enough time to do everything they need to, and they can falter at the most crucial moments.
Because you're delegating tasks to another company, integrated logistics ensure you have all the time and energy needed for other matters. That could be anything from exploring other eCommerce and social commerce marketplaces, sourcing goods from other suppliers, or testing other product categories.
Integrated logistics firms can also shorten the time spent on aspects like customs clearance, and local or regional shipping challenges. If you're still DIY-ing these parts, you'll be caught up on factors that are ultimately beyond your control. Turning them over to a proven and experienced logistics partner is clearly the smart move.
They help you keep up with consumer demand and shopping seasons
The holiday season is quickly coming up—and with it, a flood of shoppers rushing to complete their gift lists. Online shopping is fast becoming the alternative to visiting physical stores, especially in heavily congested Southeast Asian cities such as Manila, Kuala Lumpur, and Bangkok.
That's bad for malls and outlets, but excellent news for eCommerce sellers. And with Southeast Asians pushing the region's internet economy up to US$300 billion by 2025, the question isn't anymore about if people will buy from you; it's now how many.
Add to that volume increase the popularity of big sale events, particularly on special dates such as 9.9, 10.10, 11.11, and 12.12. Rock-bottom prices, rare deals and bundles, and free express shipping combine to produce millions in shoppers, sales, and even single-cart amounts.
The influx of shoppers can be tough to handle, even for the most agile and dedicated eCommerce teams. Using integrated logistics to stock products ahead of time, and pack and ship ASAP can literally help you get ahead of the holiday and sale crowds.
They give you the expertise you need for business growth
Sometimes, running your own business can feel like you're wearing blinders. You're too focused on what you want to happen and which path to take to realise it, you forget to consider other and better options.
Remember what we said earlier about having trusted business partners? Integrated logistics providers can be exactly that if you pick 'em right. (More about that later!) You must find a company that's able to listen and work fast with what you want for your eCommerce business—and offer expert advice and assistance on the parts you know nothing about.
For example, you could work together on creating new or seasonal product packaging, boosting your online store's reputation, and even strategising which eCommerce marketplace to sell on next.
Your integrated logistics partner's must-haves
Because your prospective partner has such an important role in your business, you need to ask the following questions, and demand nothing less than full answers.
☑ Does the company have an extensive suite of eCommerce services and solutions?
Product listing and management
Order and inventory management
Warehousing and stock replenishment
Pick-and-pack
International shipping, Asia and beyond (Postal, Line Haul, and Express)
Last-mile delivery
Parcel tracking and tracing
Product return and exchange procedures
☑ What about eCommerce store integrations? Can you use this shipping provider with your chosen marketplace or retail platform? Would this require more work for you compared to using the marketplace's in-house logistics?
☑ Look at your business' current state of affairs. What are the areas that need improvement, and the areas for future expansion? Can these be outsourced right now—and is your potential logistics provider's services and integrations suitable for your needs?
☑ Does the company have multiple locations in Singapore where you can drop off and pick up packages? How about within Southeast Asia—say, Cambodia, Indonesia, Malaysia, the Philippines, Thailand, and Vietnam?
☑ What do other eCommerce sellers say about this integrated-logistics provider? Does it give honest feedback and suggestions on these sellers' needs and workflows? What's its track record? And how does it handle customer complaints?
☑ What are the provider's pricing tiers or service packages? Can it give you a custom quote for the specific international eCommerce shipping services you need? And how reasonable are these prices?
Your turn
Upstart eCommerce sellers can do everything themselves in the beginning. But as your business grows with your sales figures and prospects, hiring an integrated logistics provider will be essential to your store's survival.
Lean more about our services that can benefit your business - from product listing to last-mile delivery service (Singapore, Southeast Asia and Global).
Fill up the form below to get started.